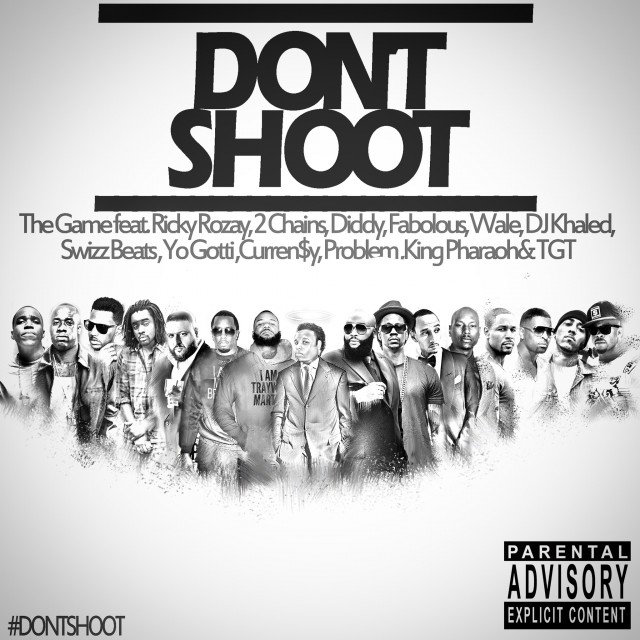 The world's eyes have been fixed on Ferguson, St. Louis in recent weeks since the tragedy surrounding 18-year-old Michael Brown's death.
Brown – who was unarmed and had his hands up at the time of the shooting – succumbed to his wounds after being shot six times by officer Darren Wilson.
In the weeks that have followed the area has been torn apart by rioting and constant trouble between residents and the police.
Compton rapper The Game has always took a stance and spoken his mind against injustice and used his music to express his thoughts. Today he's release a single that brings together a who's who of Hip-Hop for a posse cut called "Don't Shoot" in memory of Mike Brown. Proceeds from the song – available on iTunes – will be going to the Justice for Mike Brown charity.
"Don't Shoot" sees The Game, Rick Ross, 2 Chainz, Diddy, Fabolous, Wale, DJ Khaled, Swizz Beatz, Yo Gotti, Currensy, Problem, King Pharaoh & TGT. When asked about bringing the artists together for the cause Game said;
"The issues in Ferguson really hit home for me and I feel compelled to use my musical platform to address this. I am a black man with kids of my own that I love more than anything and I cannot fathom a horrific tragedy like Michael Brown's happening to them. This possibility has shaken me to my core. That is why this song must be made and why it was so easy for so many of my friends to come together and unite against the injustice. I managed to get everyone on board fairly easy, simply because we have the hearts. We care and are inclined to take a positive approach to resolving an issue that has existed since the beginning of mankind and that is RACISM and hatred towards one another as human beings."
Check the single below and support on iTunes.
The Game – Don't Shoot  (Feat. Rick Ross, 2Chainz, Diddy, Fabolous, Wale, DJ Khaled, Swizz Beatz, Yo Gotti, Curren$y, Problem, King Pharaoh & TGT)
[raw]
[/raw]
For those using iOS, mobile or a non-flash compliant browser – listen below