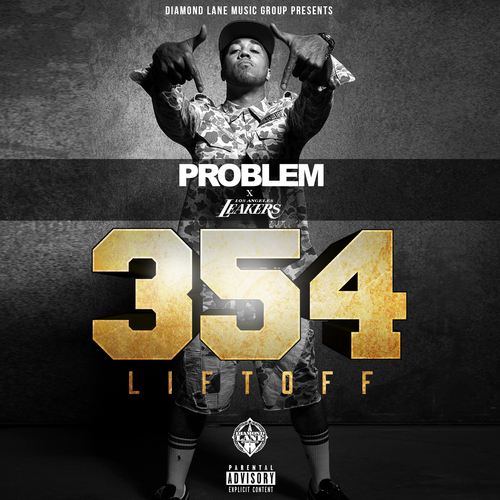 A few weeks ago Compton rapper and DubCNN alumni Problem announced a new mixtape – and a 21 city tour!
Our update detailed the cities he will hit on the "354: Lift Off Tour" and confirmed that he would release a new mixtape, his first single "The Separation" and "Mollywood 2."
Today we can bring you a the brand new "354: Lift Off" mixtape which features 13 new cuts, a mixture of new tracks and freestyles. The release – which is s presented by the LA Leakers – features appearances from Childish Gambino, Bad Lucc,  Bobby Schmurda, 12Til, Speaker Knockerz, Sam Smith, Jarae and more. Problem is excited about fans hearing the new music as he told us here;
"I've been having a lot of fun recording music lately. Diamond Lane has been grinding in the studio getting this music ready for y'all. I've been in the studio with all types of artists and producers making different types of shit. I I can't wait for y'all to hear some new music from me. Shout out to the LA Leakers for putting this together! We had a blast!"
Get the full tape, covers and tracklist via the DubCNN Digital Distribution Network FREE below!
Problem – 354: Lift Off (Mixtape)

[raw]
[/raw]
Problem – 354: Lift Off (Tracklist)
01) Lift Off (Feat. Bad Lucc) (Prod by Zaytoven)
02) Dollaz and Sense / 0 to 100 (Feat. Childish Gambino)
03) Everyday Is My Day (Prod by Zaytoven / Mars)
04) Hot Nigga (Feat. Bobby Shmurda)
05) 2 On / Fight Night / She Twerkin
06) Never Satisfied (Feat. Bad Lucc) (Prod by Problem / Mars)
07) Sippin On (Feat. 12Til) (Prod by Zaytoven / Mars)
08) What Is 354
09) Grindin My Whole Life (Feat. Bad Lucc)
10) Lonely / Fancy / Dont Panic (Feat. Speaker Knockerz)
11) Latch (Feat. Sam Smith)
12) Hate (Feat. 12Til (Prod by Krysis of the Soul Council)
13) Chachi Forever (Feat. Jarae)