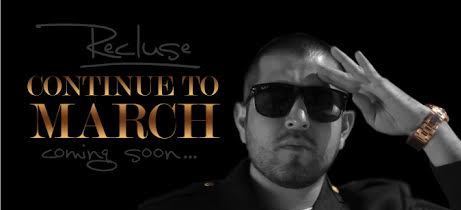 Uplifting, energetic, and motivational are just a few words that describe the artist who is Anthony J. Alvarez aka Recluse.
Born and raised in San Bernardino, California Recluse has had a passion for music since his childhood days, dancing and singing to the legendary sound from such artists as Michael Jackson and James Brown.
Recluse then took that love and began his music career at 16 starting out playing drums and writing songs. Being from California, Recluse naturally took a liking to West Coast hip hop that fueled the 90's and was also influenced by the more lyrical side of the East Coast hip hop scene in that same era. The diversity from both coasts would later influence his style of music.
Recluse has shared the stage with hip hop legend Warren G. He has been featured on Power 106's Who's Next contest and he came one spot short from becoming the champion of the national 2-Racks Competition. Recluse has received great support from fans overseas and he continues to develop his discography by writing for new artists.
Check out a song and music video from Recluse below.
Recluse – 3:45 (Audio)

[raw]

[/raw]
Recluse – Diamonds Pearl