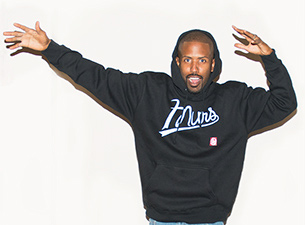 DASH Radio is partnering with hip-hop veteran MURS to host a live stream of his MURS 316 stage at this year's Sunset Strip Music Festival.
DASH's "ndependent Grind Radio" channel will stream the two-day event of live performances and exclusive interviews.
DJ Skee says of the partnership,
"I'm excited this year to partner with the Sunset Music Festival for the exclusive live stream of MURS debut stage at SSMF featuring the hand-picked artists he's selected to perform. We felt it was a perfect match for our "Indie Grind" station powered by Tech N9ne and Strange Music, where MURS is also signed to. We'll add this to the long list of things MURS and I continue to do to support the Indie Hip Hop community. On DASH Radio, we have a station called 'The Strip' featuring music you'll hear being performed at the infamous Sunset Strip. I've always supported the Sunset Strip Music Festival and look to doing even bigger things together in the years to come."
MURS also spoke on the collaboration, saying
"DJ Skee and his team are always on the cutting edge. To have the opportunity to partner with them on their latest venture Dash Radio is truly exciting. I believe the MURS 316 stage will be leaving an indelible mark upon the Sunset Strip this weekend just as Dash Radio is already making a huge impact in the world of streaming music services and beyond. I think it's absolutely amazing that fans from all over the world will be able to tune in and experience the MURS 316 Stage at SSMF with a swipe of a finger. And the fact that it's going to be hosted on the Independent Grind station, which is powered by my label Strange Music, makes the union perfect."
SSMF MURS 316 STAGE FULL LINEUP: Read more here and find out how to WIN tickets!
Saturday, September 20th
Bun B
Riff Raff
Dizzy Wright
Zion I
Mod Sun
King Fantastic
Propaganda
Joey Fatts and A$ton Matthews
Tay F 3rd
PHILLYBLUNTS
Toni Monroe
Sunday, September 21st
DJ Quik
Killer Mike
N.O.R.E.
IAMSU
RA The Rugged Man
SPEAK
POS
CES Cru
Pterodactyl Jones
Ill Camille