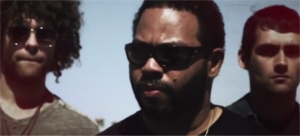 Before Kendrick Lamar…there was another set to blow from the ranks of Aftermath Entertainment under the tutelage of Dr. Dre.
Hittman (H.I.T.T.M.A.N. – Highly Intense Tongue Talents Make All Nervous) was the front man on the classic "2001" LP back in 1999.
Alongside Snoop Dogg, The DOC, Jay-Z, Royce Da 5'9 and of course Eminem – Hittman was behind penning some of the classic records from the later 90s album.
Since that time we've heard little from Hittman – most recently he dropped the "R.N.A.D.W. (Real N*ggas Against Dirt Weed)" – but he's rarely spoken on the split, bar our 2006 interview with him.
Today though we can bring you word of an exclusive new track from an artist we introduced back in 2005, The Asoka, that features Hitt.
The Asoka is getting ready to drop his new single officially but gave DubCNN the first look at his "Humble Hustle" video which features Hittman and Chris Lightfoot. The behind the scenes of the video – which was directed by Carlos Haynes – can be seen below where on Hittman's verse he speaks of his ups and downs;
"Spitting for Andre til he said Stop, that's all I gotta hear / Then and right there, dreamed of ballin' and gear / All-in-all an illustrious career / Well, I thought wrong. Thought I was on. Got hella gonged / Now I'm on Kickstarter pledging like a telethon for project funding /Sometimes stepping stones are really blocks for stumbling / Opting out my contract, was it a smart or dumb thing / The block is mumbling / My hustle's not a fun thing. It's stressful and humbling, for real."

The Asoka earned a VH1 Nomination for "Best Hip-Hop Act" at their Sound Nation Awards earlier this year and his new project is set to make noise! Buckle up and enjoy the record! Stay tuned for the full version here next week.
The Asoka – The Humble Hustle (Feat. Hittman & Chris Lightfoot) BTS Video
Head to ReliveHipHop.com or follow TheAsoka on Twitter.