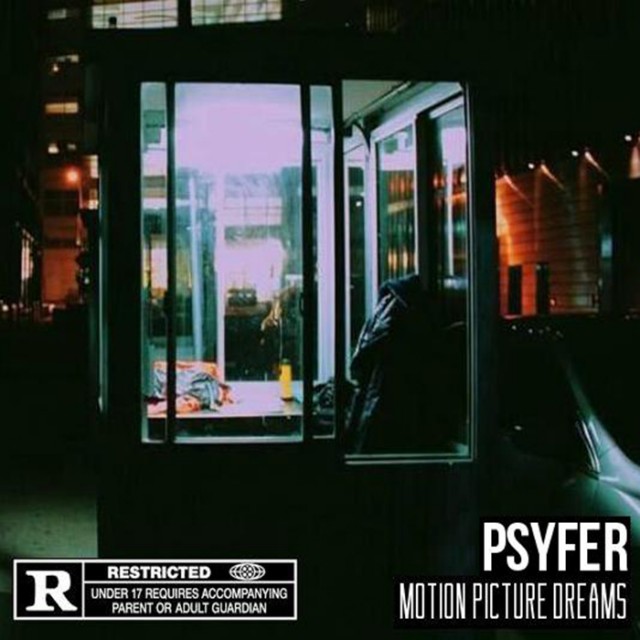 New York MC, Psyfer, has worked hard to carve a lane for himself in a city full of competition.
While working on his album, Psyfer has tirelessly released free music to the masses in an attempt to catch the ears of the public. Fresh off of the success of his song "Her Lust, Psyfer is continuing to capitalize on his momentum by dropping his first full length album, Motion Picture Dreams.
Fans of Psyfer's music are drawn to the ethereal quality of his production, mixing speaker thumping bass, with soothing samples. His music paints a variety of pictures. From donning personas from famous comic books and movies, to his upbringing and life in New York, to the disconnect found in physical relationships on his song Her Lust, Psyfer covers a lot of ground. The production on Motion Picture Dreams allows the listener to feel right at home in the universe Psyfer has created.
It`s clear that Psyfer is very comfortable thinking outside of the box. His music tends to blend abstract concepts with graphic imagery, to create "musical movies" that captivate. Be sure to check out Psyfer's music on Soundcloud, and read the interview below.
Interview conducted in August 2015.
Questions asked by: West Haven Blast.
DubCNN: DubCNN checking in with up-and-coming hip-hopper, PSYFER. What's good fam?
Psyfer: I'm doing great man, making music and keeping busy with this album.
DubCNN: For those that don't know, PSYFER has been heavy on his grind, and making major moves. What initially inspired
you to pursue a career in music?
Psyfer: I want to say FEAR. A lot of the time life dictates our limitations through our fears. My biggest fear was being 45 years old with a life i never wanted…mad at everything and everybody because I did realize my potential. When music became real for me I started letting that fear motivate me. It's there when I wake up every morning, and it's there when I go to bed. So yea… fear.
DubCNN: Tell us about your project, MOTION PICTURE DREAMS.
Psyfer: Well I've been working on MPD for 5 years. Before it was a hip hop album, it was a short story I wrote, that I wanted to adapt to screen play. It wasn't till 2012 when I heard Kendrick Lamar's 'good kid mad city', that I was inspired to tell that story musically. Motion Picture Dreams follows Chris King aka Cable, a character based on myself, in which all my dreams come true. I have fame, fortune, etc. The main story captures a wild night in "Dreamland", loosely staged on the city of Los Angeles. The album plays as a soundtrack to those events.
DubCNN: Can you tell the fans about your experience growing up in New York?
Psyfer: New York is a big melting pot. I grew up learning, and respecting other people's cultures.
Another great thing is seeing Manhattan. I've been familiar with the city my whole life, and it's beauty never ceases to amaze me. I think everyone should see it at least one time with their own eyes.
And the last thing has to be sports. Being a kid in the 90s I can't tell you how many Yankees and Mets games I went too. Some of my best summers were spent in those stadiums.
DubCNN: How would you describe your style fam?
I would have to say versatility. I think my style is so dope is because I don't really have one. I pride myself on not getting stuck in one perspective, and thinking outside the box. If something bores me it never gets finished. The same can be said for my selection of beats. I want to give you something different every time.
DubCNN: What will PSYFER bring to the hip-hop game that will separate him from the competition?
Psyfer: Imagination. A lot of the time with hip hop, the narrative is "reality-based". With my album it's based on me, but the world is not real. I'm giving you a situation where you can fictitiously see me turn into another person. Egotastic, slightly misogynistic, socially "Cool", etc. I'm giving you the perspective of that person.
DubCNN: What projects are available as of now, that the fans can go purchase?
Psyfer: Right now my my 1st album 'motion picture dreams' is available on iTunes, Spotify, Amazon and Google Play. As well as my new single 'Her Lust (Player 1)'.
DubCNN: What upcoming projects can we expect from PSYFER in 2015?
Psyfer: I Have a mixtape called 'Under the leaves' dropping this fall. I'm just waiting for the features to come in. And 'motion picture dreams' Vol. 2 is almost done, so the first single for that project should be dropping early 2016.
DubCNN: Who are your top 5 MC's of all-time?
Psyfer: 2pac, Big, Jay-Z, Emimem, and Nas.
DubCNN: Where can fans reach out to you on Social Media?
Psyfer: You can find me at Twitter, Instagram Facebook, Snapchat, soundcloud and YouTube @PsyferMusic
DubCNN: Thanks PSYFER, from DubCNN! Anything you would like to add fam?
Psyfer: Thanks a lot to DubCNN! And check my new video on YouTube.
Stream and download MOTION PICTURE DREAMS on iTunes. Standout tracks include the album title track, Terminal (L.A.X.), and Back 2 the Future (Doc Brown's Delorean).
Psyfer has also recently been featured on Dj Flipcyide's (Official Wu-Tang Dj) new mixtape titled "So You Wanna Be Signed Vol. 3", hosted by Young Buck, with the standout track off of "Motion Picture Dreams", Terminal (L.A.X.). Stream or Download the mixtape here!