Earlier this year, DubCNN caught up with West Coast hip-hop pioneer/innovator Myka 9, for an exclusive, in-depth interview.
From Freestyle Fellowship, to Project Blowed, to Haiku D'Etat, amongst many more groundbreaking associations, the MC known as Myka 9 should need no introduction. Now with a new project out and various music videos to back it, Myka 9 talks with DubCNN about a myriad of topics, including what we can expect on the new album, his experience growing up in L.A., his musical inspirations, his top 5 MC's, and much much more!
Read, or listen to the interview, check the new videos from Myka 9, and drop a comment. Shout out to Dr. Missy Loc for assisting with transcription. Only on DubCNN.
Interview conducted in 2015.
Questions asked by: West Haven Blast.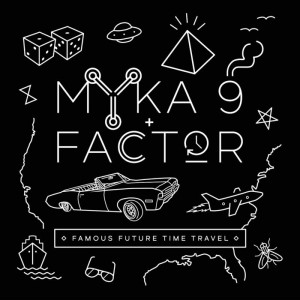 Myka 9 Interview Audio (September 2015)

DubCNN: DubCnn checking in with West coast Hip-Hop Pioneer Myka 9. What's good my man?

Myka 9: It's all love.
DubCNN: The last time DubCnn caught up with you was last year at RhymeFest. You were rocking the stage with Haiku D'Etat. What's the status with Haiku D'Etat, Freestyle Fellowship, and Myka 9 respectively right now?
Myka 9: The status is I'm actually on tour right now…the "Keep The Feel Future Time Travel Tour". We just released a surprise album for Ayem Raydio and we are getting a warm response from that project; and the Myka 9 album, "Famous Future Time Travel", dropped on May, 19th 2015.
DubCNN: Having influenced many MC's with your distinct style, what's your thoughts on the game today?
Myka 9: Well, It takes a lot more now than just being a good MC. If you're a local MC, I'll say, you've got to get on the road, move around, etc..Social Networking, videos, stage performance, etc.
As far as their styles go, I'll say, I use a lot of different styles and try not to use the same style, or similar style…that's how I stay interested in doing this. I hear like, borrowed lines or tags off of a style I used in the 80's…so that's interesting. I like the fact that cats are still out there adding a little Chop to their flow. These are the young kids right?
DubCNN: Right.
Myka 9: They kind of keep the door open for me too, you know?
DubCNN: Are there any new artist that your feeling?
Myka 9: Yeah, I like some of the cats coming up. All the young MC's in the underground, including some of the artists I've met as openers on this tour. Even the new cats approaching mainstream success. I like some of the Turn-Up, Trap-Rap as well, I like the flow especially when they keep Chopping it, and going. East Coast is trying to get the hang of it. Down South of course has been Chopping. I wouldn't say in particular one name, but I would say there are cats out there I've checked out in the underground scene. You also have different kinds of underground. It's going back to that good old fashioned Hip-Hop, that's my take on it.
DubCNN: Having one of the more intricate and unique styles in the game, how did you develop your style?
Myka 9: My parents were Jazz Musicians. I would hear a lot of Jazz coming up; and dancehall tunes. A mix of Hip-Hop, Jazz, and then the Rastafarian. Even though my parents were jazz musicians, the music that inspired me was Hip-Hop. As far as the Rapid Fire delivery, it started 1985/1986. I started Chopping. I started for fun, and kept it under wraps. And then about 1986/1987 I started going for it. I also play instruments. I started rhyming maybe 1981 at age 12. I got into it seriously from the start. I had my rhyme books; they helped me get through High School. I was accepted into a couple of colleges…by then I had a record deal, that was cool. I didn't go to the pros, I went to the underground.
DubCNN: (Laugh). I think you went Pro.

DubCNN: What inspired you to become an MC?

Myka 9: Hustling, working, etc. I've been on my own since i was 15. Back then the music deals were pretty good. They were giving good deals. I did some demos; I started getting them checks to come in…then I was like "OK, maybe I can do this for a living". Then it was the contract games, learning the craft, etc. I moonlighted with jobs on the side.. directing, roofing, plumbing. I use to work for Peter North computing. I was like a junior programmer. That was a long time ago. I started doing some shows, I did some records. One of my 1st records came out when Jesse Jackson 1st ran for President back in the 1980's. And then writing songs for people, including work that was included on NWA's compilation album in the 1980's. I then started going to New York in the summer; hanging out…working on my bars. House music bars, EDM bars, etc. I started buying records, like Planet Rock…I would Rock with DJ's. I would rock a House Party…stuff like that. But when I realized that I could make a living out of all this, I stopped working and hustling, and I went full time with the music. I did my 1st Nation Wide Tour when I was 19 years old. I toured 40 cities. It was cool. I redefined the term for Freestyle. The Good Life, etc. In the 1980's I did Coffee Houses. I would bust my raps acapella. I went full time with the Fellowship. Now, not only can I make money with these deals in the majors, but I can make money selling this shit on my own. I was doing albums, stuff like that…different projects. In the 1990's, the same thing. I went back into the independent game after Fellowship's last major deal with Island. I then got a deal with Capitol…the album never came out. Creative control issues, etc. Now I can get paid for features, hosting parties, shows, tours, and a little royalties and placements here and there. I'm just working it. Maybe in the next year or two people will know that I'm in this for life and will go back and check the catalog.
DubCNN: What was it like growing up in California?
Myka 9: Crazy. You got the street life, that's everywhere. Then, living in a Foster Home. From age 9 to age 15 years old I lived with my Mom. I had to move into a crack house at 15 years old. Getting into all kinds of crazy shit. Hip-Hop was a way to escape, to a certain degree, from the bullshit, and take a different path. Overall, it was wonderful. I mean…i would get into alot of fights…the white boys would call me nigger. But then i was the white boy of the hood, and would get beat-up on this block…or beat somebody up going to another block. We would also organize a bunch of fun things. It was pretty good man. I grew up in a neighborhood called The Jungles, in the Crenshaw District of L.A. So I grew up around a lot of Bloods, but I had friends that were Bloods, Crips, Essay's…all kinds of stuff. Other than the violence and deaths, we a lot of good times. Life revolved around Hip – Hop. I grew up with Hip – Hop. Somebody was always popping, breaking, DJ-ing, or was an artist. It would come together pretty nice.
Then when I was 15 or 16 we had a place called the RadioTron, and we would go there. That's where I first saw Ice-T and Run-DMC get down. Sometimes I would ditch school just to go and hang out & this is where I met (Crime), and Tune, and the original Cartoon, etc., when they came out.
In general, growing up in LA you get thick skin, you get game. It comes with the territory. It's a challenge to grow up in LA andvnot be mean spirited. I'm glad those days are behind me now, but I know that anything can happen at any time. When I wake up, I give gratitude to the universe of the Almighty, just for another day. Growing up in LA you come to have a different appreciation for life, and you appreciate more as you get older…because there's so many that didn't make it. Not just from the streets, but from drugs, disappointment, long term, incarceration, etc.
DubCNN: Being a major influence in Hip-Hop, since, and before your Project Blowed days, I'm sure you have an extensive catalog of collaborations. Do you have a favorite collaboration?

Myka 9: Well, not counting Fellowship or Haiku D'Etat, I do like 3 projects that I did with a brother named J the Sarge and DJ Drez called Magic Heart Genies. their probably my most slept on collaborative efforts. We did the albums I'm just getting them in. The fans can get in on that.
DubCNN: Fans go check that out.
DubCNN: What projects can we expect from you in 2015 and is there any new music available now, other than Magic Heart Genies, that fans can check for?
Myka 9: I did a host of features, so many that I can't begin to list. I've done some interesting stuff…like for a Comic Book Series. It's a Comic Book strip that moves.
As for a features go, there's one I've done with my Bro, MC Woes, who is on tour with us. He has an album coming out in a couple of months. It's called "Woe is Me"…but look out for our song called KINGS OF THE JUNGLE. We get really intracate, going back and forth with the beat…produced by 6blocc. It's like a mix of Hip-Hop and EDM, It's hard man.
Also, my last album…It peaked at #1 on the CMJ charts for a few weeks. I'm very proud of that achievement. I have a lot of collaborations on that album. I have a song called 5 Mikes, with Open Mic Eagle, Mike King, Mic Manson, Mic Kill Myers, and I'm the 5th Myke.
But…this song is called Indigenous Areas. It's a song I have with the God, Erule Allah. That's special to me. Not only did I match the verses, pattern wise… that I like to do…Over the years since the 1980's; match my verse patterns with other MC's, but yeah, I've done all kinds of trippy collabs, though. That's a classic to me, I dig it.
DubCNN: Do you have any Solo projects coming out this year?

Myka 9: Yes. It is Famous Future Time Travel. It comes out May 19th 2015. That's my album with Factor.
Factor did the beat and he DJ's, so…that's a collaboration effort of sorts. I'm doing all the MC-ing. I only have 1 feature on this album, some of my albums have been feature-laden, but I wanted to see if I could hold an album on my own. I only have 1 feature that's pretty dominant. That's a song called Coastal. I like this album that I have with Factor because he sent me all the beats and he had names for each beat, so I just made the songs around the beats, that he had named for me. We worked together creating songs, but what I want to do at some point is to start working on another project which I want to release by next year, 2016…because I want to work this present album for the better part of this year. It will be an album with different producers. I'm sure I'll get a couple of tracks from Factor, but I want my Son, he goes by the name Sun Ether, I want him to do some tracks. Also, Gnome Beats, among many others. I want to crush new, and different beats.
I'm hoping we can get a Fellowship Experience mixtape going by the end of this year.
DubCNN: Do you have any music that the fans can get on iTunes right now?
Myka 9: Oh yeah…If they go to AlphaPup or iTunes, they should be able to get A Work In Progress, Citrus Sessions, Time Table, Mykology, 1969, and Sovereign Soul. They also should be on Spotify very soon.
DubCNN: Who are your top 5 MC's of all-time?
Myka 9: I would say Aceyalone, Abstract Rude, LL Cool J, Rakim, and Krs-1.
DubCNN: Where can fans find you on social media?
Myka 9: Myka9 is my IG, Twitter, FaceBook, and my fan page. My website is www.Myka9.com. They can also follow the homies site; Haiku D'Etat, Fellowship, Ayem Raydio. And I strongly suggest the fans get the new album from Ayem Raydio, and Abstract Rude. And Woe's, and mine.
DubCNN: Any last words?
Myka 9: Its all Love. Love gets us through the mindfuck. Love is a way to dissolve conflicts. And in this day and age, there is a lot of conspiracy as well as alot of truth. The big events that are happening now seem to be unveiling the falsehoods that a lot of us have been conditioned to deal with. So if we can work harder to eliminate this mindstate of "My way is the right way", then we can move past the intolerance of others to get to the point of coexistence. I think the world would be a better place. People are killed over God and Country. People are very passionate about their ideas of morality, whats right and whats wrong, etc. I think that beyond the field of duality, there's a party going on, and I want to jam there.
Myka 9 and Factor – Famous Future Time Travel (Video)