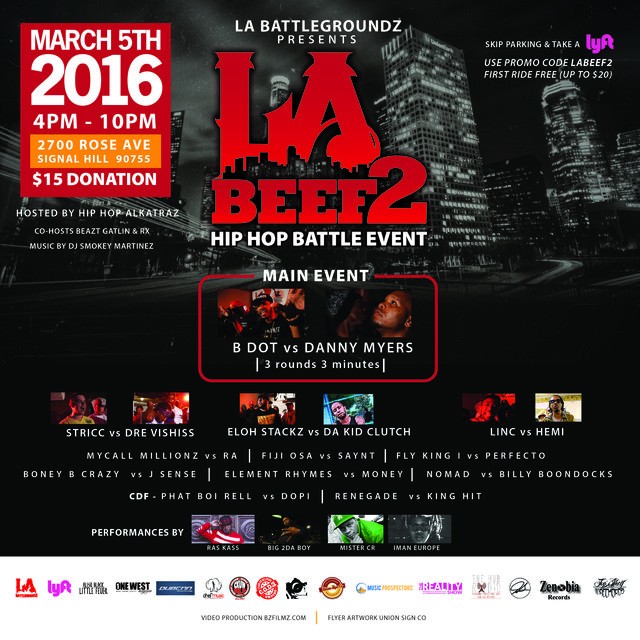 March 5th, 2016 LABATTLEGROUNDZ presents LA BEEF. (2700 ROSE AVE, SIGNAL HILL CA 90755 4pm – 10pm) BZFilmz has partnered with LABATTLEGROUNDZ in producing the visual content for this BATTLE RAP EVENT. For additional information on this event, CLICK HERE.
Main Event Battles:
B Dot vs Danny Myers – 3 rounds 3 min
Dre Vishiss vs Stricc – 3 rounds 3 min
Special guest performances by Ras Kass, Iman Europe, Big2daboy, and Mister CR in between rounds.
Purchase your Ras Kass "Class of 1996" Hoodies Here!
Check out the L.A. Battle Grounds YouTube Channel Here!
Official Hashtag for event #LABEEF2
Check out the promo video for L.A. Beef 2
We have partnered with LYFT for this event. Here is the approved wording for LYFT if you post anything concerning LYFT related to LABEEF2 on social media.
Approved copy: Download the Lyft app and use code LABEEF2 for $20 off your first ride (up to $20).
Approved tweets:
Hey (audience)! Skip parking and take a @lyft! Use code LABEEF2 for your first ride free (up to $20).
We've partnered with @Lyft to provide a cheap alternative to parking. Use LABEEF2 for your first ride free (up to $20).
---
Line-Up:
B Dot vs Danny Myers – 3 rounds 3 min
Stricc vs Dre Vishiss – 3 rounds 3 min
Eloh Stackz vs Da Kid Clutch – 3 rounds 3 min
Linc vs Hemi 3 rounds – 3 min
Mycall Million vs RA – 3 rounds 2 min
Fiji Osa vs Saynt – 3 rounds 3 min
Fly King I vs Perfecto – 3 rounds 2 min
Boney B Crazy vs J Sense – 3 round 2 min
Element Rhymes vs Money – 3 rounds 2 min
Nomad vs Billy Boondocks – 3 rounds 2 min
CDF (CatchDatFade #LABG Tryout Division)
Phat Boi Rell vs Dopi – 3 rounds 2 min
Renegade vs King Hit – 3 Rounds 2 min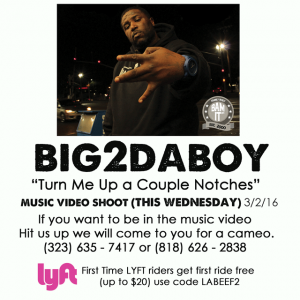 Shooting cameos for Big2daboy's music video "Turn Me Up a Couple Notches" this Wednesday.(See attached flyer for details.)