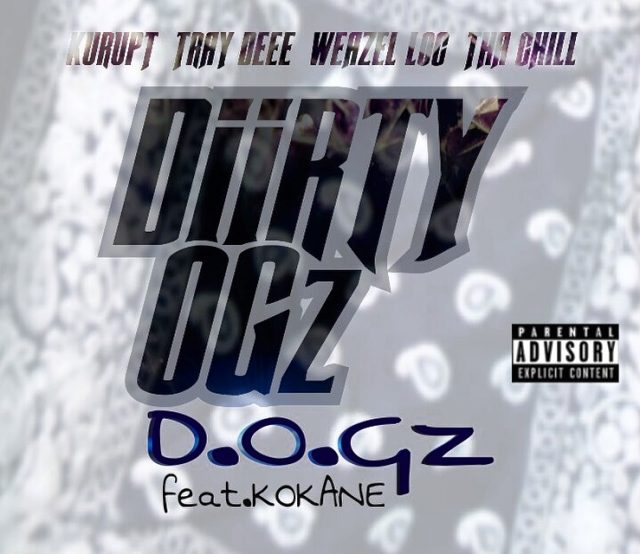 For the last 4 months , the Diirty OGz have been on fire with that California Classic video on YouTube, which recently went viral over 1 million views:
The buzz on the Diirty OGz has been crazy! Everybody seems to be talking about them Diirty OGz; from the industry, to the streets & the clubs.
Well the wait is over!
The most anticipated Gansta Rap group since NWA are back with a new single "DOGz" ft Kokane, off there up coming project,
"We Got Now And Next" soon to be released 10/28/2016 via RBC RECORDS, and also will be pre-released in-advance on JPAY on 10/21/2016, for those that are incarcerated. Pre-Order the Diirty OGz NEW HOT single "DOGz" ft Kokane RIGHT HERE:
Kurupt (DPG), Big Tray Deee (EASTSIDAZ), Tha Chill (CMW) , Big Weazel Loc (PCR) & Kokane (KOGF)
on multiple tracks , are the perfect combination to bring back that Gansta rap sound to the forefront, with a legendary West coast stamp on it! Featuring
WC, King Tee, Compton AV
, and more! The Diirty OGz Gansta Rap G-FUNK sound is definitely what the west has been missing for a while! Make sure you
subcribe to The Diirty OGz YouTube
channel:
Record release party info, soon to be released. Stay tuned for more details as we follow the Diirty OGz campaign. Keep it locked right here on DubCNN (#WESTCOAST).
DIIRTY OG'z – "D.O.G.'z" OFFICIAL VIDEO COMING SOON!
ITS DIIRTY SEASON!