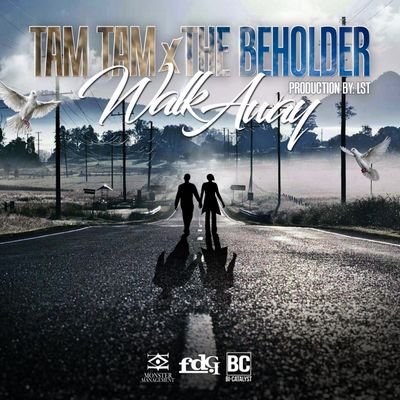 Recently, DubCNN caught up with rising southern female hip-hop star, Tam Tam, for an exclusive interview. We discuss numerous topics in the interview, including her brand new single titled 'Walk Away', the Alabama music scene, her top 5 female emcee's, and much more! Check the interview and new single below! Only on DubCNN.
---
Interview Conducted by West Haven Blast (2017)
---
DubCNN: DubCNN checking in with rising southern hip-hop star, Tam Tam. What's good fam?
Tam Tam: Once again, happy & thankful for the opportunity to be able to speak with you all about my new projects. I currently have a new single out with my artist Mike White "The Beholder" called "Walk Away" and it is produced by double platinum producer LST of 21st Century Sound. The Walk Away record is receiving a lot of great feedback. DJ Blayze at WBLX, The Big Station in Mobile, AL broke the record first. DJ Reign from 103.1 WEUP followed right after and the record keeps spreading. It's a fresh new sound that you really can't box in. It's Everything, and it's what the world needs to hear right now.
DubCNN: How did you come up with the record "Walk Away"?
Tam Tam: LST who is the protege of Jimmy Jam & Terry Lewis & Prince (R.I.P) called me and said I have this record for you that he designed organically with all live instruments and I am going to send it to you just send me back a hit. When I received the record, it was crafted so perfectly that i just zoned into the production and immediately I started reflecting on my life and at the time I was going through some things & I actually shed a tear while listening to this track. I called The Beholder and told him I had a track that LST had sent that I would like him to be apart of. I played the track for The Beholder while we were riding out of town & he fell in love with the track. The Beholder called over to Ken P. at Trunkbangaz and scheduled us a day to record vocals and we just kept building the song until we all felt we had a complete record. We made it look easy.
DubCNN: What do you feel is the state of Hip Hop right now?
Tam Tam: I believe people want to hear real life records that they can relate too. You knew it was real when Scarface, Eazy-E, Ice Cube & Eightball & MJG, Pac & Biggie gave it to you. We have to get back to when people rushed to the stores to buy albums. A lot of people are struggling and going through things and the world has a different shallow type of feel right now. Everybody's life is not and everyday party.
DubCNN: What would you like the fans or people in general to get out of this record?
Tam Tam: You can either go left or right. The decisions you make will affect you. If it isn't helping you to grow and maintain productivity, just walk away. It's o.k to walk away. Not too many people are telling these kids that it is o.k to walk away. Walking away may be the hardest thing you may have to do. Trust God.
DubCNN: How have people been responding to the record?
Tam Tam: Everyone who has heard this record has said that they felt like we were talking about their life. This record is giving people hope.
DubCNN: If you could sign to any label in the game who would it be and why?
Tam Tam: I would like to remain independent because I will always have creative control and I know how to count my own money. However, I am open to business as long as it makes sense.
DubCNN: What artists inspire you the most?
Tam Tam: Chance The Rapper……that's self explanatory.
DubCNN: What is the hip hop scene like in Alabama?
Tam Tam: The Alabama music scene is a few seeds planted that is waiting for a rainy day because after the rain the flowers blossom and out comes the rainbow as a reminder.
DubCNN: Top 5 femcee's of all-time?
Tam Tam: Top 5 Female MCs of all time in my opinion are MC Lyte, Lauryn Hill, Da Brat, Queen Latifah and Left Eye.
DubCNN: If you can make any change in the world, what would it be?
Tam Tam: I would change the way the prison system treats addicts because addiction is mental; addicts need real treatment not lengthy jail sentencing.
DubCNN: What's coming up next for your projects?
Tam Tam: Coming up next is this single that I have called "This Thang" feat. Sir Charles & Mike White The Beholder. Also, my EP called "Screw Love".
DubCNN: Where can fans reach you on social media?
Tam Tam: Follow me @tamtam256 IG: tamtamofficial FB: TAM TAM, Soundcloud: tamtamofficial & www.tamtam.com @thabeholder7 FB: ThaBeholder7
DubCNN: Thanks alot from DubCNN Tam Tam. Any last words? The floor is yours.
Tam Tam: My last words, thank you DubbCNN, the "Walk Away" single is at all digital outlets & BLESSINGS!
---
Tam Tam and The Beholder – "Walk Away" (Produced by LST)
---
Rising Southern hip-hop star, Tam Tam, is back with a dope new single, titled 'Walk Away'.
After being featured three times on Soultrain.com, Ms. Tam Tam is back w/ Mike White The Beholder and Double Platinum Record Producer, LST. Tam Tam has collaborated with many well-known artists including, Mike White The Beholder, Playboy Tre, Homebwoi, Keith Murray, Jaz O (Jay-Z's mentor), Jackie Chain, Princess & Yunkstar, RudiDeville, Lady Lace, Atteze, Sir Charles, and many more. Today we  present to you "Walk Away".  This is music for the world, music for the soul; from one of the hottest hip-hop artists coming out of the south this year.
Check out the video link below as DJ Blayze at WBLX "The Big Station" breaks this record.
https://www.facebook.com/OfficialDJBlayze/videos/1589357387771470/
*Now Playing at Radio, available for interviews, shows & drops upon request.*
Twitter Links
@tamtam256
@tamtamofficial
@teamratednext
My Life Is Real Feat On WorldStarHipHop
My Life Is Real Feat On ZongTv (One of China's Biggest Hip Hop Networks)
My Life Is Real Feat On MissRap (Russia)
Check Out E.P.K.
Contact Tam Tam Worldwide