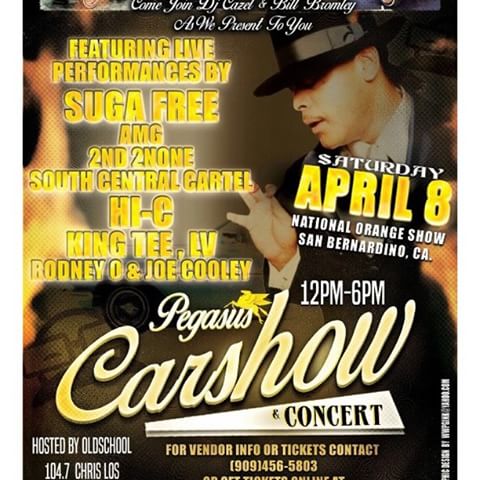 If you are in town on April 8th, 2017, be sure to check out the "PEGASUS" Car Show & Concert! This event will be taking place in San Bernardino, Ca., and will feature a who's who of West Coast hip-hop legends, including Suga Free and King Tee! Get the details below. Only on DubCNN.
---
GET YOUR TICKETS NOW @
www.purplepass.com/carshow1
or
At The Mission Tobacco Lounge
3630 University Ave
Riverside CA. 92501
(951) 682-4427
or
call toll free 888-406-7605
Dont forget to register your vehicles or get your vending spot reserved..They are going fast.
Hosted by:
CHRIS LOOS and JIMMY REYES of "OLD SCHOOL 104.7"
Featuring:
"SUGAR FREE"
"AMG"
"2ND II NONE"
"HI-C"
"SOUTH CENTRAL CARTEL"
"KING TEE"
"LV"
"RODNEY O & JOE COOLEY"
Special Guest Apperance
"KURTIS BLOW"
Location:
NATIONAL ORANGE SHOW
689 S. E STREET
SAN BERNARDINO, 92408