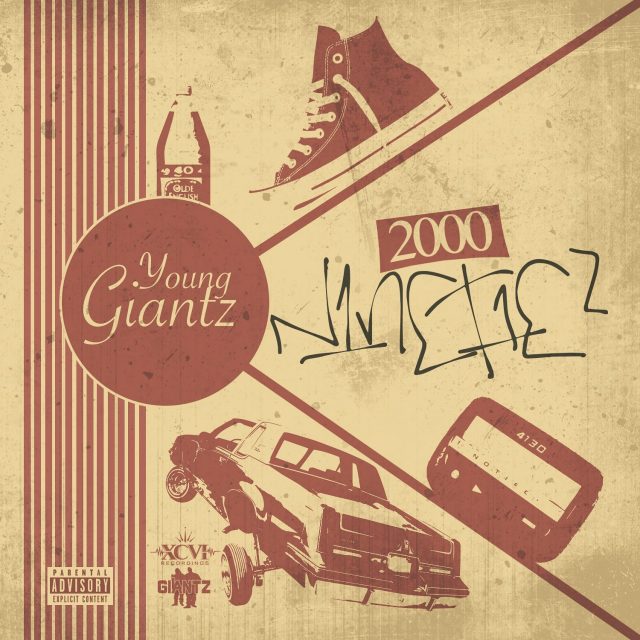 West coast duo Young Giantz are the sons of rap pioneer Playa Hamm of the Penthouse Players Clique (who was signed by Eazy-E to Ruthless/Priority Records in 1992). Today, 25 years later, the South Central brothers Deuce Mac and Bigg Joe West are excited to release their own Priority Records EP, 2000 Ninetiez, a respectful tribute to the classic G Funk era of West Coast hip-hop. Recruiting producer Dae One (Ice Cube, Snoop Dogg), the guys also worked with G-Funk veterans DJ Battlecat and Jelly Roll.
Young Giantz explains, "2000 Ninetiez is the perfect description of our sound because the 90's era is why we're madly in love with music. The authenticity and fearlessness of that time is still very influential to us and we bring that same energy mixed with a freshness of our current time."
Their lead single "Western Expedition" bounces back to West Coast gangsta rap with custom low riders and also pays a special tribute to MC Special One from the 90's duo Conscious Daughters and their 1994 hit "Something To Ride To (Fonky Expedition)." Stay tuned as their music video will be released soon.
TRACKLIST:
Intro (prod. Noni Antonio)
I Am South Central (prod. Aceman, Dae One, E-A-Ski & 1500 Or Nothin)
Western Expedition ft. Mz Ink Bomb (prod. Jelly Roll)
Gangsta Luv (prod. Jelly Roll)
We Liive ft. Humble Jones (prod. Jelly Roll)
Let's Get Rich (prod. Dae One)
Truth Came Out (prod. Jelly Roll)
Wit U ft. Jelly Roll (prod. Jelly Roll)
Quit Cryin (prod. Dae One)
Share Dat ft. Jelly Roll (prod. Jelly Roll)
Fun ft. Andre Wilson (prod. Aceman)
Welcome 2 The Westcoast ft. E-A-Ski & TQ (prod. The Almighty E-A-Ski)
Pain ft. Danny Atoms & Chevy Jones (prod. Dae One)
SOCIAL MEDIA:
ARTIST BIO:
THE YOUNG GIANTZ are brothers Deuce Mac and Bigg Joe West. They're the sons of West Coast rap pioneer Playa Hamm of the Penthouse Players Clique signed by Easy E, who released their classic album Paid The Cost on Ruthless/Priority in 1992.
While the brothers have unique individual styles, they are bounded by a distinct unified chemistry and powerful presence together. They describe themselves as passionate artists with a genuine love and respect for music, its forefathers, and their peers. Bigg Joe West says, "We take a sense of pride in being unafraid to express honestly from our hearts in our music, when it seems so few share their true identity," and adds, "fear doesn't hinder me when it comes to what I want to share with the true fans of our culture, being a very sincere fan myself." Deuce Mac further explains, "We recognize our responsibility that art can influence, and intend to make music like good oldies that is representative of our sentiments as we ourselves continue to mature." The group respects the culture as an art form itself and the political climate affecting rap life and real life.
Their new album 2000 Ninetiez releases August 18th, 2017 via Priority Records. Young Giantz have worked with producers Jelly Roll, DJ Battlecat, E-A-Ski, Phat Beatz & Dae One.