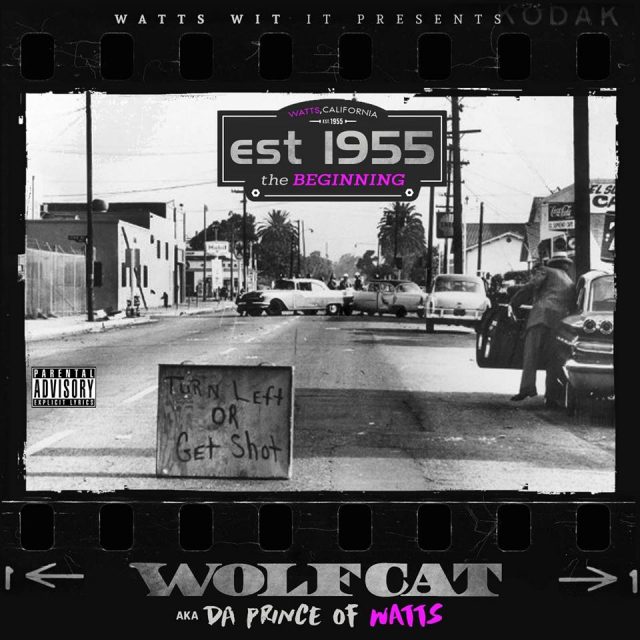 'Est. 1955: The Beginning' is the latest mixtape release from Watts, California artist WolfCat. The mixtape features a variety of Down South and West Coast flavored instrumentals laced with slick LA slang and rhymes. For over a decade, WolfCat has been running his 'Watts Wit It' record label and plans to bring listeners to his neck of the woods with 'Est. 1955: The Beginning'; Which is now available on iTunes.
Straight outta the Jordan Downs housing projects of Watts, CA, WolfCat has plenty of gritty stories to share. Tracks like 'O Dog', 'Day Ones', and 'Big Guns' illustrate the risky and dangerous hustle game within the Watts projects. The productions bring heavy bass line and catchy hooks. While songs like 'Benefits', 'Roc Wit Me', and 'BBW' (a dedication to all the big beautiful women) come equipped with the famous, laid back, 'summer breeze' LA sound. You will be sure to have these songs on repeat.

'Est. 1955: The Beginning' is available on iTunes, Amazon, Spotify and many more online mp3 distributors.
We were able to catch up with WolfCat and ask him a few questions about his opinions towards the rap game today…
DubCNN: Who are some of your influences in music?
WolfCat: Juvenile, the old Wayne, B.G; but the South period…only the ones that make sense when they rap…
DubCNN: How do you feel about the rap game today?
WolfCat: The rap game today is way different – you can make a dance and get on the game or know somebody. Its not based on lyrics no more…
DubCNN: Respect, Thank you WolfCat.
You can follow WolfCat on Instagram and Facebook for all the latest news and merch.