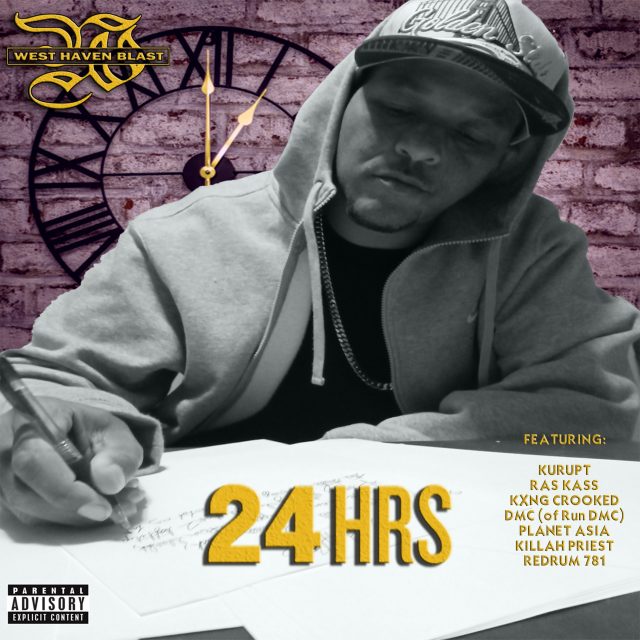 Ras Kass, Kurupt, DMC of Run-DMC, Killah Priest, Planet Asia, Kxng Crooked, and Redrum 781 joined West Haven Blast on his new project "24 Hours" released last month.
Back in January, only a week after West Haven Blast dropped "The G Funk Era" he was back with this new record featuring some of the best from the West!
The new album may be packed with features but the 7 track 20 minute release is still all West Haven – from bars to production he has you covered. So let's take a listen…
Planet Asia joins Haven for the LP opener, 'The Limelight' spitting;
'I molatov mics in the night, with the energy to cause a street fight'
Before handing off to West Haven;
'These the highlights of this chaotic game, napalming the walls of the hall of fame'
'We Mashin' opens with the unmistakable Kurupt Young Gotti requesting
'I want this shit bangin' in my headphones
imma address some shit
i've been dormant for too long, hibernating…'
He then lets it be known, before handing off into Haven 'What's up mu'fucka what's happenin…'
'Taxidermy
Furnances burning if you f*ck with my earnings
I'm inverting your body now buzzards are lurking'
As we pass the halfway point the Waterproof MC is in the building and he isn't holding back on the opening verse of 'Rampage'
'They saying Rassy training up again
Never fell off just the industry aint wanna f*ck with him
So I aint fuck with them
Bars like I f*ck with Gym
I got my weight up
i'm taking supplements'
While Kxng Crooked gives it up to all talented rappers coming up and grinding on the intro and spits;
'I know you wanna make it to the tip-top
But it's difficult to make it in Hip-Hop
So you side hustle, bag it in a zip-lock
'Cause you toO lyrical to go viral on tik-tok'
West comes out swinging on 'Conversation with a King' challenging the industry politics and lack of love between artists and media, lamenting;
'The flicker from the end of the tunnel is insecent
So much time, energy and money invested'
Over the next two tracks Killah Priest & West Haven drop fire over a hard hitting instrumental 'Apocalypse Now' before Redrum 781 joins for Oyg Freestyle to wrap up the 20 minute project.
Make sure you spin this record today and drop your comments below!
West Haven Blast – 24 Hours (Tracklist)
01) The Limelight (feat. Planet Asia)
02) We Mashin' (feat. Kurupt)
03) Run With That (feat. DMC)
04) Rampage (feat. Ras Kass)
05) Conversation With A King (feat. Constantine & KXNG Crooked)
06) Apocalypse Now (feat. Killah Priest)
07) Oyg Freestyle (feat. Redrum 781)
You can stream the release below or access via Spotify or Apple Music.