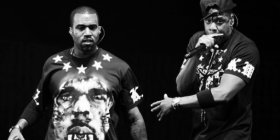 The album hasn't even been out 24 hours, but it's all the music world is talking about! Jay-Z and Kanye West coming together for a collaboration album entitled "Watch The Throne" was a big deal even before the music was heard, but now that it's out – and it's hot – we can say with confidence that it was worth the hype.
Our regular contributor Justin Melo cooked up an in-depth review of the album already, so if you haven't heard the album yet – or even if you have, come check out dubcnn's take on "Watch The Throne":
Release Date: August 8, 2011
Label: Roc Nation/Def Jam
Rating: 4.5/5





Dub Quotable:

"Therefore, all in all, this album is a well put together masterpiece. Kudos must go to both emcees for pulling off this collaboration to its absolute full potential."
…………………..………………………………………………………….
When Kanye West announced a joint EP in August of last year with his hero turned mentor Jay-Z, millions of fans all over the globe prematurely began the waiting period. Just two short months later (October of 2010) when Kanye West announced "Watch the Throne" would now be a full-length album; anticipation from fans of both artists only grew larger.
When Jay-Z came out and discussed the album in November of 2010, the legendary emcee was quoted as saying "Watch the Throne is on another level", leading fans to grow even more eager for an appetizer. In January of this year, the powerhouse duo released "H.A.M"; the Lex Luger produced synth-heavy instrumental with a little opera overdose at the end which was more Kanye-esque than Luger. Now that a track had been released, the project started to become real in the eyes of fans worldwide.
The months that followed were filled with artwork reveals, track listing discoveries and collaborators such as Swizz Beats, Mike Dean and others commenting on there specific work on the project. Still, with a release date set for August 11th digitally, the album seemed to be held under wraps more than other mainstream releases.
The thing is this isn't your typical mainstream album release. This is the coming together of two of hip-hop's greatest performers of all time, yet with no singles purposely released for air play. That stands on its own two feet as to present the project as a whole instead of your typical "single by single" debuting trying to sell a million ringtones before the project's release. No, both Kanye West & Jay-Z wanted to make this project with more valued merit than just hit singles, a feat that deserves recognition for two moguls already richer beyond belief. Production of the album mainly took place overseas (France, England, Australia etc) as 'The Throne' collaborators (and everyone involved) did a fantastic job keeping the project very hush hush.
The two superstars were adamant on recording the album in person instead of opting for a more popular route nowadays by emailing instrumentals and vocals back and forth. That very insistence of truly recording the album together delayed the release, but also added a certain rare value to the project which made it worth the wait.
With the release coming on August 8th at midnight, fans alike waited to order (and those who had pre-ordered) to receive there copies, and begin the listening experience.
The album opens with "No Church in the Wild", surely a title Jay-Z & Kanye West illuminati propaganda conspiarcists will have a field day with. Frank Ocean opens the track with his soulful voice, singing "Human beings to the mob / what's a mob to a king? / what's a king to a God? / What's a God to a non-believer / who don't believe in anything…" Jay-Z spits the first verse, setting the lyrical bar for the project throughout at a high standard, painting a bloody picture of a religious tragedy mixed with a little philosophy, and oh, he also found a little time to compare himself and Yeezy of course:
"Tears on the mausoleum floor / blood stains on the coliseum doors / lies on the lips of a priest / Thanksgiving disguised as a feast / rolling in the Rolls Royce Corniche / only the doctors got this / I'm hiding from police / cocaine seats / all white like I got the whole thing bleached / drug dealer chic / I'm wondering if a thug's prayers reach / Is Pious pious cause God loves pious? / Socrates asked whose bias do y'all seek / All for Plato, screech / I'm out here balling, I know y'all hear my sneaks / Jesus was a Carpenter, Yeezy laid beats / Hova flow the Holy Ghost / get the hell up out your seats."
On "New Day" Kanye West hooks up with Wu-Tang legend RZA, a conceptual track which sees both Jay & Kanye speaking to there future children. Kanye gets exceptionally personal here, certainly a highlight on the album when it comes to his individual vocal performances. During his verse, Kanye embraces his bad boy image all the while almost comically admitting his faults while reminiscing on mistakes as a youth and hoping that his future seed won't make the same blunders he has in the public eye:
"I'll never let my son have an ego / He'll be nice to everyone, wherever we go / I mean I might even make 'em be Republican / so everybody know he love white people / And I'll never let 'em leave his College girlfriend / And get caught up with the groupies in the whirlwind / And I'll never let 'em hit the telethon / I mean even if people dyin' and the world ends / See, I just want 'em to have an easy life / not like Yeezy life / Just want 'em to be someone people like / Don't want 'em to be hated all the time judged / don't be like your daddy that would never budge / And I'll never let 'em hit a strip club / I learned the hard way, that ain't the place to get love / And I'll never let his mom move to L.A. / knowin' she couldn't take the pressure now we all pray."
It's almost shocking that producer Swizz Beats had anything to do with Murder to Excellence. Mainly known for his club-hopping instrumentals, he provides a slower, soulful instrumental. Its clear Swizzy knew it was bring you're 'A' game for 'The Throne' or go home. Both Kanye & Jay use the track to reflect on the wrongs of violence, and how both moguls would love to see more of there cultured youth rise to prominence instead of a life of crime. Kanye delivers the most interesting block of vocals, where he compares the statistics between the deaths of soldiers in Iraq to the annual death toll in his home city of Chicago:
" The paper read murder / black on black murder again / is it genocide? / 'cause I can still hear his momma cry / know the family traumatized / shots left holes in his face / 'bout piranha-size / the old pastor closed the cold casket / and said the church ain't got enough room for all the tombs / It's a war going on outside we ain't safe from / I feel the pain in my city wherever I go / 314 soldiers died in Iraq / 509 died in Chicago."
Frank Ocean revisits on "Made in America", an inspirational tale where both Kanye and Jay reflect on there come-up. For old school Hova fans that miss his "hustle" talk, the kingpin in him is alive and well here, all the while describing the life of a young hustler trying to make it in America:
"I pledge allegiance to my grandma / for that banana pudding, our piece of Americana / our apple pie was supplied through Arm & Hammer / straight out the kitchen, shh don't wake Nana / Built a republic, that still stands / I'm tryna' lead a nation, leave to my little mans / or my daughter, so I'm boilin' this water / the scales was lopsided, I'm just restorin' order / Hold up, here comes grandma, what's up YaYa? / What's that smell? Oh I'm just boiling some aqua / no papa, bad Santa / the streets raised me / pardon my bad manners / I got my liberty choppin' grams up / street justice, I pray God understands us / I pledge allegiance to all the scramblers / this is the star spangled banner."
The two emcees get braggadocios on Illest Motherf**er Alive", but not in a materialistic manner, no, instead Jay & Ye flaunt there microphone skills and rightfully so as this masterpiece of an album is coming close to an end. Jay-Z compares his career to that of NBA legends Bill Russell and Michael Jordan, almost putting there accomplishments to shame as he refers to his eleven number one charting albums as he continues to chase The Beatles record, all the while continuing to build a dynasty with Kanye, Beyonce and Rihanna:
"King Hov, I'm exactly what the f**k you think / 11 in a row, Bill Russell rings / Michael Jordan swag, y'all think Michael Jordan bad? / Ni**a I got 5 more rings than Michael Jordan ever had / Elvis has left the building, now I'm on the Beatles ass / Ni**as hear watch the throne, yeah it's like The Beatles back / Bey Bey my Yoko Ono, Rih Rih complete the family / imagine how that's gon' look front row at the Grammy's."
The album closes as well as it started, with the Curtis Mayfield sampled "The Joy." With Kid CuDi providing background vocals to a soulful Pete Rock instrumental, Kanye stands out as he rhymes:
"I do it for the forefathers, yeah the street authors / that are now A&R's in the cheap office / rappers that never got signed but they keep offers / girls that's way to fine for us to keep off us / Gave her a handshake, only for my man's sake / she in her birthday suit 'cause of the damn cake / now there's crumbs all over the damn place / and she want me to cum all over her damn face / I never understood planned parenthood / 'cause I never met nobody planned to be a parent in the hood/ taken refills of that Plan B pill / another shorty that won't make it to the family will / if I don't make it, can't take it, hope the family will / they ain't crazy, they don't know how insanity feel / Don C just had a shorty so it's not that bad / But I still hear the ghosts of the kids I never had / no electro, no metro / a little retro, ahh, perfecto / you know the demo, your boy act wild / you ain't get the memo, Yeezy's back in style / now in one room got Gidget, the other got Bridget / what's more tripped out dog, is they sisters / naw, you ain't listenin', they black, they sisters / they mama named 'em after white bitches / so next times you see me on your fallopian / though the jewelry's Egyptian, know the hunger's Ethiopian / stupid questions like "is he gon' be dope again? / have you seen him? Has anybody spoke to him?" / this beat deserves Hennessey, a bad bitch / and a bag of weed, the holy trinity / in the mirror, where I see my only enemy / your life's cursed? Well mine's an obscenity."
Of course no album is perfect. If I had to pick one blunder, Lift Off with Beyonce certainly stands out. It doesn't fit the vibe of the album at all, especially following up the beautiful opener that is No Church in the Wild. The beat is over-produced and sounds like a bootleg rip-off of Kanye's All of the Lights. Also, it does Beyonce's big voice no justice as her singing comes off as uninspired. Jay-Z's flow is awkward and the lyrics almost come out in a mumble. Kanye does nothing to save the track either.
Regardless, one blunder in sixteen attempts is a hell of a ratio. Therefore, all in all, this album is a well put together masterpiece. Kudos must go to both emcees for pulling off this collaboration to its absolute full potential. Individually, it would sound like Kanye deserves full props for the direction the album takes sonically, as no Jay-Z album has ever been as musical and experimental. And one must tip the hat off to Jay-Z as well, whose flow sounds as crisp as ever and lyrically remains sharp; it's the little things that count and add up to so much in Hova's accessory of rhymes, things like on "Primetime" where he raps "yeah, Primetime, beat by Dion" – Primetime being the nickname of NFL hall of famer Deion Sanders, and Dion also being the name of No I.D. (spelled backwards) who produced the "Primetime" track. Ahh, so clever (shouts to @JaySudhir on the heads up).
Do yourself a favor and go pick this project up whether it is on iTunes now or in physical format come August 12th.


………………………………………………………………………………
The views expressed here are those of the authors and not
necessarily those of Dubcnn as an organisation.
………………………………………………………………………………