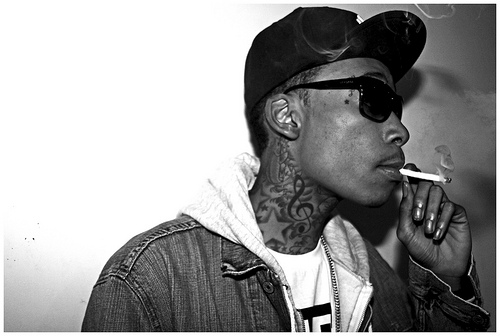 Few know it but one of Wiz Khalifa's first appearances online was right here on Dubcnn back in 2007 with updates that included the news Wiz Khalifa Signs To Warner Bros & Releases "Talk To Me", singles including Youngin' with Terrace Martin & Problem and his smash Alice Deejay remix Say Yeah with Bishop Lamont & G. Malone.
Since then he's literally become a household-hip-hop name thanks to singles such as "Black and Yellow," his debut LP "Rolling Papers" and last years That Good and Young, Wild And Free from their movie Mac & Devin Go To High School which we reviewed this month.
Wiz Khalifa was on Dubcnn earlier this year with the single Mt. Money alongside Fashawn from a planned collabo but at the same time has been finishing up his own solo album "O.N.I.F.C" which should drop next month.
Today a track has leaked that is said to be from that album featuring Game and Stat Quo over a beat by Cozmo called "Far From Coach" – check it below!
Wiz Khalifa- Far From Coach (Feat. Game & Stat Quo) (Audio)
Enjoy and remember "O.N.I.F.C" drops next month via Atlantic Records.