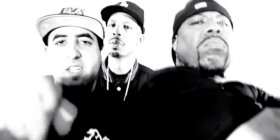 A couple of months back, DubCNN introduced you to rising Vancouver/Los Angeles artist Jay Worthy. Traveling back and forth between Canada and California, the young spitter is pushing his distinctive brand of lifestyle rap: GS350 interstate-driving, gliding airport to airport and cruising bikes on Venice Beach.
Back in February, we released Jay Worthy's laid back anthem "Sky Hi"", which received great feedback, and Worthy just sent over a new video to bring to you today.
Jay Worthy has shared stages with the likes of Waka Flocka, Bricksquad, Dogg Pound, The Grouch, Too $hort, Mistah Fab, Fashawn and notable others. He is also currently on tour with his sister, the world famous artist Grimes.
Jay Worthy recently joined Blockstarbeem and Monster Potatoe to form the group TYG (Troubled Youth Gang. Monster Potato is a part of the Arrogant Veggies, Casey Veggies' crew and all three artists are from the Blockstar camp in South Central/Compton.
Check out the group's first video "This Lifestyle (Allnighter)" below:
TYG (Troubled Youth Gang) – This Lifestyle (Allnighter) (Video)
Jay Worthy has two projects in cut being released soon, one is an EP called "Hood Politics", which features WC, Spice 1, Roscoe and DJ Crazy Toones among others. He also has a mixtape with one of the past year's hottest producers, DJ Mustard.
Enjoy the video and check out Jay Worthy on Twitter and Tumblr