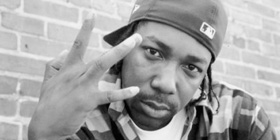 Last week we confirmed that MC Eiht had once again teamed up with the homie DJ Nik Bean for the third volume of his mixtape series "All-Starz N Strapz" and the two would release the full mixtape within days. In that same update we also dropped off the tracklist and first sample of the tape, the Xzibit featured Need Air.
Today we have the full 16 track mixtape – which also features the DJ Premier Mix of Where We Go – for free download below. The full release features WarZone, Bigg Rocc, Daddy Rich, Big2DaBoy, Ace and Young Maylay.
DJ Nik Bean Presents: MC Eiht – Allstarz Strapz 3 (Free Download)
MC Eiht is still wrapping up the release of his long awaited DJ Premier executive produced album "Which Way Iz West" – stay locked to Dubcnn for the latest!