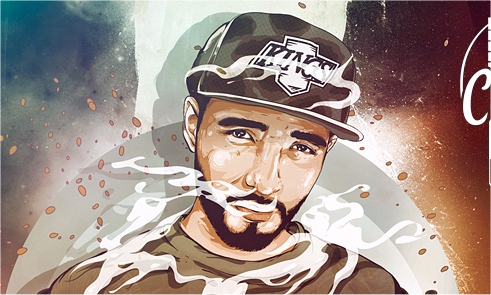 After months of hype we can finally bring you the long awaited release of "ESKO" by Dope Boy A.K.A Esko via his Future Rich imprint.
He was introduced on Dubcnn in October, [see Dope Boy Esko Readies Mixtape, Drops Single With Kurupt] where brought you up to speed on his past work with The Gotti Boyz, under Kurupt and their mixtapes with Black Wall Street's Nu Jersey Devil & DJ Haze
Already we've brought you the solo cuts "Che Guevara Flow" & "Kobe Bryant Ready", the Kurupt featured "I'm Buzzin", "Pop That" with Six Reasons & Problem, Murda with Kendrick Lamar & Scoe – and last week D.G.K. with ill Camille and Tae Beast. You've also had the visuals for a previously unreleased video for Che Guevara Flow as well as the mixtapes single "Liquor & Drugz" featuring Skeme.
Today we can bring you the FREE 18 track mixtape hosted by Power106's DJ Carisma featuring appearances from Kendrick Lamar, Kurupt, Problem, Skeme, Six Reasons, ill camille, Scoe, JDoe, LES, and many more with production from TDE's Tae Beast & Future Rich Producer Starr Lab. Check it below and drop your feedback!
Dope Boy – ESKO (Mixtape)


[raw]
[/raw]

Dope Boy – ESKO (Tracklist)
01) Kobe Bryant Ready
02) Dope Boy
03) Mucho Dinero
04) Skit
05) Pop That (Feat. Six Reasons & Problem)
06) Bank Rollz (Feat. Scoe)
07) Marijuana P.S.A
08) Liquor & Drugz (Feat. Skeme)
09) Im Buzzin (Feat. Kurupt)
10) Made it (Feat. Les)
11) Fuck Them Hoes (Feat. J-Doe)
12) Che Guevara Flow
13) DGK (Feat. Ill Camille)
14) You Gone (Feat. Les)
15) Skit
16) Nobody
17) Story of My life (Feat. Jae Nice & Le Marvin)
18) Murda (Feat. Kendrick Lamar & Scoe)
Drop your feedback below and direct to DopeBoyESKO on Twitter.