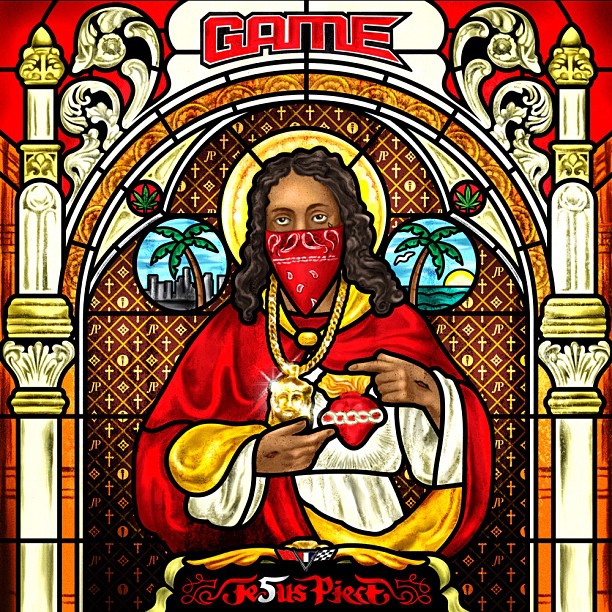 A little over 6 weeks ago The Game dropped his fifth studio album Jesus Piece.
We covered the release across most of 2012 including the lead single "Celebration" (and its official music video) featuring fellow platinum selling artists Chris Brown, Tyga, Lil Wayne and Wiz Khalifa, as well as #SundayService Twitter campaign previews including the Celebration Remix with Bone Thugs-N-Harmony and "Murder" featuring Scarface and Kendrick Lamar.
On the day of release we also dropped the "Dubcnn Collection: Game – Best "Jesus Piece" Promo Cuts" featuring some of the best #SundayService cuts, promo tracks and records that missed the full album.
So today we're dropping our delayed review for the album release to give you an idea of what to expect if you haven't yet supported the release in stores or online – check it and then cop via iTunes.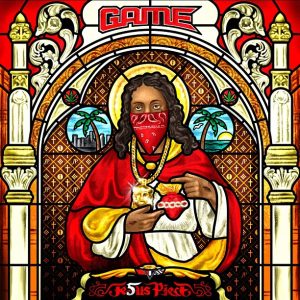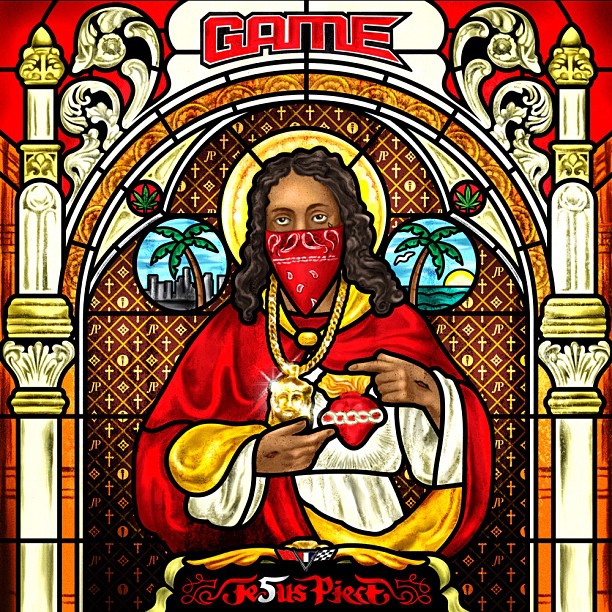 Purchase: via iTunes
   
Rating: 3.5/5

…………………………………………………………………………………
I've always found the notion of having an enthusiasm for both guns and God a little perplexing. It's hard to tell whether Jesus Piece, the latest release from Game is tinged with a bit of irony but the cover alone is certainly an evocative enough statement in itself, depicting a bandana-clad Christ in some form of stained glass gang mural.
Game, it seems, shares my thoughts on the mixture of these two things, with much of Jesus Piece exploring the implications of striving to stay close to God while still enjoying some of his less than wholesome lifestyle pursuits, including guns, weed and bitches. For the large part, he succeeds in providing a relatively thought provoking delve into the polarizing nature of these two ideas.
Then again, it's hard not to surmise that much of it is told tongue firmly in tattooed cheek with lines like "don't you ever question my religion, I just put 50 stacks on Jesus' face, nigga" in reference to a blingy Jesus chain during the outro of Ali Bomaye featuring 2 Chainz.
2 Chainz isn't the only guest appearance, with 23 artists featuring across a 13 track concept album, including the likes of Rick Ross, Kendrick, Kanye, Common, Jamie Foxx, J Cole and, rather unfortunately, Chris Brown (on whom even the most ardent of forgiveness-espousing Christians would probably struggle not to wish a particularly toasty damnation).
Games inimitably gravelly voice and lyrical ability are strong throughout the album and, coupled with consistent and solid production, make for arguably the Compton rappers best release since The Documentary, in what is his Interscope swansong.
While the guest features are plentiful in number, they are varied in quality. Throughout the whole album, Game stays relatively on-point with the subject matter, but it sometimes sounds like he forgot to tell the other rappers to do the same. Apart from the odd shoehorned and often out of context God reference here and there, and achingly mundane contributions from Wayne and Rick Ross, the featured artists' contributions seem a little bit mish -mash at times, with the notable exceptions of Kendrick and J Cole.
It's probably little surprise then that the main standout tracks "Heavens Arms" and "Blood Diamonds", are ones without any guest appearances, allowing Game to follow the narrative of the album to great effect.
It's hard to tell whether Jesus Piece is an earnest journey through Games battle with conflicting spirituality, or merely just a concept for an album, but the result is certainly more towards (but not reaching) the standard of The Documentary rather than 2011's disappointing R.E.D. Album and will be a welcome return to form for many of his fans.
Far be it from me to offer any advice to Game, but given his penchant for conflict throughout a career littered with beef, the lack of a foul-mouthed, hate-filled diss track aimed at Satan is a glaring omission.
Maybe all the soul searching has been an epiphany to lighten up.
…………………………………………………………………………………
Written by Mark Jorgensen (@markjorgy)

The views expressed here are those of the authors and not necessarily those of Dubcnn as an organisation.
…………………………………………………………………………………