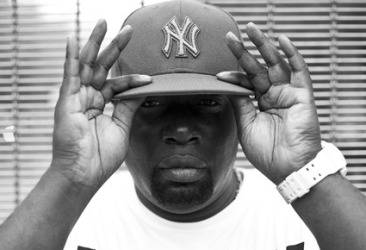 Over eighteen years removed since the release of the Fu-Schnickens final group album, Nervous Breakdown, one the collective's true stand-outs, Chip-Fu, is finally gearing up to unleash his long-overdue, debut solo collection, War Paint.
The self-proclaimed "Jungle Rock, Jr.", most recently dropped his 2nd mix-tape offering, Stop Playing Vol. 2, a follow up to 2009's first volume of the same name, which has over 80,000 downloads and counting.
During his lengthy hiatus from the spotlight, Chip, who is also Co-CEO of BlaqInk Entertainment, stayed extremely busy contributing catchy choruses to other high-profile artists' projects, which, in turn, helped him to not only re-emerge onto the music scene, but to also strengthen his unique brand of hip-hop. Throughout his musically absent years, he never for one minute stopped rapping, even releasing several popular singles like "Love Mi Sensi," "Ridiculous" and "Flowenometry". Off top, it is rather apparent that the man born Roderick Roachford has not lost a step.
Dubcnn caught up with the former Fu-Schnickens crew member to talk about his new War Paint project, working with former Los Angeles Lakers and NBA big man Shaquille O'Neal, what his thoughts are on the Fu-Schnickens place in hip-hop history, and much more!
……………………………………………………………………………………………
Interview was done February 2013
Questions Asked By: Chad Kiser
……………………………………………………………………………………………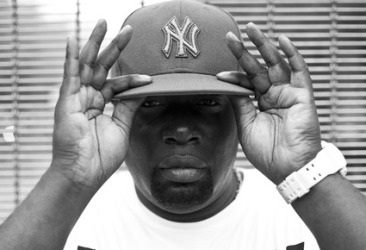 ………………………………………………………………………………………………………………………………………………………….
Dubcnn.com: You've got the new project, "War Paint".  What can long-time Fu-Schnickens fans expect with this upcoming "War Paint" record?
Well, they can expect what they have come to love from me and a lot more. I have been putting out a mixtape series called "stop playing", I'm on volume 2, and the response of the tapes and the downloads I received has been pretty good. That just let me know that the fans, old and new, are ready for what I have to offer, which is an album that has songs that are both hip-hop and reggae. I also go by the alias Jungle Rock, Jr. and have done work with Royce Da 5'9, Pete Rock, Mint Condition and others.
Dubcnn.com: How does "War Paint" compare to your previous efforts with Fu-Schnickens?
You will get more of me, for one. On the Fu-Schnickens projects I was not able to do much because I was in a group. You got the solo records from me, but I was only able to give a few and some verses. Now I'm able to give you several sides of myself.
Dubcnn.com: It's been 18 years since the last Fu-Schnickens record dropped. What prompted you to decide on releasing your first solo LP now?
I was supposed do a solo album, but I never did it because Jive asked me if I wanted to do one and I said I'd rather do another group effort. We did the second album called "Nervous Breakdown", but after that I decided to wait out my contract and my publishing contract. Now I'm able to do what I want without having Jive eat off of me.
Dubcnn.com: In 1992 you, along with Poc & Moc, released "F.U. Don't Take It Personal" on Jive Records.  Tell me about the making of that album, specifically getting the A Tribe Called Quest collaboration on there.
Well, we are the first group they worked with. Phife and Poc-Fu are related, so that's how that collab happened. The making of that record was all about having fun and me just showcasing as much style as possible, making sure we stood out and were able to compete with the other groups at that time.
Dubcnn.com: 1993 saw the Fu-Schnickens collaborate with the NBA superstar Shaquille O'Neal on the record "What's Up Doc (Can We Rock?)".  How did the Fu-Schnickens get down with Shaq in the first place?
It was told to us that we were his favorite rap group at the time. The song "What's Up, Doc" was recorded before we even met Shaq. When we actually got to meet him and we saw how much he loved hip-hop we decided to all work together. He did his own verse, and all he really needed to do was find his voice on the mike.
Dubcnn.com: What were those sessions like with Shaq in the vocal booth?  Did you have to get a specially made booth for him to fit that 330lb, 7-foot frame into?
[Laughs] Nah, the vocal booths are big enough for him. The sessions were fun because he was seeing his dream come true of being an artist and I'm glad that we were able to help that dream come true for him.
Dubcnn.com: When you guys first went in to record with Shaq, what were your initial reactions to his flow and rhyme skills?  What impressed you most about his skills?
I was impressed that he didn't have writers and that he took his time to study the craft. He never had a problem with creative criticism and when it was time to work he did.
Dubcnn.com: Shaq went on to release 2 multi-platinum rap albums, unheard of for a professional athlete.  Do you contribute that to his skills on the mike, or the fact that he was a larger-than-life NBA player?
I say both. The fact that you can tell he had a genuine love for music, it came across in his work. And when you attach that to him being a force in the NBA it just all worked.
Dubcnn.com: Did you foresee Shaq becoming the global icon and NBA powerhouse he came to be in his career?
Well, I knew when it came to him playing that he took it very serious, and with his skills and drive I knew he would be an unstoppable force to deal with.
Dubcnn.com: How do you feel the Fu-Schnickens collective are received in Hip-Hop history?   Do you feel you guys are recognized and respected for your contributions?
No, I don't think we are received well at all ..i think people looked at us as an over night success and a gimmicky rap group ..but I promise you this no emcee at that time verse for verse could mess with me and peopleknew it ..i think how we presented our selves played a big part in it and that was what we allowed the company to get away with..our contributions to the game are over looked ..guinness book for fastest rap, rhyming backwards and forwards..etc. and that fact we fused all of that with reggae .. a lot of emcees got their flow and styles from us. fan base is huge we sold several records gold and platinum and we are still over looked, but its cool.
Dubcnn.com: Other than putting this project together, what else have you been up to, both personally and professionally?
Personally, I went back to school and got my degree as a physical therapists assistant along with my second degree mastery in reiki and deep tissue massage. On the business end I started a record company and video company called Blaq-ink and with my partner tony rasaan and we have opened up Blaq –ink in Canada and international.
Dubcnn.com: What do you consider to be your greatest career moment?
One of them was being on arsenio hall. and right after receiving our plaq after.
Dubcnn.com: Are you happy with the current state of Hip-Hop?  Did you foresee Hip-Hop becoming what it is today?
Some of it is cool …some of it I dont to much like I think there is no more options in hip-hop radio they need to change the format to accommodate every ones taste in rap .they should be able to play a method man song then drake record etc.
Dubcnn.com: What's the current status of your relationship with the rest of the Fu-Schnickens group?
Well after time etc..we all went our separate ways  ..poc and I still communicate cause we are family this music thing wont break that at all.
Dubcnn.com: Finally, are there any lasting words you'd like to conclude with?
For artist coming up ..be mindful learn for your self and stay focused.
Dubcnn.com: Where can fans reach out to you and keep update with you?
Fans can hit me up on facebook "Roderick chip fu Roachford" on twitter @chipfu and on instagram also and check out my website www.chip-fu.com for all the latest in whats coming up with me and my company.