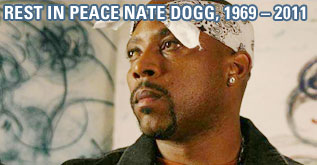 2 Years ago today was a terrible day for West Coast hip-hop as it emerged that Nathaniel Dwayne Hale aka Nate Dogg had died at the age of 41.
In the years prior to his death we had updated regularly on his health after he had suffered several strokes. We reported his death and started a month of Remembrance from March 16th 2011.
The Remembering Nate Dogg area featured interviews with E-40, Battlecat, Kokane, Frank Nitty, The Lady Of Rage, Fred Wreck, DJ Quik, Crooked I, Big C-Style, Lil Half Dead and Bad Azz as well as huge array of media.
Today to remember Nate Dogg two years after his death we are bringing you links to an array of media as well as the incredible Nate Dogg Tribute Mix, put together by DJ Steve1der, which we posted up during his recovery back in 2008. It compiles some of Nate's greatest moments throughout his illustrious career in a 70 minute mix. We have the file available for you to listen to or download, make sure to burn this one and give it out to your friends to keep his legacy alive.
DJ Steve1der & Dubcnn Presents: "The Best Of Nate Dogg" (70min Mix)

[raw]
[/raw]
Selection of Nate Dogg Media
DJ September 7th & DJ Age Present: Nate Dogg – Eternal Legend (Mixtape)
Snoop Dogg Presents the Eastsidaz – Ghetto (ft. Nate Dogg, Kam & Kokane) (Audio)
Game – All Doggs Go To Heaven (Nate Dogg Tribute)
Ya Boy – Closer Than Close (Nate Dogg Tribute)
Nate Dogg – Hardest Man In Town (Extended Teddy Riley RMX)
Nate Dogg – Just Another Day (Radio Remix) Feat. Butch Cassidy
Nate Dogg – Never Leave Me Alone (Rmx) Feat. Lady V & Snoop Dogg
Nate Dogg – Nobody Does It Better (G-Dub Rmx) Feat. Warren G
213 – Joysticc (Produced by Terrace Martin)
Dubcnn TV:Exclusive Clip of Nate Dogg, Snoop, Kurupt & Warren at Video Shoot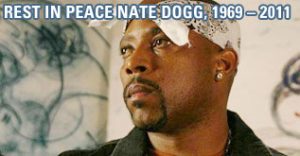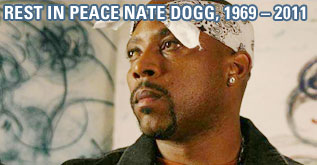 Rest in Peace Nate Dogg.