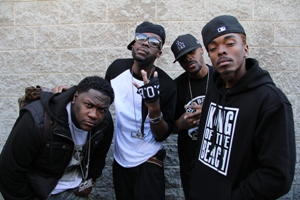 Horseshoe Gang return today with a new record. Recently you've had "Dumb Ass" as well as videos for Ventin and Chillin' With My Noccas right here on Dubcnn.
Last week the team at SkeeTV have dropped footage of Demitrius, Dice, Luciano & Kenny rocking the stage at the Lucky Lounge in Austin Texas after performing a live cypher for fans at SXSW.
Today the Gang go in on Tyga's "Dope" instrumental, and let fans know that they're about to drop a new mixtape with DJ Skee called "R&B"(Rap & Bitches) which we'll have more on soon.
Horseshoe Gang – Dope Sh*t (Audio)
[raw]
[/raw]
This track won't be featured on the "R&B"(Rap & Bitches) tape!
Crooked I's younger brothers aka the Horseshoe Gang released their new album "#TrueStory" to all digital retailers at the end of last year.
The album is available on iTunes, Amazon. In addition to the four-member gang, vocals  are provided by K-Young, Livin Proof and Iceman, with production provided by the likes of Awbskure, Rich Kidd and more.