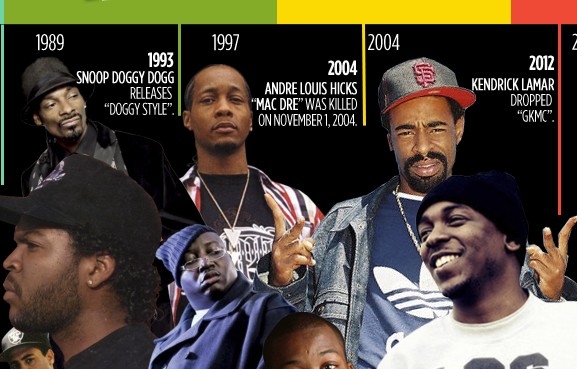 DubCNN is proud to bring you a very special gift on this beautiful Thursday morning.
One of our day-one supporters DJ R-Tistic reached out to me last week in regards to an incredible mix he put together called "The Timeline".
After listening to the entire 79 minute mix, I have to honestly say this might be the most comprehensive and well put together history lesson on West Coast Hip-Hop that I have ever heard.
DJ R-Tistic is a true Hip-Hop head. You've heard him spin on HomeGrownRadio.net as well as many of L.A.'s top night clubs. You might have also seen him spin at the Paid Dues festival this year or on the road with BJ The Chicago Kid. Either way, this is something you don't want to miss.
"The Timeline" is a mix of 500 songs, all performed by West Coast based artists. R-Tistic kept it so gangsta that he even got Ricky Harris aka DJ E-Z Dick, who performed on several notable skits on Snoop Doggy Dogg's "Doggystyle," along with other classic Death Row releases.
The mix starts in 1981 with Captain Rapp and ends in 2012 with Kendrick Lamar. It highlights some of the most important movements and songs that cover this time period. You will hear early Electro, G-Funk, Mob Music, Underground, Hyphy, Jerkin, Chicano and several other styles that were most prominent on the West Coast.
"The Timeline" contains songs from the West's highly respected legends, along with unsung heroes from the 80's and early 90's, one-hit wonders and new rappers who are currently making their mark in the rap game. This mix is sure to incite memories as you come across songs that haven't been heard in years. It will also educate many on the diversity of the West Coast rap scene and display how it has evolved throughout the years.
'Nuff talk, let's get to it! Listen to DJ R-Tistic's "The Timeline" mix below and feel free to share, download and spread the word!
DubCNN Presents DJ R-Tistic "The Timeline" – 500 Classic West Coast Songs in 80min

[raw]
[/raw]
Cover by: Kyon Hollis (@cakezilla)
Executive Producer: DJ R-Tistic
Co-Producer: Ashton Wilson, Jesse Fairfax