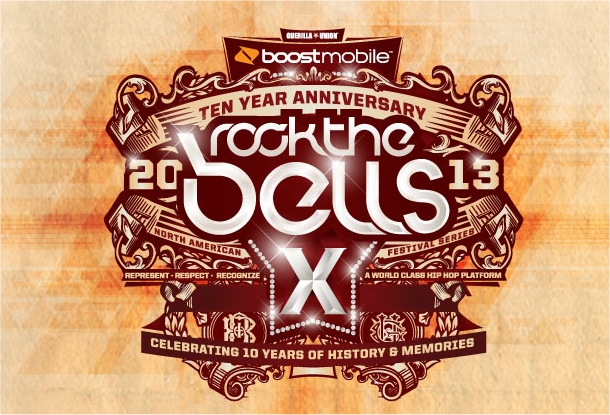 It's that time of year so you should've been expecting it!
Guerilla Union, the live events company behind world-class platforms such as Cypress Hill SmokeOut Festival and Paid Dues Independent Hip Hop Festival, has announced the return of the 10th annual Rock The Bells 2013 Festival Series.
As ever we've created the official Dubcnn Rock The Bells Event Page where we will compile the official press releases,  the full list of performers and the videos and more!
On May 14th 2013 the line-up was announced and will include Big Krit, Black Hippy, BODEGA BAMZ, Bone Thugs N Harmony, Brother Ali, Chase & Status, Common, Currensy, Danny Brown, Dilated Peoples, Dizzy Wright, Dom Kennedy, E-40 & Too Short, Earl Sweatshirt, Flatbush Zombies, Hit- Boy, Hopsin, Immortal Technique, Jhene Aiko, Juicy J, Jurassic 5, Kid Cudi, LeCrae, Mimosa, Prof, Rakim, Snow Tha Product, Supernatural, Talib Kweli, Tech N9ne, Tyler the Creator,Wu-Tang Clan and more.
Not only that but Guerilla Union have confirmed they were inspired by Tupac's Coachella hologram experience and will be bringing fans virtual performances of none other than Ol' Dirty Bastard and Eazy-E!
Eazy-E will perform virtually with Bone Thugs-In-Harmony and ODB will rock with Wu Tang. It was also confirmed that the "holograms" are fully backed by Eazy-E's wife Tomica Wright and Ol Dirty's mother, Cherry Jones.
Ensure you read up on the team at Rezin8 who partnered with Guerilla Union to design, create, and bring to life original virtual performances by Eazy-E and Ol' Dirty Bastard (ODB) at Rock the Bells.
Guerilla Union: Rock The Bells 2013
Dubcnn Is Once Again A Proud Media Sponsor Of This Festival Series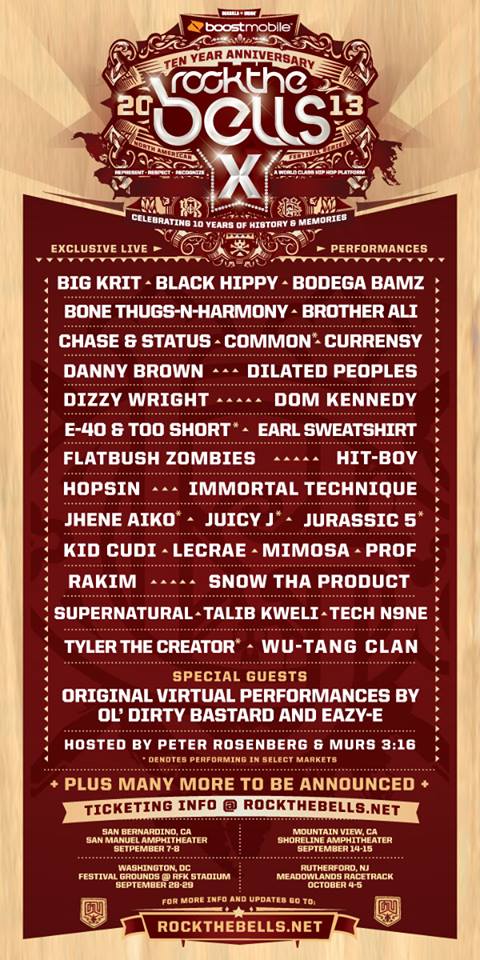 Lineup Freestyle

Coming Soon

Rock The Bells 2013 Press Conference

Coming Soon
2013 Rock The Bells International Festival Series Press Release
Full Press release coming soon.
ROCK THE BELLS 2013 FESTIVAL SERIES ARTISTS
Big Krit
Black Hippy
Bodega Bamz
Bone Thugs N Harmony
Brother Ali
Chase & Status
Common
Currensy
Danny Brown
DILATED PEOPLES
Dizzy Wright
Dom Kennedy
E-40 & Too Short
Earl Sweatshirt
Flatbush Zombies
Hit-Boy
Hopsin
Immortal Technique
Jhene Aiko
Juicy J
Jurassic 5
Kid Cudi
LeCrae
Mimosa
Prof
Rakim
Snow Tha Product
Supernatural
Talib Kweli
Tech N9ne
Tyler the Creator
Wu-Tang Clan
Special Guests: Orignal Virtual Performances by Ol' Dirty Bastard & Eazy-E
Hosted by:
Peter Rosenberg & Murs 3:16
ROCK THE BELLS 2013 FESTIVAL SERIES DATES & VENUES
San Bernardino, CA
San Manual Amphitheater
September 7-8
Mountain View, CA
Shoreline Amphitheater
September 14-15
Washington, DC
Festival Grounds @ RFK
September 28-29
Rutherford, NJ
Meadowlands Racetrack
October 4-5
For more information visit Guerilla Union or Rock the Bells