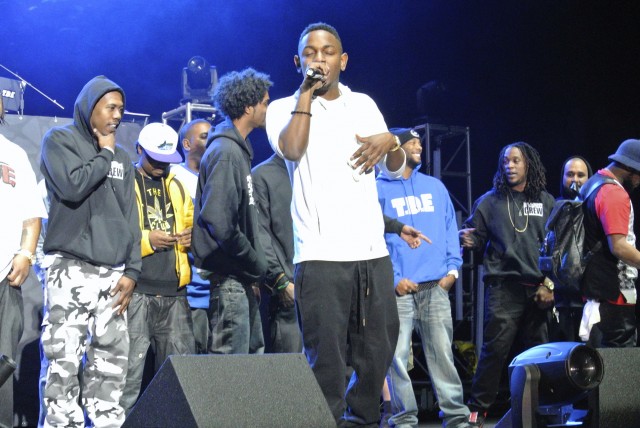 This year I had the pleasure of traveling to Southern California for Paid Dues Festival for the 3rd year straight.
I had attained a press pass for myself and DJ Combsy to provide coverage for our radio station, 90.5FM KSJS and DubCNN.
We mobbed to San Bernardino, from the bay on Friday March 29th, and met up with the folks Adam Stanzak and Sahtyre out in Venice Beach, before eventually hitting up San Bernardino n turning up. There were 8 of us road-tripping, myself, White Tee, Combsy & The Barhemian in one car, and Rowbot, Tieara, Bittersweet & Sheena in another car, as well as several other KSJS members who were already in So-Cal on spring break, and met us at the festival. I also ran into the homie Nima from DubCNN in the parking lot, before the show even started.
The Show.
This year's line-up was heavily west-coast based. TDE remains the most dominant force in the rap game, with their headlining set alongside Macklemore & Ryan Lewis, who brought out their own fanbase and put on a good show as well. It was pretty much a general consensus that Black Hippy had the most fans there, as well as put on a great set. However Dom Kennedy, Nipsey Hussle, Problem & Badlucc, Souls of Mischief, Suga Free, Hopsin, WC, Murs & Fashawn and many more west-coast acts also put on legendary sets to go along with the likes of Scarface, Juicy J, Immortal Technique, Talib Kweli, De La Soul, Joey Bada$$, Mobb Deep, Freddie Gibbs & Madlib, and many more quality acts that were on this year's bill.
I personally checked the following sets: Dirtbag Dan, Stevie Crooks, Skeme, Smoke DZA, Flatbush Zombies, Suga Free, Jean Grae, Elzhi, Joey Bada$$, Binary Star, Freddie Gibbs & Madlib, Problem & Bad Lucc, Scarface, Nipsey Hussle, & Black Hippy's sets, in that order.
I must say my favorite performances came from Black Hippy, Nipsey Hussle & Freddie Gibbs & Madlib, but I definitely have already been a big fan of those acts. Problem & Bad Lucc brought out Clyde Carson, which as a bay cat, i can appreciate.
Check out our exclusive interview with Skeme here:
Check out our exclusive photos here: