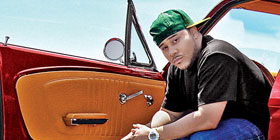 The Bay Area's Balance stays busy, he knows no other way and is a week away from a new mix CD.
The new project titled "In Case You Slept" will be available via DubCNN.com and today we can bring you the video to the first single.
Earlier this year he linked with upcoming production group MMA's to lay down the track "What You Say", with Erk Tha Jerk from which we dropped the Behind the Scenes footage of the video.
Today we can bring the full JL Royal directed video for that track and confirm it will appear on "In Case You Slept" when it's released on June 24th, watch below and drop your comments below!
Balance – What You Say (Feat. Erk Tha Jerk) Video
Follow the guys on Twitter: Balance | Erk Tha Jerk | MMA's | JL