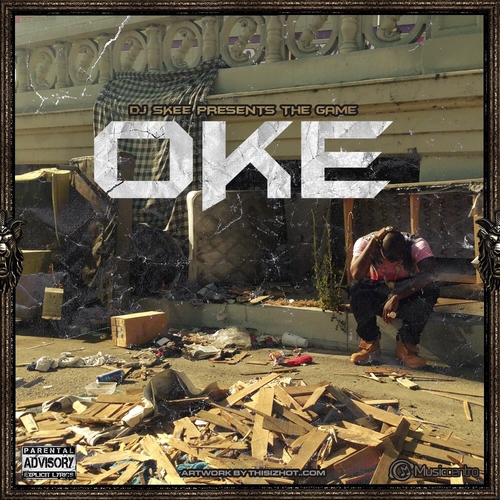 Back in May The Game took to Twitter to confirm he was getting ready to drop a new mixtape titled, "Operation Kill Everything."
In our update at the time we couldn't confirm a release date but it was to follow his recent mixtapes including The Red Room, Purp & Patron, The Hangover.
In the months that have followed Game has kept fans happy with leaks such as his remix to Kendrick's "Don't Kill My Vibe" as well as "Til We Meet Again (R.I.P. Frogg)" – a track that honored his friend Michael "Frogg" Reshard who was killed in April. He then in the summer dropped a J.R. Saint directed clip fueled with dark futuristic imagery for the track "Ali Bomaye" featuring Rick Ross and 2 Chainz from his fifth studio album Jesus Piece  (available on iTunes).
Today the long awaited new mixtape from Compton emcee, The Game titled "OKE (Operation Kill Everything)" is available for stream and free download via DubCNN.com. The tape – once again hosted by DJ Skee – includes features from Chris Brown, Diddy, Lil Wayne, Nipsey Hussle, Skeme, Too Short, Schoolboy Q, Clyde Carson, Problem and many more! The production on the project comes from Cool and Dre, Amadeus, DJ Mustard, League Of Starz, ShoNuff and others!
DJ Skee Presents: The Game – OKE (Operation Kill Everything) (Mixtape)

[raw]
[/raw]
Game – OKE (Operation Kill Everything) Tracklist
01) Kill Everything (Feat. Diddy) (Prod by The Twin Towerz)
02) Life Is But a Dream (Feat. Elijah Blake) (Prod. by V Don)
03) Astronaut Pussy – Welcome to California (Feat. Skeme, Too Short, Schoolboy Q & Stacy Barthe) (Prod. by Pops & Pilz)
04) In The City (Feat. Fred The Godson & Sam Hook) (Prod. by Sap)
05) F.I.V.E. (Feat. Chris Brown, Lil Wayne) (Prod by Sap, Cool and Dre)
06) Love On Fire (Feat. Shontelle) (Prod. by Amadeus)
07) Breakfast With Al Pacino (Prod. by Cool & Dre)
08) Oh Lord (Feat. Shontelle) (Prod. by Pops)
09) TD (Feat. Problem (Prod. by League Of Starz)
10) Same Hoes (Feat. TY$ Nipsey Hussle) (Prod. by DJ Mustard)
11) Turn Down For What (Feat. Problem Clyde Carson) (Prod. by League Of Starz)
12) Fuck a Bitch (Feat. Nipsey Hussle, Joe Moses Elijah Blake)
13) Compton (Feat. Stat Quo) (Prod. by Sap)
14) Swerve (Prod. by Pops 2oolman)
15) Super Throwed (Feat. Juicy J) (Prod. by Sap)
16) Maybe In Another Life (Feat. K Roosevelt) (Prod. by Pops)
17) You Don't Know (Prod. Bird Keys)
18) Just So You Know (Prod. Big Duke x JPDidThis1 Yonny)
19) Pour Up Remix (Feat. Clyde Carson, Jeezy) (Prod by ShoNuff)