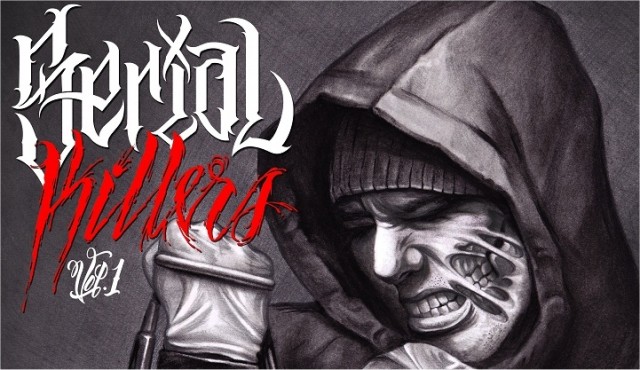 The long awaited collaborative project "Serial Killers" from Xzibit, B Real & Demrick is finally available for free download.
The project – first discussed exclusively with DubCNN in September 2010 – has been hyped heavily in the last few months and today we can drop the 14 track LP.
Already we've brought you the lead single "Body Bags," the official press release, the Matt Alonzo directed video to "The First 48" – and most recently the Statik Selektah laced "Legends Never Die."
Now you can get the full 14 track release, which features verses from Kurupt, Hopsin, Goldie Locc, Jon Connor and more over production from Futuristiks, Sir Jinx, JRB The Producer, Ill Bill, DJ Lethal & C-Lance, Green Lantern, Statik Selektah, Nottz, Bink, DJ Khalil and more. Steam or download below and then drop your comments!
B-Real, Xzibit & Demrick – Serial Killers (Mixtape)

[raw]
[/raw]
B-Real, Xzibit & Demrick – Serial Killers (Tracklist)
01) First 48 [Prod. By Futuristiks & Sir Jinx]
02) Wanted [Prod. By G Rocka & Medi]
03) Dickies & Bandanas (Feat. Kurupt) [Prod. By JRB The Producer]
04) In The Sky [Prod. By Ill Bill]
05) Doctor's In (Feat. Hopsin) [Prod. By DJ Lethal & C-Lance]
06) Whatever Cuz (Feat. Goldie Locc) [Prod. By Green Lantern]
07) Legends Never Die (Feat. Easy MoneyST) [Prod. By Statik Selektah]
08) Worst Nightmare [Prod. By Futuristiks]
09) Get 2 It [Prod. By Dublin Beats]
10) Six Billion Ways [Prod. By Ill Bill]
11) No Comin' Back [Prod. By Ill Bill]
12) Laugh Now (Feat. Jon Connor) [Prod. By Nottz]
13) Eaten Alive [Prod. By Bink]
14) Angels Come Calling [Prod. By DJ Khalil