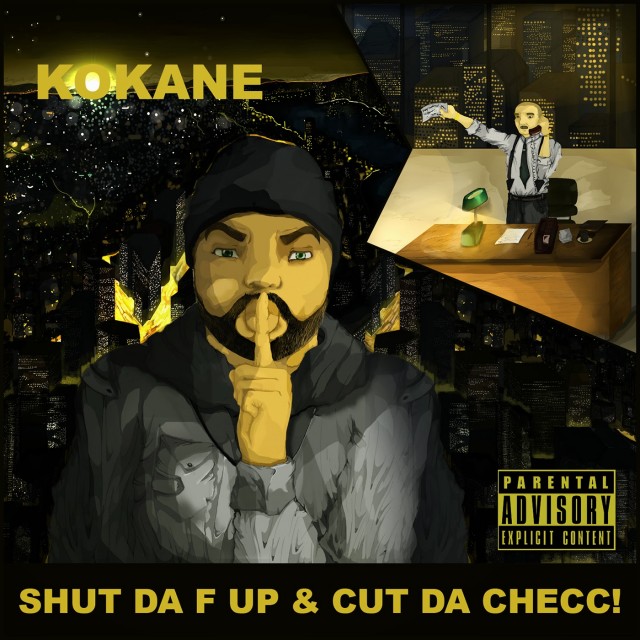 Last year Kokane confirmed right here on DubCNN he was getting ready to drop a new album.
"Shut Da F@#k Up and Cut Da Checc" was touted for an early January 2014 release and is now confirmed for release on January 14th 2014 via iTunes.
Last year we brought you 3 singles to promote the new album, the controversial  "Conspiracy Theory" – where Koka let his thoughts known on Eazy-E's death, Tupac being alive, a Whitney Houston  blood sacrifice, biblical references and UFO's – the Big Hutch (Cold 187um) featured "These Dayz" and most recently "What I" featuring Busta Rhymes and Leezy Soprano produced by Skip and Nukfore.
The full album is set to feature appearances from Busta Rhymes, Daz Dillinger, Kurupt, Cold 187, Leezy Soprano, Tha Chill (Compton's Most Wanted), B-Legit, Richie Rich, Eazy-E son (E3), Babee Loc, The Xtraz, Gwap Don Dollaz $igns, and Ms. Aanisah C. Long aka ACL Da Boss.
Today – as well as confirming the release date – we can bring you the full tracklist, official cover and the album snippets – check them below before you pre-order "Shut Da F@#k Up and Cut Da Checc" via iTunes.
Shut Da F@#k Up and Cut Da Checc (Tracklist)
01) Koka Intro (Produced by Moon Man)
02) Stay Winning (Produced by Moon Man)
03) Gangsta Music (Feat. Kurupt) (Produced by Boss Hog & God Son)
04) Thug Thang (Feat. The Legendary Richie Rich) (Produced by The Chill of CMW)
05) What I (Owe You Nothing) (Feat. Busta Rhymes) (Produced by Skip & Nuk)
06) Pimpen Juice (Feat. Mac Lucci) (Produced by Mtume/Co-Produced by Ace Man Hood)
07) These Good Old Dayz (Feat. Cold 187) (Produced by OG Big Hutch)
08) All I Need (Produced by Ishawn Cooper)
09) Go & Get It (Feat. B-Legit) (Produced by Go Mack)
10) 501 Bluez (Feat. Daz Dillinger) (Produced by WestCoast Stone/co-Produced by Jerry B. Long)
11) Missing U (Produced by Johnny Blaze)
12) Stay Ready (Feat. Weasle Loc & Gwap Don Dollaz) (Produced by The Chill of CMW)
13) U Hear Me (Feat. Kurupt & Leezy Soprano) (Produced by Moon Man)
14) Street Kings Eazy E's son (E3), Babee Loc & Tha Xtraz) (Produced by Mofak)
15) Dear Lord (Produced by Anthony P Johnson)
16) What It's Like to be Me (Feat. Aanisah Long) (Produced by Moon Man, Billy Patron & Jacob Martin)
17) Two Of Us
Shut Da F@#k Up and Cut Da Checc (Snippets)