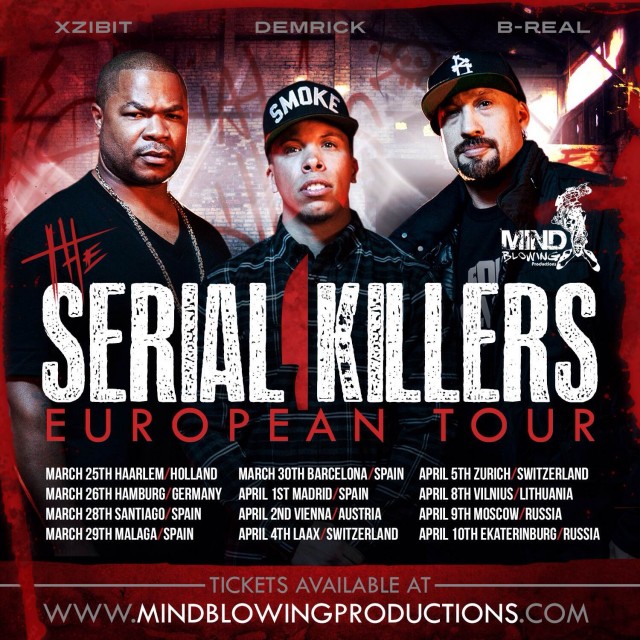 Last year Xzibit, B Real & Demrick released the long awaited collaborative project "Serial Killers" via DubCNN.com
The 14 track release – first discussed exclusively with DubCNN in September 2010 – was well received by the fans and critics alike.
Pre-release we dropped the lead single "Body Bags," the Statik Selektah laced "Legends Never Die" and the Matt Alonzo directed video to "The First 48."
Today we can bring you a brand new video – as well as news confirming the three MCs are taking their killer show on the road to Europe!
First up check out the video for "Angels Come Calling" (performed by B-Real and Demrick over a DJ Khalil instrumental. The video was shot at the recent Cannabis Cup in San Bernardino, where B-Real was crowned "Stoner Of The Year" as well as during the most anticipated High Times Magazine cover, for which B-Real will be posing with Snoop, Method Man and Redman.
B-Real & Demrick (Serial Killers) – Angels Come Calling (Video)
As above we can officially confirm that Mind Blowing Productions have announced "The Serial Killers Tour" which will see Xzibit, B Real & Demrick  kicking off in Holland on March 25 and clossing out in Russia on April 10th. A full tour itinerary can be seen below!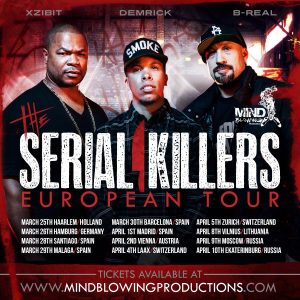 Serial Killers European Tour Dates
March 25th @ Haarlem/Holland
March 26th @ Hamburg/Germany
March 28th @ Santiago de Compostela/Spain
March 29th @ Malaga/Spain
March 30th @ Barcelona/Spain
April 1st @ Madrid/Spain
April 2nd @ Vienna / Austria
April 4th @ Laax / Switzerland
April 5th @ Zurich/ Switzerland
April 8th @ Vilnius / Lithuania
April 9th @ Moscow/Russia
April 10th @ Ekaterinburg / Russia
If you missed it last year stream or download "Serial Killers" now, which features verses from Kurupt, Hopsin, Goldie Locc, Jon Connor and more over production from Futuristiks, Sir Jinx, JRB The Producer, Ill Bill, DJ Lethal & C-Lance, Green Lantern, Statik Selektah, Nottz, Bink, DJ Khalil and more.