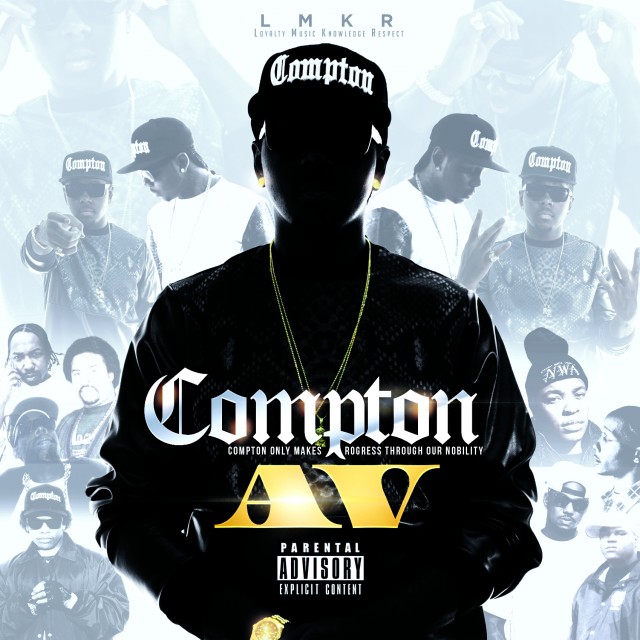 Up and coming Compton representer AV LMKR has just released a brand new 21 track mixtape.
LMKR – who in recent months featured on the Kurupt & Snoop Dogg "Call You A Bitch" video and K-Boy's "I Am California" mixtape – has been making a name for himself.
Today we can bring you the free stream and download of his "Compton (Compton Only Makes Progress Through Our Nobility)" project which features appearances from The Game, Too $hort, TeeFlii, Mistah FAB, Cocc Pistol Cree, Mac Ace, Stats, Killa Twan, Blac Owt and production from Ayoomeco, Disko and Bugsy.
Give the project a spin, or download, below and then drop a comment before following him on Twitter.
AV LMKR – Compton (Mixtape)

[raw]
[/raw]
AV LMKR – Compton (Mixtape Tracklist)
01) Good Mornin Compton
02) Cali Love (Feat. A1) (Produced by Ayoomeco)
03) On One (Produced by Ayoomeco)
04) Money On My Mind (Feat. Mac Ace & Mistah FAB) (Produced by Ayoomeco)
05) Turn Up (Feat. DJ Turf) (Produced by Ayoomeco)
06) Got It (Feat. Ayoomeco) (Produced by Ayoomeco)
07) Cuh Blood (Skit)
08) That Ain't U (Feat. The Game, Blac Owt, Killa Twan & Rimpau) (Produced by Ayoomeco)
09) Nino (Feat. Stats) (Produced by Ayoomeco)
10) Run Me My Money (Feat. The Game & Too $hort) (Produced by Bugsy)
11) R U Still Down (Skit)
12) R U Still Down (Feat. Ease aka Eric B) (Produced by Ayoomeco)
13) Lets Go (Feat. Ayoomeco)
14) Like Us (Feat. Ayoomeco)
15) Betrayal (Skit)
16) I Remember (Produced by Ayoomeco)
17) Say It Again (Produced by Disko)
18) Play No Games (Feat. TeeFlii) (Produced by Ayoomeco)
19) IDK Bout U (Feat. Cocc Pistol Cree & YDot Money) (Produced by Ayoomeco)
20) When u Get Home (Feat. Stats) (Produced by Ayoomeco)
21) Compton Story (Produced by Ayoomeco)