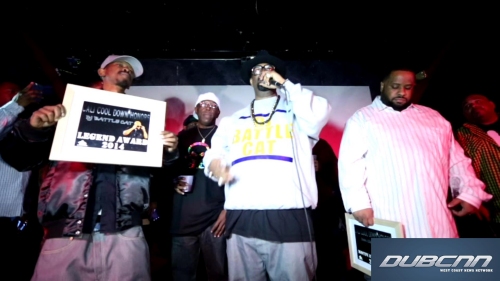 On March 30th Huncho Promotions presented the "2014 Cali Cool Down" to honour Battlecat, Bad Azz and OG Cuicide – as well as showcasing new talent.
DubCNN was in the building and connected with West Haven Blast once again to bring you exclusive footage!
The event – which also featured Sylk E. Fine, Big2DaBoy, Kurupt, Justified, Latoiya Williams and many more – took place at the Stardust, in Downey, CA.
Today we can bring you this exclusive footage from the award ceremony, honouring one of the most legendary hip-hop producers of all time; DJ Battlecat! We also get a few words with OG Cuicide, Latoiya Williams and the homie Big Huncho himself!
DubCNN Exclusive: 2014 Cali Cool Down Footage Honoring DJ Battlecat, Bad Azz & OG Cuicide (Video)
Last month we dropped footage from 2nd II None "Compton Muzik" Album Release Party and the 2014 West Reunion Footage & Interviews with MC Eiht, Kokane, E-White. Next up we'll be bringing you more footage from upcoming events honoring Westcoast legends – with King T, Spider Loc, Big Hutch, Kam and more!
Later this week we have an EXCLUSIVE interview with Battlecat and a freestyle from Kurupt!