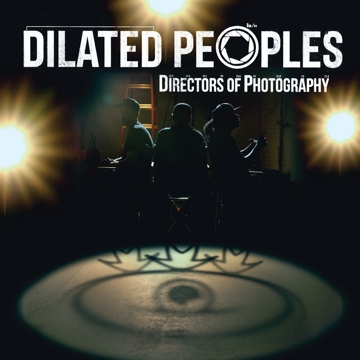 After 8 long years Dilated Peoples have announced a long awaited new album "Directors of Photography" due out August 12!
Evidence, Rakaa (Iriscience) and DJ Babu will release the album under Expansion Team/Rhymesayers Entertainment and is available for pre-order on iTunes.
The album's title refers to how the group sees the world and each other explains Evidence;
"In film, the Director of Photography is the one who's selecting the shots, framing it, the same thing with us. We might not be making the beat, but we're selecting tracks that we want to use, doing the mix, talking with the producer. We're very much the selectors of everything we do."
Evidence and Rakaa revisit their formative years on the hard-hitting "Cut My Teeth," while Rakaa explores the negative aspects of business and the human exploitation of nature on "Century Of The Self." DJ Babu shows off his turntable wizardry on "Figure It Out [Melvin's Theme]."
With "Directors of Photography," Dilated Peoples shows that the hiatus has only improved them as a group as Babu discusses;
"I think the statement we made this time around is that the three of us are still here standing making quality Hip Hop from our hearts. We never chased trends and we always stayed true to ourselves. Even with the changes in the music industry and the world, we still managed to stay cutting edge, classic and, in many ways, independent. This LP is very full circle for us."
The 16 track LP, for which you can see the tracklist of below, also features appearances from Vince Staples, Aloe Blacc, Catero, Gangrene, Sick Jacken and Krondon!
The lead single is the DJ Premier produced "Good As Gone" and the group have just released the Andrew Melby & Evidence directed visual, set in the sunny California desert and along the western coast line. Watch it below then head to iTunes to pre-order.
Dilated Peoples – Good As Gone (Video)
Directors of Photography Track List
1 ) Intro
2 ) Directors
3 ) Cut My Teeth
4 ) Defari Interlude
5 ) The Dark Room (Feat. Vince Staples)
6 ) Good As Gone
7 ) Show Me The Way (Feat. Aloe Blacc)
8 ) Figure It Out (Melvins Theme)
9 ) Let Your Thoughts Fly Away
10 ) Century Of The Self (Feat. Catero)
11 ) @mrevidence Interlude
12 ) The Reversal
13 ) Opinions May Vary (Feat. Gangrene)
14 ) Trouble
15 ) L.A. River Drive (Feat. Sick Jacken)
16 ) The Bigger Picture (Feat. Krondon)
Pre-order now via iTunes and you'll receive the "Good As Gone" single audio instantly!