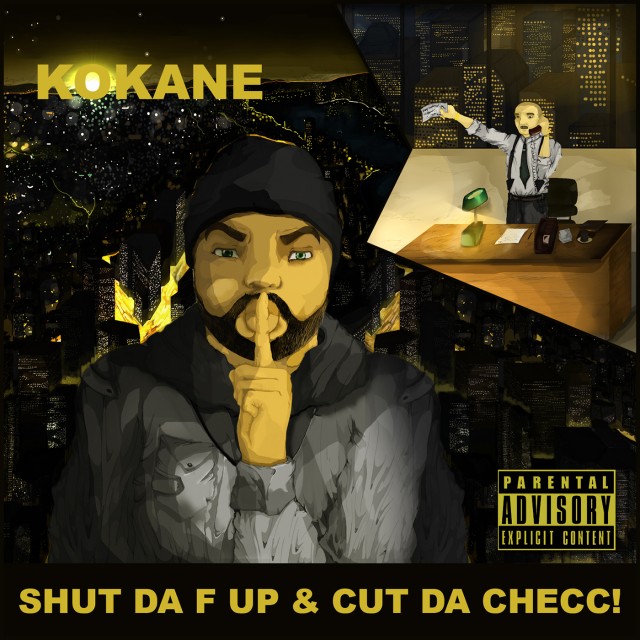 Kokane is a name that needs no introduction. He's a legend in the game and has been a huge supporter of DubCNN.com for over a decade.
West Haven Blast recently linked up with Kokane for an exclusive 30 minute interview covering a huge array of topics.
Koka takes us back in time to how he came up, his musical family and key inspirations before discussing his recent album release "Shut the Fuck up and Cut the Check" and his Bud E. Boy Ent imprint.
We also get Kokane's view on the current state of West Coast hip-hop, the lack of support for West Coast music on terrestrial FM radio and the payola that still plagues the industry. Koka takes time to remember Nate Dogg, Ruthless Records and Eazy-E, explains his recent outspoken disapproval of the production process of the upcoming N.W.A. movie.
He also gives respect to the work TDE have been showing for the west before telling us what his label Bud E. Boy Ent has up next!
Listen to or read the interview below and drop your comments!
…………………………………………………………………………………
Interview was done in May 2014.
Questions Asked By: West Haven Blast
…………………………………………………………………………………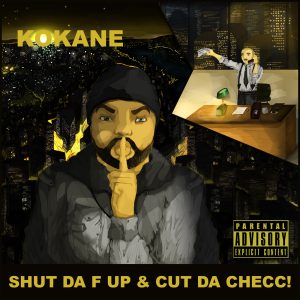 …………………………………………………………………………………
Kokane Interview Audio (June 2014)

[raw]
[/raw]
 …………………………………………………………………………………
Related Media
Kokane New Album Due January 14th: Tracklist, Cover & Audio Snippets
 …………………………………………………………………………………
DubCNN: Checking in with the Legendary Kokane! What's good Koka? With countless hits, and platinum status, your place in hip-hop history is solidified. How did you get started in music? Is it true that famous musicians run in your genes?
Yes it is brother. I was blessed enough to have come from music royalty. My dad was a writer ,arranger, and composer over at Motown… His works include "Just My Imagination" by the Temptations, and a slew of other hits. Plus my uncle is Willie Hutch, who Cold187um aka Big Hutch is named after, who is my cousin…he wrote "I'll Be There" by the Jacksons, "Brothers Gone Work It Out", the soundtrack for "The Mack", you know he was a big big producer back in the 70's and 80's, and you know being that we grew up around Pomona California, Cold187, KMG, Khaos, and myself… coming from that music background, intertwined with how we came up in Pomona, made us come up with that style called G-Funk.
Back in the day, I used to listen to those 8 track tapes, and those 45 records in the 70's, around when hip hop was first breaking in, with Grandmaster Flash and Sugarhill Gang… and also seeing Parliament, really cultivated my style today. It was a blessing to be around all those musical geniuses, and always having that music in the household had a lasting impression on my style today.
DubCNN: The new STFU and Cut the Check Album has been making alot of noise, and justifiably so. What was the inspiration behind that album title?
I've got a record label called Bud E. Boy Ent…I'm the C.E.O. Me and my wife started the company about 5 years ago… but anytime you start a business it's kind of rough the first two or three years. we kept going and we kept being resilient, so finally, prior to the record coming out…which was like a year ago…me and my artist, Babee Loc, he does reggae he is a beast…anyway, we were in the hotel room before the show, chopping it up, and he said, "Man, as long as you've been rocking in the game, Kokane… it ain't no more talking! just like shut the fuck up!", you know what I'm saying? And the rest,I was like, cut the check! So… we kept saying it. Shut the Fuck up and Cut the Check! And we were like, that would be the perfect name to use…so when i came home, because I live in Seattle now, when I got home it just hit me. Ues it! its funny, its classic, and plus the meaning behind it is that Kokane been working in the game so long, I don't have to depend on nobody to put me on. I don't need nobody to vouch for me, I am the voucher. So shut the fuck up and cut the check! I done paid my dues.
DubCNN: What is your opinon of the current state of West Coast hip-hop? Is the West where it needs to be today? If not, what changes need to be made?
I mean, slowly but surely we're coming back. The unity is halfway. It's a blessing to even see the Halfway unity on the west coast. A few years ago there wasn't even any body really trying to hook up with each other.. But now that the pride and the egos have subsided, it's a blessing to always see West Coast Gz invite the new Gz that are on the platform right now. If we keep going at this pace, and keep having that unity, and don't have no problems, and also don't have problems at our shows… you know what I'm saying? It's going to bring in more for the west coast. because right now the spot light is shining on the west coast. It's a lot of people on the South, and the East Coast, and worldwide that's starting to recognize that, and they're migrating over there. But the thing that we have to do as the west coast is be consistent in our unity. And get past people supposedly putting us on and put ourselves on. No disrespect to Dr Dre or anybody else whose from that elite…but if they're not putting us on, we can't fault them., that's they're business. But we have to be able to acknowledge the fact that…from a WC, to a Big2daBoy, to a Kokane, to an Above the Law, to a Quik, or to a Suga Free, or to an E-40… you know what I'm saying?… it's enough to work that we done put in, to wear now we're starting to come together again. So as far as the west coast is concerned, I'm optimistic about that powerful unity that we have. But we still got a long way to go.
DubCNN: What are your feelings on the lack of support for West Coast music on terrestrial FM radio? Will the internet prove to be a formidable alternative?
Internet is definitely the best alternative as far as the independent. A lot of that stuff, quiet as kept, is favoritism. And behind closed doors its payola. To tell you the truth I really don't listen to the big radio stations.
I'm not close minded. I'm not about to sit here and be a fool, and diss big radio stations. You know possibly I would love to have each of my artists on one of those P 1 power stations. But for the most part, they're not going to embrace because they're considered… you know the way the game is, its more based on gossip, payola, and it's not really based upon true talent and breaking records. Back on the west coast for instance. We had KDAY. We had 93 the Beat with Theo. E would come on the Ruthless show. Now, we don't have that no more and it's all political. And thing of it is, that you'll be pissing in the wind trying to continue to get yo shit on the power station. First of all, they going to look at you crazy.
Secondly, if you ain't hot on the other radio stations no matter how dope u is, they gonna laugh at you, and throw your shit in the garbage can. The things that we have to do, is use this technology, and maximize everything. And invest into the social network. Because that's the wave of the future. It's just like 15 or 20 years ago you couldn't tell me that tape cassettes would be played out. But in 2014 its played out. So, you have to be 5 steps ahead of the game, and start planting your seeds especially as independent, on social network. Because it's not about you coming out fast, it's about coming out right. You to be a student of the game, watch all obstacles, soak it up more than spongebob, to utilize this social network to its fullest potential.
DubCNN: Koka, your style is like a hip-hop, funk infusion…blended to perfection. How did you develop this style? What artists inspired your style?
I do like different characters. Like for George Clinton I got Forge Clinton. For Curtis Mayfield I'll call Koka Mayfield. all these things I grew up on and listen to like I said cultivated my style. so if you want to hear Rick James I can do Rick James. wanna hear smokey Curtis George I can do all them. I was so infatuated with the Soul, R&B and funk, like you know Rich Little? Rich Little could mimic and sound just like them I would always practice George Clinton. And I was real tough off of the hip hop I grew up on like Rakim, Schoolly D, KRS One, Just Ice, etc. When you hear a Kokane record you can tell that Kokane is the embodiment of funk.
It's a blessing to be able to emulate and still be cut from the cloth of a B-Boy. At the same time I was privileged enough…and it was a blessing that's why I say that, praise God, to be one of the first ones to sing and rap like I do it. Long before Drake. Before…R.I.P. the late-great Nate Dogg… Nate Dogg came in the game two or three years later. He did his thang and continued to do is thang. So I want to give a big shout out to Nate Dogg, because really the only two people coming with that style between 2000-2006 Nate Dogg & Kokane. And its a blessing to be here…you know… Rest in peace KMG, rest in peace Nate Dogg, rest in peace Eazy, rest in peace Pac… all these people I was close to, had hands on business with, as well as the creativity,,its a trip to see the whole revalation on the West Coast, and a blessing to still be here to tell those stories, and still be relevant with this new project, STFU and Cut the Check…We've got to have that etiquette. in the way the OGz treat the youngsters, and how the youngsters treat the OGz. It's all about respect.
DubCNN: Ruthless Records. When under the leadership of the late-great Eazy-E, was one of the most successful hip-hop labels of all time. With acts like You, Eazy, Above the Law, Bone Thugs in Harmony, BG Knoccout & Gangsta Dresta, etc…what was it like working with that legendary roster?
There wasn't nothing like it. it was like Michael Jackson doing the moonwalk in Motown 25. When Mike did that moonwalk it was over! When Eazy-e brought that style, it was an impact. It was a voice for the community and I got with the niggaz that had that voice. Eazy E was a very smart businessman. But you also have to take in account if there was no Jerry Heller back then there would not have been a Ruthless. Eric was a special brand. Eric was an example and model for business. Eazy took what Russell Simmons did and branded it coming from our side of the cloth, and took it global. From Baby to Master P, to 50 cent, to Dr Dre, to Cube… all got their stuff from the roots of the tree. they are the branches. we are the branches. that's the reason why Ice Cube gets to do what he do. That's the reason why Dr Dre gets to do what he do. We must continue to celebrate this man. He was a platform for them to go ahead and be successful in other avenues of their career. It's always good to be cut from the cloth of what I say is ghetto royalty. Eazy was ghetto royalty.
DubCNN: Recently, an online story developed about your disapproval of the process, in the production of the new N.W.A. movie. Is this true? Can you elaborate?
A lot of people wasn't happy about that. Laidlaw, the D.O.C., JJ fad… I did the interview and spoke the truth and they put it out there. Ain't nobody too big in the game not to sit down and be accountable and make sure everything is right, and if they don't I spoke my peace I spoke the truth and the truth is not popular all of the time. It wasn't my intention to badger the man. I just did a mixtape with him WC & Toones. So therefore it wasn't no problem. But the thing is that when you're leaving certain components out of the movie that are vital, then it starts to become somewhat incompetent. Not pointing the finger at Dre or Cube… but the people that they have writing for them. And don't forget we were there. and nobody ain't called us? Hollywood don't really love Eazy, they love the money that they can make from him. I said what I said, I left it alone, put it in Gods hands, and I put it in the people's hands. speak on it because we homies, but a lot of interviews i been doing lately been asking me about it and I just plead the fifth… because, you know, it is what it is.
DubCNN: Who are your top 5 MC's of all time?
There's a lot of MC's out there ,too many to name. so I'ma plead the 5th on that one. I like a lot of the old school stuff. And I like some of the new school stuff too. I don't badger any hustler out there making the money, but with this popcorn, ABC, bubble gum rap… I can't do that. But I don't knock it, at the same time. It makes bread so don't hate the player hate the game, but If it don't have soul in there, if it don't have the boom with the clap, I cant really fuck with it.
DubCNN: Are there any new artists on the scene that stand out to you?
It's some new artists out there… Top Dawg Entertainment that's without saying. They doin they thang. They in beast mode. And anything helps the coast is going to help everybody else. Nipsey got his thang. Hardhead from New West got some thangs. Big2DaBoy got a project coming out. There's a lot of good things coming out…you know I got records with you West. If you young, or you old school, just be dope. That's what I like, originality.
DubCNN: On your recent video, "Dear Lord", you talk about a lot of deep issues. A very graphic depiction of real life, and all of it's troubling honesty. With the rap game falling victim to certain worldly, pre-meditated agendas…is there any chance the TRUE hip-hop art form will be preserved?
It's too much bumper to bumper traffic so it's best to stay in your own lane. And that's what I do. I have never changed my style because of a religious epiphany or whatever… I always kept it G-Funk and greasy and grimy. I really don't think about certain things like that when there's a big globe out there. There's a whole globe now so we're not subject to be held down by the politics, even from our own coast. Get your passport go ahead and send some stuff to Japan or Australia because they West Coastin! And that's what we need to do, especially as independents. You gotta go see the world now. You gotta go take your music to the world. The thing that's happening to some of these west coast artists, that can't get their music out there…the same thing happened to Jimi Hendrix . The same thing happened to Marvin Gaye who they laughed at when they heard the record "What's Going On". They had to go overseas. It's really political. Most of my record sales right now are overseas it's really the political side if you say honor your people, they look at you like you're crazy… because they got a finger in they booty, playin some pop pop popcorn music. So now we gotta do the same thing we gotta take a shit to the world. But that's what you want to do, you want to make money, you want to take your music to the world…and that's what Bud E. Boy Entertainment is about. We love the West Coast but we don't love West Coast politics.
DubCNN: What does Kokane, and Bud E. Boy Ent. have in store for 2014?
You know we just dropped "Shut the Fuck Up and Cut the Check", which did extremely well in it's first week. My daughter Anisha Long. We just dropped the new video, "Love Potion Number 9. We got this new artist by the name of Truth, oh my God! He's like a Mos Def. He got spittems! Babee Loc just got back from Jamaica…got a single called Luvabug out an album called Bangola. My cousin Gorilla Dawg, he's coming out with a mixtape. I got a group called the Xtraz, from Pomona…they get the party crackin. They like an Alkaholics type of group. Me and Justified droppin something on a spiritual tip. Just a lot of things that Bud E. Boy is involved in. When it drops,people gonna know Bud E. BoyEntertainment is a force to be reckoned with. The new shut the F up album was a cool platform that I set up for my company and my artists. You got Babee Loc on the album, you got my daughter on the album, you got GD the Beast Boy on the album…along with the other guests on the shut the F album like Busta Rhymes, B-Legit, Richie Rich, Tha Dogg Pound Gang, Kurupt and Daz, Cold187 producing on there… I really did my homework, and I also got Mac Lucci on there . That's for the young generation, with E3. E3 sound just like it Eazy-e. So the shut the F up album was really a platform for all the artists I just named including the icons, as well as the artist that are up and coming.
Go grab that hard copy at Budeboyent.com! Digital copies available on iTunes and Amazon. You looking for that real Raw G-Funk, come fuck with the hookmaster himself OG KOKANE! Its a record for the streets. Our company is pushed like that. We think about the streets, we think about the hood, and we think about that Hollywood shit later. Yeah we have the front cover of Canada United States… big up to all my fans out there. The records been out for about 2 months now. And it did extremely well and it continues to do extremely well… so I appreciate all those fans from Japan, Australia, Dubois, Denmark, London, France, Brazil… United States, they all been supporting that Kokane brand, and that Kokane sound. We going to continue to give you what you want, and that's that original G-funk!
I want to give a big shout out to DUBCNN.com! They've been riding with me for years and I've been riding with them for years. They are a source for the West Coast to do their thing. I appreciate all the love that they gave all the west coast artists. And I also want to say one more thing, go pick up Cold187 new album, "The Hit". He also produced on my new album but "The Hit" is Dope! Shoutout to Nima and Ghazi who put the record out – I need everybody to go pick up the original Cooooold187 new album, "The Hit"! Make sure you go support the homeboy Big2daBoy from Compton his albums so cold! That's how we do it man ,we campaign and do the damn thing for each other, it ain't just about ourselves. It's about helping everybody else too. And also go pick up the stuff we did West! We got some cold shit! The Game Chose Me! We West Coast for real, and the spotlight is back on us. Everybody get ready Globally! What you see is the West Coast moving in unity, and we aint having none of that ignorant ass shit. We aint messing up our clubs, or shows.
When you come to the West Coast, you gonna see how much we got it crackin!.
…………………………………………………………………………………
Kokane was speaking to West Haven Blast for DubCNN.com