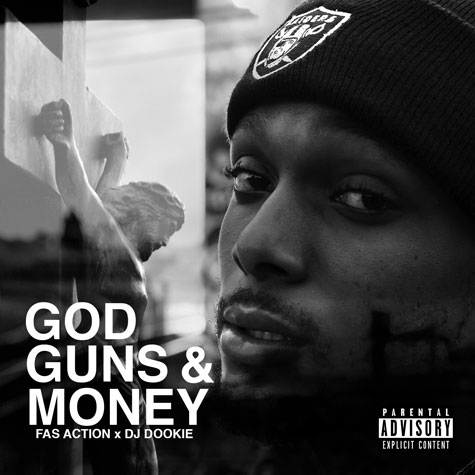 2013 was a big year for CA native Fas Action as he released his "Against All Oddz" mixtape.
That project included the Kokane and TayF3rd featured single "She Said," "Haters" featuring Spider Loc and "Dangerous" featuring Dubb and Yung Bird over a June G production.
Earlier this year Fas confirmed he was getting ready to release a new mixtape, to be titled "God, Gunz & Money" and dropped off "So West Coast" – produced by LI  – and the TayF3rd featured "Real N*gga Sh*t."
Since then we've heard little but today we can bring you the FULL and FREE 27 track project for stream or download via DubCNN.com!
The release is better than countless albums right now and boasts features from Tehri, AV LMKR, Ras Kass, Blaqtoven, Young Gee, Nate Jetson, The Menace, Dahliam, Chris Brown, Rude Azz Fly, Neil Diamonds, Nipsey Hussle, The Real Yung LA and more over production from Big K.R.I.T, Scienticfic, AyoMeco, Evidence, The Bizness, Blaqtoven, Cardiak, Epik, New Jerzey Devil, Canary Julz, Fame Beatz and others.
Fas Action – God, Gunz & Money (Mixtape)

[raw]

[/raw]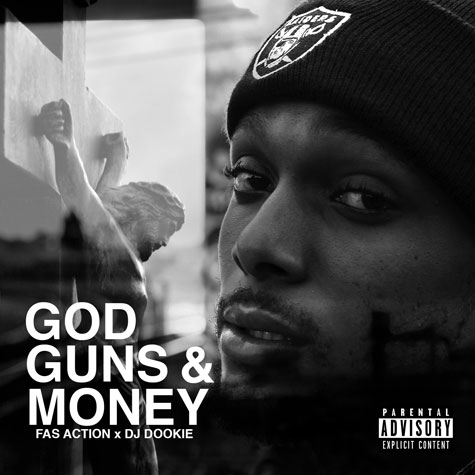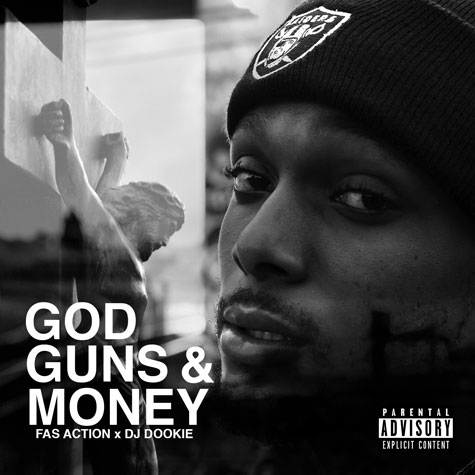 Fas Action – God, Gunz & Money (Tracklist)
01) Shyne Po Intro
02) Do U Believe (Truth) (Prod. by Big K.R.I.T)
03) Success (Prod. by Scienticfic)
04) Aint Mad At Cha (Prod. by AyoMeco) (Feat. Tehri)
05) Got Me Fucc'd Up (Prod. by Evidence)
06) In The Hood (Prod. by AyoMeco) (Feat. AV LMKR)
07) #YOUTHETYPE (Prod. by The Bizness)
08) Couple Hunnit' (Prod. by Sledgren)
09) Posted On Tha Corner (prod.by Blaqtoven) (Feat. Ras Kass & Blaqtoven)
10) Street Life (Prod. by Epic) (Feat. Young Gee & Nate Jetson)
11) No Fear (Prod. by L.I) (Feat. The Menace & Dahliam)
12) Hold My Own (prod, by Cardiak)
13) No Homies (Prod. by New Jerzey Devil)
14) Believe (Prod. by Canary Julz) (Feat. Chris Brown & Rude Azz Fly)
15) Rebirth (Prod. by Big K.R.I.T)
16) Fallen (Prod. by Famous) (Feat. Neil Diamonds)
17) Forever
18) I'd Rather Be (N.I.G.G.A) (Feat. C Starr)
19) Callin' My Name (Prod. by LI)
20) Nipsey Hussle Intrelude
21) Ride Solo Remix (Feat. Nipsey Hussle)
22) Yesterday (Prod. by Big K.R.I.T) (Feat. L.I)
23) Exclusive God, Gunz & Money Freestyle
24) Jay Z Intrelude
25) Bonus Track: Summer Breeze (Prod. by Fame Beatz)
26) Bonus Track: This Shit Crazy Remix Monstah (Feat. , Dodger Blue & The Real Yung LA)
27) Bonus Track: Left Fo Dead (Feat. Shyne Po)
Drop your thoughts to Fas Action on Twitter.