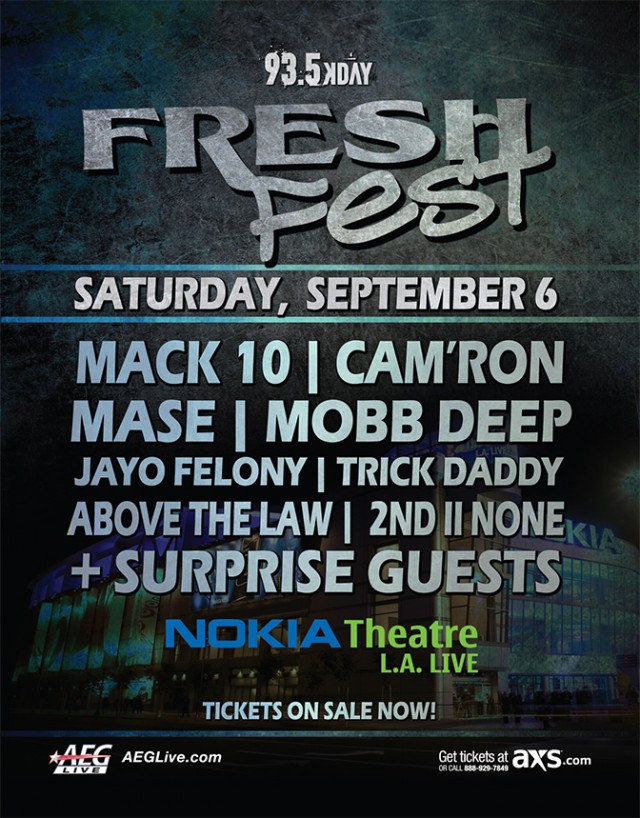 93.5 FM KDAY in LA once again held their annual end-of-Summer concert "Fresh Fest" with this year's event being held at the Nokia Theater in the downtown area.
DubCNN.com was in the building – thanks to Tim Sanchez – and today we can bring you a full event report and EXCLUSIVE footage of the event!
The "Back in the day" Hip-Hop station usually has a line up consisting mainly of veteran West Coast artists, which mostly make up the station's playlist roster, however the station seems to be adding more of a mix of out of town acts as of late.
Krush Groove back in April saw the performance of Redman & Method Man and now the station, much to the surprise of a lot of fans, brought in off-and-on again preacher Ma$e along with veteran East Coast act Mobb Deep. To further spice up the mix, Florida's Trick Daddy was added to the bill in order to give the fans something different than the usual acts that have graced just about every KDAY event over the years but the card was still stacked with West veterans like 2nd II None, Xzibit, Above the Law, Jayo Felony, Kam and Mack 10 to ensure satisfaction for the home-town crowd.
So how did this interesting experiment fare? Let's begin…
The night started with veteran Compton duo 2nd II None, who just returned from Europe to promote their new album, "Compton Muzik." The crowd was still filing in so the group performed to a half empty venue but that's the turf that comes with opening up. The group didn't seem to mind because the fans that were already in attendance were hardcore group fans who knew the lyrics to some of their lesser known works. As the group neared the end of their set and the building began to fill, they performed their guest appearances from some of DJ Quik's songs like "Hand In Hand" and left the crowd happy with that staple classic, "If You Want It." So far, so good.
Up next was Above The Law and I was really looking forward to this performance because out of all my years, I've never seen ATL perform live and it's so unfortunate that I couldn't witness the group in its entirety now that KMG is gone (RIP). You could tell that it was an emotional setting for Big Hutch without his longtime partner by his side but he still managed to rock the crowd with classics like "VSOP," "Kalifornia," and ultimately "Black Superman." For some reason, Big Hutch was cut off right as was about to perform his verse on Black Superman but that didn't stop the OG from rocking his spot accapella as he damn sure wasn't going to let anybody stop him. All that was missing from the set was other ATL classics like "Murder Rap" and "Untouchable" but it was quite apparent that the Hutch only had so much time to do his thing.
Watts veteran Kam was then brought out as a special guest and he came out backed by his little brother Yung Bruh. Kam started with his early 90's gang truce classic "Peace Treaty" and although I haven't heard that song much on KDAY, fans in the audience remembered it and showed their appreciation. Kam then took the time to introduce a new track from his Black & Brown unity project "Mutual Respect" and even brought out popular Hispanic rapper Mr. Capone-E and the Hi-Powered Soldiers to show further solidarity between the two races. The crowd however wasn't very responsive because as always with these types of shows, they only want to hear the hits that they are familiar with (which would also come in to play later in the concert). I spoke to Kam about this after the show and he understood as well. His goal was just to get some of that performance rust off and get back in the groove of things. Kam did finish strong with his popular late 90's Ice Cube diss "Whoop Whoop," even though that beef is long over. The song still stands strong with West Coast fans and everybody got up on their feet once the "Hobo Scratch" beat hit.
The controversial pastor Ma$e was up next and I have to admit that when I first saw his name on the line up, I thought that the station's management had finally lost their marbles. Yes, I second guessed this move but I will admit when I'm wrong and I was wrong on this one. Ma$e had the entire crowd throughout his performance without any down time with Bad Boy favorites like "We Won't Stop," "Can't Nobody Hold Me Down," "Tell Me What You Want," "Been Around The World," "Looking At Me," and "Mo Money, Mo Problems." I have to give Ma$e the award for the 2nd best performance of the night. He may not have much of a future in the business as far as new songs go but will have no problem rocking shows around the country performing his old stuff.
Florida's Trick Daddy came out next and things get a little sticky here. The Southern veteran has been battling Lupus for the past 12 years and he even acknowledged that during his performance. He started out with his guest appearance on DJ Khaled's "I'm So Hood" and the crowd kind of gave a "WTF" reaction and he barely managed to pull them back in when he switched to "No Nann" which by all means should have killed the crowd but there was little energy. Things really slowed down to a crawl with the depressing "Thug Holiday" with most of the crowd sitting down in their seats by this point. Trick Daddy addressed the crowd and said he didn't give a "fuck" and that he's going to continue performing that song everywhere he plays. He was actually entertaining when he managed to address the crowd in between performances because he was kind of busting on the crowd and later on females like an old school comedian. "Shut Up" and its deep horn beat got some of the people out of their seats and the trend continued with "In Da Wind." All momentum was killed however when he decided to follow that up with "Stand Up" and "Play No Games," two songs that the crowd was absolutely clueless about. Thankfully Trick ended things with his most popular radio song, "I'm A Thug."  The crowd showed appreciation for that song but overall this artist turned out to be a failed experiment for Fresh Fest in my opinion.
It was now the turn of Bullet Loco aka Jayo Felony and right off the bat the sound was way off. Jayo kept asking the soundman to turn his mic up but it being up was the problem as you could barely make out what the rapid delivery rapper was saying at times. If that wasn't an issue enough, only hardcore Jayo fans knew of jams like "Shermstick," "Take A Ride," and "Hotter Than Fishgrease." I was loving it but I'm a West Coast vet myself and I took a look around and saw a lot of lost audience members who looked like they wanted to get in to but just couldn't due to unfamiliarity. The San Diego native managed to get the crowd hyped with his guest vocals on "Represent Dat GC" but lost them again as he went in to the more unknown "True'd Up," "What Cha Gonna Do" is Jayo's staple hit and of course everybody got off their ass to boogie when the beat dropped. KDAY has to make a decision to start playing more of these little known songs to its audience on the air so they can become more familiar with them when they are performed or just have artists stick to the hits at these shows.
Xzibit was then brought out to the crowd's delight and although he didn't perform he did have a huge announcement to make. Mr. X to the Z informed the audience that he's now joining the KDAY radio team and every Friday night from here on out, he'll be on the air from 7 to 9 pm to host his own show, "Open Bar Radio." X says that he's out to give more shine to artists who deserve it and this might be a launching point for KDAY to start premiering new hip-hop. It's definitely going to be interesting to see what Xzibit is going to bring to the table for the station.
After the announcement, Mack 10 was introduced and this is where the fun really began.
The lights went dark and the stage turned red as the intro to the self-titled album "Mack 10" was played which sure enough led to "Foe Life." Right from the jump everybody got off their seats and 'Dubs' were thrown in the air as crowd let the Inglewood native know whose house it was. Mack rocked a tribute to Eazy, Pac and Nate (which was also done by Above the Law earlier in the show) but the crowd didn't care one bit and sang the words to "Boyz N The Hood," "California Love" and "Ain't No Fun" to the fullest. Mack continued the fun with "Nuthin' But The Cavi," "Backyard Boogie," and performed Ice Cube's and WC's verses to "Bow Down." The party was just starting when Mack informed us that his time was up much to the audience's disappointment. This clearly was his crowd and he could have gone on another half hour if ask me, which led to the big disappointment for the night…Mobb Deep.
The Queens natives are hip-hop legends and this is to take nothing away from them. Their performance wasn't even bad, it was actually pretty damn cool. The problem is that they were put in the closer spot to an audience that wasn't familiar with any of their outside of the radio hits. It didn't help that the infamous Mobb opened up with 5 straight songs that only their hardcore fans knew. There were some of those types in the crowd but not many, and a large majority of the people headed for the exit stands leaving the duo to perform a very empty audience. To their credit, Prodigy and Havoc weren't too fazed and dealt with it pretty well. They didn't talk shit about those who left but just reiterated that they were committed to hardcore hip-hop and kept it moving after that. Thankfully they were able to get some love from the remaining crowd with more popular cuts like "Outta Control" and "Twisted." Things ended with "Shook One's Part II" which in my opinion should have been the opener in order to keep the crowd. Following a West Coast legend in his home-town is not an easy task after all and you have to come out swinging.
What's next for the KDAY events though? It's clear that they are trying to diversify by bringing in East and Down South acts in to the mix. After all, we can only see the same West Coast acts each show only so many times. If you are going to have an act like Mobb Deep come in, they need to remember that this isn't the House of Blues where they are playing to a smaller venue of devoted fans. Stick to the hits. And if the station is looking for out of town acts with a large catalog of hits that can close shows, they might need to reach out to someone like 50 Cent & G-Unit or a legend like LL Cool J. Just helpful suggestions.
Check out our collection of performance clips of Fresh Fest 2014 below and drop your comments!
KDAY's Fresh Fest 2014 Exclusive Footage (Includes Xzibit Announcement) Video