Recently, DubCNN was able to catch up with French Producer CartelSons about his upcoming album "Tha Hardworker" which is due for a 2015 release!
"Tha Hardworker" is the 3rd installment by CartelSons and has a super-star roster of featured artists blessing the funky but original Westcoast production coming straight out of Lyon, France. Such featured artists consist of Big Hutch (Cold 187 of Above the Law), E-White to Tha Dogg Pound legends Kurupt and Snoop Dogg.
We chopped it up with CartelSons about features we can expect on "Tha Hardworker", the Westcoast making a come back, solo work and much more. Read the interview and comment below to let us know how excitied you are for the upcoming release, "Tha Hardworker" by CartelSons:
…………………………………………………………………………………
Interview conducted in April 2015.
Questions Asked By: P-Rice
…………………………………………………………………………………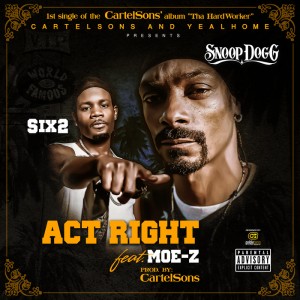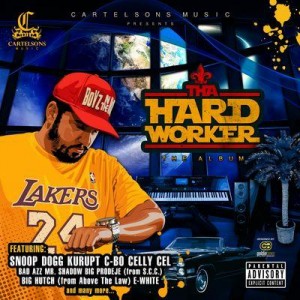 …………………………………………………………………………………
DubCNN: For the past 2 years you have been releasing music non-stop and you are now working on the release of your 3rd album "Tha Hardworker"- can you tell us the idea behind your 3rd release?
Cartel Sons: During 3 years, I worked a lot on producing, making contacts and making collaborations to release projects. Some artists I work with called me, "Tha HardWorker", and I think that it could be dope to work on a project with that nick name. This album is still eclectic on the West Coast music sound, probably more mature on everything. That's what I think.
DubCNN: An inspirational producer, you have had the opportunity to be able to work with some of your favorite Westcoast artists in the game who are legends such as Snoop Dogg, can you share with the fans what features we could expect on "Tha Hardworker"?
Cartel Sons: On "Tha Hardworker" album you can find legends, artists from the 90's/2000, new artists, underground etc. That's a melting pot I love working with. You can find Snoop Dogg, Kurupt, Big Hutch from Above The Law, Celly Cel, Bad Azz, C-Bo, E-White, Big Prodeje from South Central Cartel, Quictamac, Moe Z, Bookie, Mr Shadow, Lil Woofy Woof, LC Johnson, Westcoast Stone, Baby S, Sean-T, Cali Pitts, Marlon White, Krazy, Johnny Collarossi, J-Minixx, Enois Scroggins, A-Dub, Loesta, Monster Loco.
DubCNN: How is it collaborating with some legends of the Westcoast and some up and coming Westcoast players like Baby Eazy and Johnny Collarossi?
Cartel Sons: Sometimes I don't realize what I really did and do but I'm like a kid every time I work with an artist I grew up with and when they show some love and support for my music; I think that hard work pays off and when you start from the bottom, you could be more proud to succeed in this way.
DubCNN: Do you see the original Westcoast making a comeback?
Cartel Sons: I still loved the Westcoast cause it is large of influences and new artists could bring new energy and vibes going back to the original sound. I support ole and new artists and care about how they sound like. We just have to stay real about all that. Industry changes, game changes but we responsible of all that. My word is to make my music like I want, old, new, samples, new drums; I don't care if it sounds dope.
DubCNN: When can fans expect "Tha Hardworker" to be released and how can fans on the internet purchase it?
Cartel Sons: I plan to release "Tha HardWorker" end of May/Beginning of June. I'm sorry about the delay but I was working on the way I want to promote it and distribute it.
DubCNN: Now besides your own work you are also producing other artist's albums such as Lil' Woofy Woof's album which has a track with multi-platinum singer Von Jackson- could you tell us a little bit about producing the album and collaborations?
Cartel Sons: Me and Woofy worked together 3 years ago on my first album "Drugstore Music" and this young homie still got me crazy cause he literally killed every song I sent to him. He got that 93's Snoop flow and an old westcoast flavor. That's why I decided to do full producing for his 1st album solo named "Back In The Days". You can find real G-Funk music, Gangsta Soul, Keyboards etc. I try to create that atmosphere from the good old days to nowadays with no discrimination to his potential on some music. I want to let us expose all his talent. Richie Rich, E-White, Sinful El Pecador from Tha Mexakinz, Westcoast Stone, Slip Capone, Von Jackson already laid their verses and I will ask WC, Shade Sheist to add some dope verses and maybe other artists.
DubCNN: You've also done some producing for Young Dazzie, who are some other artist's albums that you are producing for?
Cartel Sons: This year I produced for Quictamac, Spice 1, E-White, Aloe Joel and others. I got some music left with Celly Cel, Roscoe, Mac Lucci too and I probably will use it for solo singles just to make fans happy to get some new Cartel Sons music.
I produced music on next project from my homie Yeahlome from south France and Crooked I, Willy Northpole, Kokane, Moe Z worked on some of my instrumentals for it as well.
DubCNN: What are your plans for solo work after "Tha Hardworker" release?
Cartel Sons: I want to do what I want, work with underground or mainstream I don't care. I got a lot of different influences and could produce every type of artist if the feeling and vibe are good.
DubCNN: Word has it that you have been talking with Trae from H-Town, for future releases do you plan to work with more Southern artists or expand to other coasts and different genre styles of music?
Cartel Sons: I always listened and supported South music and I got nothing but love for them. I probably work with Trae and it will be a child dream. Was listening to his music when nobody knew him. I want to collaborate with OG like Bun B or Slim Thug or Z-Ro maybe. I got plans with new artists like T-Wayne and YungNation too. We will see. I will continue to make westcoast music but I want to prove myself that I can work and produce south music with legends too
DubCNN: How do you feel about the upcoming N.W.A biopic movie that is coming out later this year? As N.W.A made a major impact on the Westcoast hip-hop scene…
Cartel Sons: For the N.W.A movie, I hope that Dre and Cube didn't change the real story and stayed true bout what every artist was. I'm waiting on it and hope that I won't be disappointed
DubCNN: Recently you've signed a distribution deal for releasing "Tha Hardworker", could you tell us a little bit about the distribution release and if you plan to remain independent in the music business?
Cartel Sons: Some weeks ago I signed a distribution deal with Independent Music Factory (IMF) to release "Tha HardWorker" in digital. It's the first time I do it- so we will see what happen in the future but I know that it will be a good experience. When you are indie, you really want to distribute but you have to learn how it works and stay ready in every angle of view
DubCNN: Would you ever sign to a Westcoast Label in the U.S.?
Cartel Sons: Hmm, I really don't know. I've [been working] solo since forever and I love to be free to work with who I want. If the label is clear about it, yeah no problem. They could help to not waste too much time with deals and make it happen faster. I got the contacts but label could help you to grow on visuals and views.
DubCNN: What do you think the Westcoast hip-hop scene is missing nowadays? And how do you feel about Kendrick Llamar's "To Pimp a Butterfly" release?
Cartel Sons: That's a hard question cause you can't please to everybody and everybody wanna make their own music. I love the originality. Hip hop is full of different influences and you could find a lot of different atmospheres. I just would like to not hear some wack lyrics anymore. You could make mainstream music but be honest with the young generation. If you want to speak bout your life of guns, money, cocaine etc. OK but don't influence young people to leave school for that type of shit.
DubCNN: What are some last words you have for the fans and any inspiring producers?
Cartel Sons: I would like to thank every person who shows me love, support, some words to give me strength to follow my dreams. Every honest person who gives me advices, good energies etc and for the inspiring producers, just work hard and you can touch the sky if you true with yourself and your music. You have to be patient. Work in the dark to shy into the bright surface.
DubCNN: Thank you CartelSons and we appreciate you taking out the time to conduct this interview for DubCNN. We look forward to the upcoming release "Tha Hardworker" and keep in touch for future projects. Look for it this summer, Cartel Sons, "Tha Hardworker" May-June 2015!
…………………………………………………………………………………