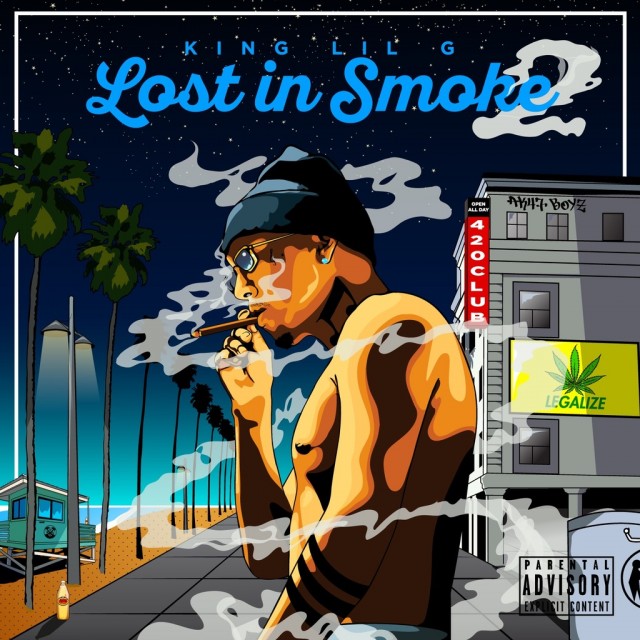 KING LIL G'S NEW ALBUM
LOST IN SMOKE 2
AVAILABLE NOW
"2Pac famously said 'It wouldn't be L.A. without Mexicans.'
King Lil G is the grown-up kid who heeded his call" – LA Weekly
On April 20, 2016 — Inglewood hip-hop artist King Lil G releases his highly anticipated brand new album Lost In Smoke 2 via DEL Records. The 15-track LP is a testament to King Lil G's rebellious past reflected with an authentic message of hope for his young fans. With production from Hit-Boy and League Of Starz, Lost In Smoke 2's featured artists include Tory Lanez, Too Short, Bun B, Baby Bash, Nipsey Hussle and more.
"I'm excited to work with more artists and I will continue to grow. But no matter what, I will always make music for the streets and my people in the struggle," – King Lil G.
Recently, King Lil G kicked off NBC Universo's new weekly fight series Combate Americas: Road To The Championship. King Lil G's live performance marked a new partnership between DEL Records, the most prominent independent Mexican record label, and Combate Americas, the first-ever U.S. Hispanic Mixed Martial Arts (MMA) sports franchise.
Lost In Smoke 2 follows the 2015 release 90's Kid that hit #3 on the Billboard Independent Album Chart. Listen to two songs from the new album below.
"COLD CHRISTMAS" STREAM (Over 300K Plays)
"DOPE" ft. NIPSEY HUSSLE STREAM (Over 300K Plays)
LOST IN SMOKE 2 TRACKLIST:
1. Cold Christmas
2. Room Full Of Smoke
3. Goon$
4. Look How Far ft. Young Drummer
5. Obvious ft. LA Gun Smoke, EMC Senatra, Young Drummer Boy and Cut Throat Season
6. Ando Tatuado
7. Click I'm With ft. Young Drummer Boy, EMC Senatra, Cut Throat Season and LA Gun Smoke
8. Fuck With You ft. Too Short
9. I Want That Old Thing Back ft. Baby Bash & Malik
10. Texas Cups Cali Blunts ft. Bun B
11. Pablo De Medellin ft. Life
12. MariWanna ft. Tory Lanez
13. Dope ft. Nipsey Hussle
14. Get Away
15. After My Death
KING LIL G – SOCIALS:
Facebook
Instagram
YouTube
KING LIL G – OFFICIAL WEBSITE:
http://www.kinglilg.com