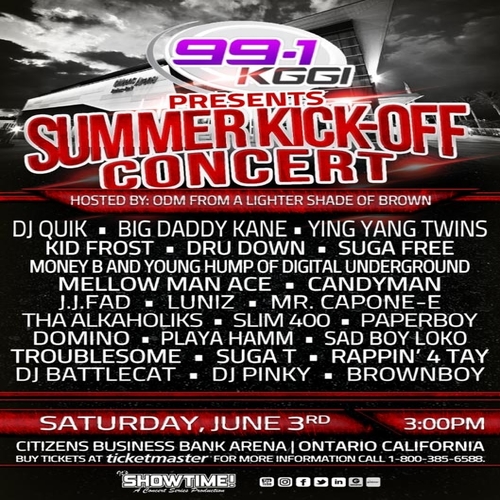 99.1 KGGI and SHOWTIME Productions present the Summer Kick-Off Concert at Citizens Bank Arena in Ontario, Ca. Hosted by ODM from Lighter Shade of Brown, and featuring hip-hop luminaries such as DJ Quik, Kid Frost, Mellow Man Ace, JJ Fad, Suga Free, Domino, The Luniz, Sad Boy Loko, Money B and Young Hump of Digital Underground, Paperboy, Slim 400, Dru Down, and Big Daddy Kane, this event should not disappoint. Get tickets below! Only on DubCNN.
Tickets are on sale now at the Citizens Bank Arena Box Office and Ticketmaster.com.
Show Date: Saturday, June 3rd, 2017.
Doors Open at 3:00PM. Show Starts at 3:30pm.
Read more:
http://991kggi.iheart.com/calendar/june-03-2017/summer-kickoff-concert-feat-dj-quik-554905/
Come on! pic.twitter.com/C79N4Bd9V8

— DJ Quik (@djquik) May 27, 2017