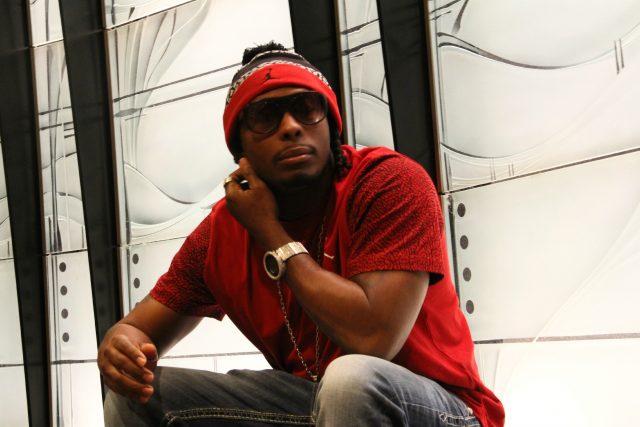 Hailing from Kansas City, Missouri, Mr. Stinky is a unique talent, combining Hip Hop, reggae and dancehall music to produce an enthralling, trademark sound that has hip-hop heads buzzing abroad.
Born and raised in Kansas City, Missouri but now based in Las Vegas, Nevada, Mr. Stinky exhibits a voice, an energy, and overall connection to the world around him that sets him apart from his competition. Being one-of-a-kind shows in his music. He takes his life struggles and spins them into a unique style of authentic dance hall reggae or rap. Being Jamaican/American he has influences from two cultures. The music isn't all about the struggle, he covers a wide range of topics that reach many types of people as it shows in the fans he's gained. Whether you are in the streets or just chillin' with your favorite marijuana strain, like Mr. Stinky's Ganja, Mr. Stinky has the song to get you through your day.
Stinky started taking music as a career seriously at age 14 when he tragically lost his older brother, Jamonte Canty, in his arms. Jamonte's last words "You don't need me, one day you will be a star!" sparked a fire in Mr. Stinky that gave him the motivation to be a successful entertainer.
Mr. Stinky has made his place in the music industry as one of the top independent artist in the nation. He has worked with some of the biggest household names in the music industry and earned their respect in the process. He has shared the stage and been featured on dozens of albums. Features include: the late great Nipsey Hussle (RIP), the infamous Tech N9ne, 2Pac's Outlawz, E-40, Master P, Mac Dre (RIP), The Jacka (RIP), Brother Lynch Hung, Biggie Smalls (RIP), Fabolous, and ATL's Young BloodZ. The list also includes other reggae greats Beanie Man and Elephant Man.
Touring the west coast to Hawaii with Bad Boys and Def Jams labels was his first introduction to West Coast and Hawaiian music lovers and he has held a space in their hearts ever since. From impromptu shows in Las Vegas to living and recording in hip-hop capitol Atlanta, GA, Mr. Stinky has not only grown as an artist but as a businessman.
His music is available on all music retailers stores and streaming platforms, and can be streamed/downloaded using link provided. Visit his store at http://mrstinky.store for merchandise & music. Check new music from Mr. Stinky, including a recently released single, titled "Bilingual," below. Stay tuned!
Follow Mr. Stinky on Social Media:
Music:
Podcast:
Video: