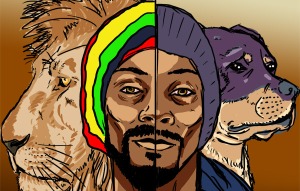 Snoop Lion is gearing up for his forthcoming reggae & dancehall influenced album, "Reincarnated". The documentary following Snoops path changing journey in Jamaica has been getting rave reviews since its premier at the Toronto International Film Festival.
The documentary was on show in LA for a host of your favourite artists with Snoop himself present for a Q&A. Check out some of the footage from the day which includes the likes of Diddy, Busta Rhymes, Ceelo, Nipsey Hussle, Wiz Khalifa, Terrace Martin, Wale & a bunch of other names.
Reincarnated film in select theaters March 15th. Reincarnated album & film available everywhere April 16th.
Adidas Reincarnated LA Influencer Screening Footage
Recent Snoop Lion Media: La La La, Here Comes the King (Audio), Here Comes the King (Video), Lighters Up (Video),.