DubCNN & StrongArm have teamed up to release a West-Coast mixtape, highlighting some of the dopest drops of 2013 thus far on the site. The mixtape features a range of different West-Coast artists from XXL Freshmen Schoolboy Q & Dizzy Wright, to veterans The Dogg Pound & Snoop Dogg, Suga Free, to Bay Area artists Sage Gemini, IamSu, Traxamillion, DJ Fresh, The UN, Mistah FAB & GQ to Los Angeles' YG, Sahtyre & Ras Kass, to Sacramento's Chuuwee & C plus. This tape has got it all. Listen/Download below:
DubCNN & Strong Arm Present… "Fresh to Death" Vol.1 (Mixtape)

[raw]
[/raw]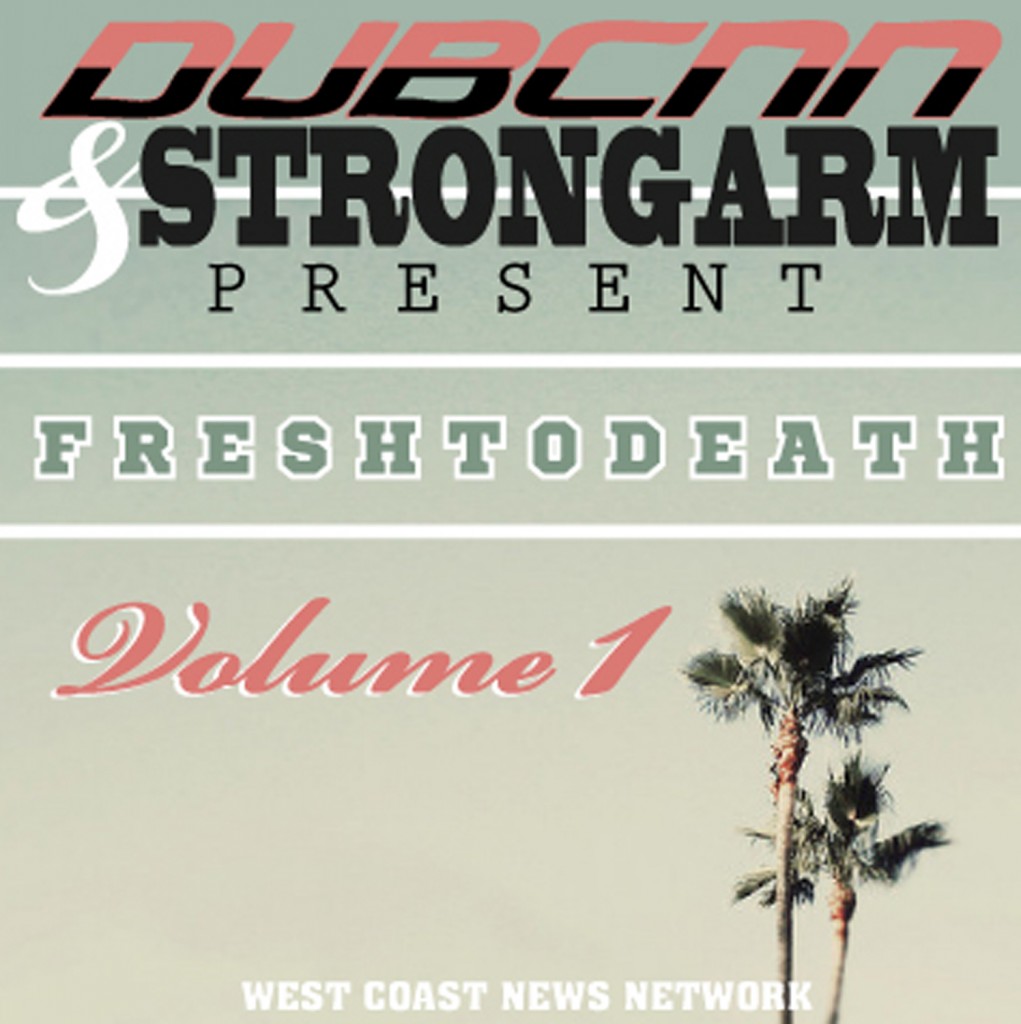 Track Listing:
1. IamSu – 100 Grand remix (feat. Juvenile & Kool John) (prod. P Lo of Tha Invasion)
2. YG – You Broke (feat. Nipsey Hussle (prod. DJ Mustard)
3. Schoolboy Q – Dat Yay Yay (prod. Boi-1da)
4. Casey Veggies – Faces (prod. Rob Holladay)
5. Suga Free & Pimpin Young – 15 Minutes to the 5 (feat. Nate Dogg)
6. The Dogg Pound – LA Here's 2 You (feat. Snoop Dogg)
7. Dizzy Wright – Maintain (feat. Joey Bada$$) (prod. DJ Hoppa)
8. Sahtyre – Gettin High (prod. Hippie Sabotage)
9. Traxamillion – Ferrari (feat. IamSu)
10. The UN – The Boogie (prod. Cache)
11. Chuuwee – Changed (prod. Swoots)
12. Mistah Fab – Who U Gone Turn To (feat. Trae The Truth) (prod. DJ Pain 1)
13. Ras Kass – Judas (feat. Planet Asia & Chace Infinite)
14. Locksmith – Transitions (prod. Khrysis & Eric G)
15. C Plus – You Already Know (prod. Robbie Anthem)
16. GQ – The Town (prod. 9th Wonder)
17. First Light (Opio x Pep Love) -Los Lobos (prod. Unjust)
18. DJ Fresh x Mitchy Slick – Feet Match The Paint  (prod. DJ Fresh)
19. Sage Gemini – Gas Pedal (feat. IamSu!)  (prod. IamSu! of Tha Invasion)
* Shouts to Opski Chan for the Cover Art!