It's over a year now since Kurupt's younger brother Scoe confirmed he was back and getting ready to release "Tha Influence."
Scoe dropped the official first single – the Jake One-produced "Thank You" – featuring Kendrick Lamar as well as an official remix with Slim The Mobster.
Since then across late 2012 and early 2013 we dropped the Hi-Tek produced End of Summer plus Mercy, Sunset Strip Hear No Evil See No Evil, the Glasses Malone and Kobe featured Lay Low produced by DJ Khalil and a 3 Kings Freestyle.
The last time we heard from the project was with the Nottz produced They Aint Ready and word was there would be a version on the album that featured Xzibit – today with the release of the full album for stream or download you can hear that version!
The 17 track collection features Kendrick Lamar and Xzibit over production from Mike WiLL Made It, Just Blaze, Jahlil Beats, Hi-Tek, Nottz, Jake One and Statik Selektah, among others. What you waiting for? Get it below!
Scoe – Tha Influence (Album Stream/Download)

[raw]
[/raw]
Scoe – Tha Influence (Tracklist)
01) Just Blaze (intro)
02) The Crown (Produced by Just Blaze)
03) Hunnit Thousand (Produced by Jahlil Beats)
04) They Ain't Ready (Feat. Xzibit) (Produced by Nottz)
05) Dogg's Day (Produced by Tone Mason)
06) Bitch I Ball (Produced by Mike WiLL Made It)
07) Where They At (Produced by Jahlil Beats)
08) Sunset Strip (Produced by Charlie Red 3000)
09) End Of Summer (Produced by Hi-Tek)
10) Cocaine (Produced by Jake One)
11) California Dreamin (Produced by Bink Dawg)
12) Go Fly (Produced by Jake One)
13) Ready To Go (Produced by Fingazz)
14) Thank You Doctor (Feat. Kendrick Lamar) (Produced by Jake One)
15) Real Nigga Skit (#RNS intro)
16) #RNS (Best Kept Secret)
17) Somebody's Gotta Win (Produced by Statik Selektah)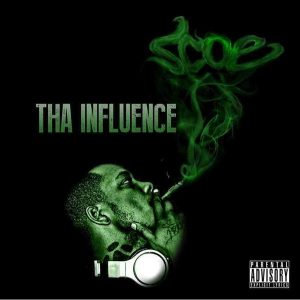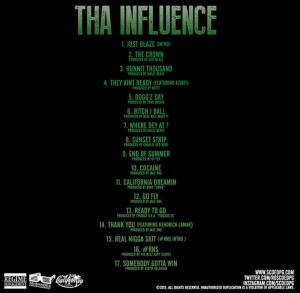 Check the DubCNN Scoe archives (2011-2013) or prior to that check the old site.