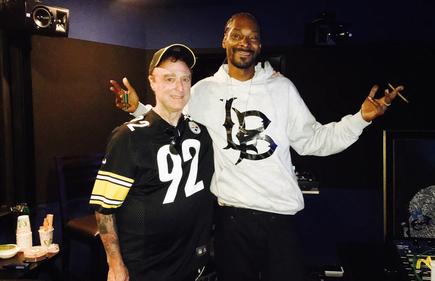 Recently DubCNN sat down with legendary radio DJ, Kevin "Slow Jammin'" James, for an exclusive interview. The name Kevin "Slow Jammin'" James is synonymous with the dopest in R-n-B music, and music in general. Kevin was the premiere late night on air personality on 92.3 FM in Los Angeles, Ca., and now blazes the airwaves at Dash Radio, contributing to an already extensive resumé and solidified legacy. In this exclusive interview we cover a myriad of topics including Kevin's start in radio, his sitiation with hip-hop superstar Snoop Dogg, and their joint venture, Cadillacc Music Radio Show, an exclusive never-heard-before story about West Coast hip-hop legend Eazy-E, and much much more! Check the interview below. Follow Kevin "Slow Jammin'" James on Twitter. Stay up-to-date on all Kevin Slow Jammin' James shows, via Podcast, HERE. Only on DubCNN.
---
Interview Conducted by West Haven Blast (2017)
---
DubCNN: DubCNN checking in with legendary radio personality Kevin Slow Jammin' James. What's good with you fam?
Kevin "Slow Jammin'" James: Everything is GREAT!
DubCNN: Correct me if I'm wrong but you hail from Pennsylvania. but you have made quite a powerful impact on radio across the map including Southern California with some of your head syndicated shows. How did you get your start as a radio personality?
Kevin "Slow Jammin'" James: I was born in Punxsutawney, PA and raised in Philly. My career goal was Pro Baseball. After a tryout with the Pittsburg Pirates I realized I needed a back up plan. That plan was sports play-by-play. That started as me being a DJ and well, I'm still a DJ.
DubCNN: You are currently at Dash Radio correct? What is that situation like fam?
Kevin "Slow Jammin'" James: Dash is an amazing venue created by DJ Skee. Skee, J Love, Lisa Love, D.C., Mike Young, Base and many many others are part of the backbone of Dash. I work out of Snoop's studio (the compound) and it is nothing short of amazing. From the physical set up to the people. Snoop built the studio specifically for me and could have hired anybody in the world to do live night shows, but he hired me. What an honor. The station by the way is Cadillacc Music and Snoop's other station is Doggystyle. I'm a voice on Doggystyle as my character on W-Balls. I've had the privilege to do these skits for Snoop, Tha Dogg Pound, Kurupt, Nate Dogg and others.
DubCNN: What initially inspired you to pursue a career in music?
Kevin "Slow Jammin'" James: As I mentioned, baseball was my chosen field and radio was my back up plan. I've always loved R&B and especially the ballads. It was a perfect fit for me, a job that I love.
DubCNN: What do you think has separated you over the years from other DJs in your field of work?
Kevin "Slow Jammin'" James: Having autonomy over what I play separates me from most DJs. I'm not saying that I'm better (not by a long shot) but having creative control over music selection and what I can say is a rare and so much appreciated caveat to my job.
Also being part of Slow Jams "The Timeless Collection" had given me an advantage. I'm just a Real dude playing Real music for Real people.
DubCNN: The name Kevin slow Jammin James is synonymous with dope R&B music. Who are your top 5 R&B artists of all time? Top 5 rap artists?
Kevin "Slow Jammin'" James: R&B 1. Con Funk Shun 2. Cameo 3. Dramatics 4. Enchantment 5. Marvin Gaye
Rap 1. Snoop 2. 2Pac 3. Nate Dogg 4. Biggie 5. Tha Dogg Pound
DubCNN: With the recent ascension of hybrid styles of music (RnB-pop, Pop-Rap, Trap-RnB, etc.), what do you think the future holds in regards to the fate of the original essence of RnB music?
Kevin "Slow Jammin'" James: We need in my humble opinion to go back to the essence of R&B. That foundation has seemed to be lost. I really don't get what is called R&B these days. Let's go back and incorporate real musicians, real lyrics and harmony. I love when songs tell a story. Check out October London to see what I believe is the savior of true R&B.
DubCNN: Any crazy music industry story you can share with us today fam?
Kevin "Slow Jammin'" James: In June 1990 I saw Eazy-E on Nightline or it might have been a similar type of show. He was talking about NWA lyrics and thoughts and I said to my TV screen, what a jerk. One week later I moved to LA not knowing 1 person. I somehow ended up on 92.3 THE BEAT. Within 6 months they changed the format from R&B to Hip Hop & R&B. Most of the staff was fired but they hung on to me and told me it probably was for a short period of time. My Slow Jam show was so different and they weren't sure if they wanted to retain it. Soon after that they hired Eazy to do the Ruthless Radio show and to consult. He went into the PD's office (Keith Naftaly) and pushed for me to have more air hours. I had a long talk with Eric and told him about my first impression of him. I said I couldn't have been more wrong. He was surprised that I shared that with him and we became friends. I even recorded elements for an upcoming album of his. He became someone very special to me. Because of him I still had a job in LA and that's why I am where I am today. Otherwise my career would be much different.
DubCNN: Where can fans find you on social media? And where can fans check out your mixes online?
Kevin "Slow Jammin'" James: I'm Slowjamjames on IG, Twitter & FB. My Podcast and Cadillacc Music Radio Show on Dash Radio can be accessed thru www.slowjam.com
DubCNN: Thanks again from DubCNN fam. Any last words?
Kevin "Slow Jammin'" James: I'm humbled by my acceptance by all of those in the Rap & Hip Hop community. They have embraced me all these years and pretty much no response from the R&B Community. My guess why is because Real recognizes Real. I appreciate that you gave me an opportunity be part of what you are doing here. You are an important link to what people know about Rap and Hip Hop!!!!🎹🎶🎤🎼📻
Tha Dogg Pound – Smooth ft. Kevin Slow Jammin' James (Video)