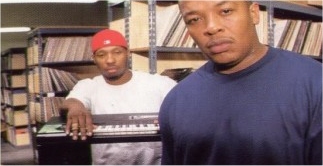 Late last year we dropped some news on what Mr. X 2 tha Z Xzibit had been up to since his first solo album in 6 years that dropped in October; Napalm.
As if a new album, multi-date tour and TV success wasn't enough Xzibit confirmed he was on the verge of confirming a partnership with the Bonita Spirits Company.
The venture sees him link up with Southern Illinois University grad Chris Brown (not the R&B star) to launch a premium brand of tequila called Bonita.
We reported that the new drink would launch early this year and this week it appears the official launch took place at the Bellagio and guess who Xzibit captured via Instagram together on a private jet heading to the event? That's right none other than 2001 architects Dr. Dre & Mel-Man, reunited at last – a one off or a possible sign that Dre is warming to finish "Detox" – you decide and check the pictures below that also feature Snoop Dogg, King Tee, FuzzyFanTab and others!
Xzibit Bonita Tequila Launch Party Photos (Click to enlarge)
For more information on the new Tequila visit BonitaSpirits.com.