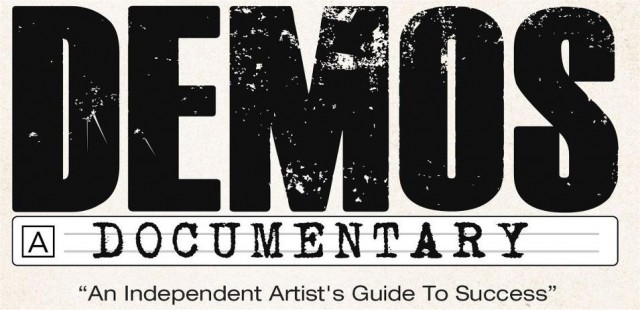 On Tuesday September 10th at 7:00pm PST DubCNN.com will host a live stream of the Hip-Hop documentary, "DEMOS" narrated by rapper Skyzoo.
It's been 2 years since Kareem Fort discussed his upcoming documentary "DEMOS" in this exclusive interview and today we bring it to you via Live Stream!
Having announced it in 2011 he released an early trailer and the Please Listen To My DEMOS Vol. 1 mixtape, before we spoke to Hassan Phenomenon during a call in on DubCNN radio episode 17 (04/22/11) to discuss the film and then Crooked I spoke on the DEMOS Documentary in a video piece.
After we notified you that Brooklyn emcee Skyzoo would be the star of the film via a then newly released trailer all fell silent until earlier this year when we dropped off the Official DEMOS Documentary Trailer featuring clips from artists including Eternia, DJ Quik Black Thought, J*Davey, Skyzoo, Fuzzy Fantabulous, Talib Kweli, Mack 10, Illmind, Crooked I, Planet Asia, El Prez, Thurz, Naughty By Nature, No ID, Nitty Scott with the final version expected to also showcase Tech N9ne, Jean Grae, Rapper Big Pooh, Terrace Martin, Freeway and many more.
If you've ever asked "How do I stand out from the countless other artists trying to make it? "Should I put out a mixtape or an album first?" "Do I need a booking agent?" "How do I build my brand and create an image?" "How can I get sponsorship for shows and tours?" These questions are the essence of DEMOS.
Today, DubCNN has teamed up with Kareem Fort and the team behind DEMOS to host the full documentary screening tonight, September 10tth. The simulcast will start at exactly 7pm EST and 4pm PST and you will be watching it right here, see below!
Official DEMOS Documentary Screening (September 10th @ 7pm EST/4pm PST)
What is DEMOS?
Demos is a documentary that was created to educate and inspire the emerging hip-hop independent artist to accelerate their career. Its primary objective is to provide insight on the myriad of ways to establish or further enhance a successful independent music career. Industry veterans along with well established indie artists will share their experiences, advice and techniques providing an invaluable and unprecedented resource for the up and coming artist. From scholarly advice about branding and getting noticed to revelations about submitting content to media outlets, Demos is a film that should be on any musician's "must-see list! Demos will expound upon how the industry has transformed over the years. Through the industry's overhaul, the artist needs to now empower and equip themselves with this essential information to maximize their chances of success. Tastemakers with expertise that crisscross all aspects of the music business ranging from entertainment managers, public relations executives and a host of artists including Talib Kweli, Pete Rock and CL Smooth, Naughty by Nature, the legendary Marley Marl, and more to be revealed, will give first-hand opinions on where the industry is going and how to make in the new music business. The music industry is ever-changing and to keep up, you must be well equipped; Demos is the tool to create a metamorphosis within an artist career.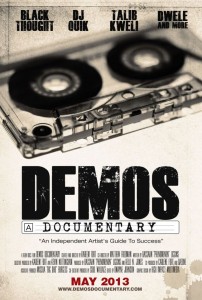 Ensure you like DEMOS on Facebook and follow via Twitter!