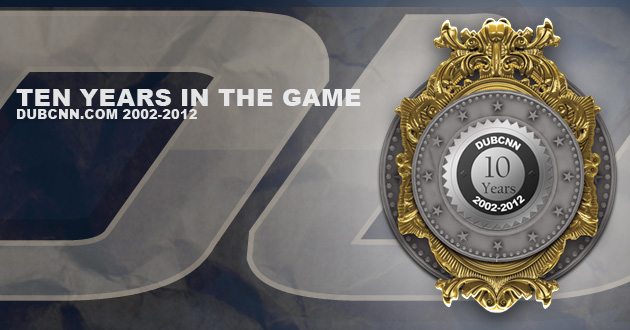 Dubcnn.com, The "Westcoast News Network," was launched in 2002 following six months of planning and development. Formed off the back of the then newly established "West Coast Affiliates Forum" (now dubcc) the site was formed with a key mission statement; "To create an outlet for existing artists, new artists, labels, producers and companies that we're being isolated to some extent by other outlets and the industy at large."
For those not a part of the online movement in the early 2000's the status of internet journalism – especially for Hip-Hop – was littered with poor quality content, limited media and often information that had been fabricated. We sought to introduce a new kind of online magazine, one which kept things simple and which could steadily make a difference to the genre.
Since day one we led the way in delivering video content (remember this was long before YouTube existed) and pioneered the accessibility of media to aid the development and promotion of Westcoast Hip-Hop. In 2002 when we set out iTunes did not exist, the tools for independent artists to get their music and message to their fan-base were amateur at best and the mediums that are available today were far from online capability at the time.
Dubcnn was the originator of artist to fan interaction; never before had a fan been able to request questions to be put directly to their favourite artists. We spent years – along with the partner news and media sites we worked alongside – breaking down the barriers between artists and their followers. We provided a free and stable platform for both existing and emerging artists to showcase their music and invested in hosting media that ensured we could distribute content quickly to the thousands of monthly visitors we quickly gained.
From the first post on September 8th 2012 – click here to read the full update and see the original dubcnn.com (shown right) – we went on to within two months have interviews with some of the biggest names in Hip-Hop; Snoop Dogg as he geared up to release "Paid Tha Cost To Be Da Bo$$", WC then on Def Jam for his "Ghetto Heisman" LP and 50 Cent who was getting ready to drop "Get Rich Or Die Trying." Those interviews firmly solidified us as a credible outlet that combined established heavy-hitters with emerging artists looking to build a fan-base.
Over the next few years Dubcnn.com continued its un-precedented growth and success and on January 1st 2006 we relaunched with Dubcnn v2 with a new design, new focus and a new partner. Lil Jay, the then owner of WestCoast2K – a site which had been striving for the same cause since 1999 – merged with Dubcnn to combine our abilities to achieve the common goals. At the time it was a massive step forward for not only the westcoast but online hip-hop journalism as a whole. To mark that occasion we also "Got the internet going nuts" with our RIAA takeover blackout that created a huge amount of hype and buzz – a stunt which caused a huge stir and garnered publicity – all publicity is good publicity…right?!
In the years that followed the relaunch the site continued to grow, our reach was constantly expanding and always the artists and fans were benefiting. In 2006 we were able to bring you two of the biggest interviews ever conducted with Snoop Dogg – the first 1 hour 4-Part series in July – was his most indepth interview to date. It would be hard pressed for any outlet to take up the gauntlet to surpass it so in late 2006 as he released "The Blue Carpet Treatment" we took it upon ourselves to go one better with this second 4-Part Interview series that ran into early 2007.
In the years that have followed we've gone on to even bigger successes – as well as faced some of our biggest challenges – yet here we stand 10 years on with what we set out to achieve; the #1 online resource for your west coast hip-hop needs.
From a personal standpoint I want to take a moment to thank everyone in the dubcnn family from its incepetion through to present day, it's been a pleasure to work with everyone of you and achieve what we have; from a group of strangers who've become friends in a family that stretches across the globe. Rob (Overseer), Nima and I shared a vision to create what has become The Westcoast News Network, a vision that we hope has benefited the genre and the people who love it.
It's been one hell of a decade – I'm exhausted when I look back through the content, the key people and moments we've captured for our readers, the music we've brought you – I'm exhausted but I'm invigorated. The first decade was just a warm up – this one is for real.
Finally, thank you; the visitors, for your continued support and recognition. Without every single one of you we would not be able to do what we do. Thank You. Please take the time to review the new site and feedback with what you love and what you hate, everything you see will evolve over the coming months – with your help we'll get it right!
Duncan "Rud" Rutherford
September 8th 2012 // A Decade of Dubcnn
…………………………………………………………………………………
Ten years ago to this day, DubCNN launched and my life changed. I grew up in a melting pot of different cultures, being born in Iran, growing up in Germany while attending a French high school and being immensely influenced by Hip-Hop culture. When DubCNN launched, I was about to turn 15 years old and my voice was still cracking when I did my first phone interview with 50 Cent in 2002 as he was shooting the "In Da Club" video.
Thus began an adventurous journey throughout which, the brainchild that Duncan (Rud), Overseer, myself and the rest of the team birthed in 2002, developed into the premiere source for West Coast Hip-Hop. I spent most of the following years traveling back and forth between California and Germany, a process which ended when I obtained my MBA in 2010 and permanently moved to San Francisco shortly after.
A recurring theme for the West Coast in the last decade has been "trying to bring it back" – to the forefront of the music industry that is. In 2003, DubCNN first noticed a budding local talent by the name of The Game, who had recorded an impressive mixtape up in the Bay Area. Two years later, he released his multi-platinum classic "The Documentary" under Dr. Dre's Aftermath Entertainment.
We have always been careful to keep a healthy balance on the site between household names and up and coming artists. Throughout the years, we were first to introduce you to artists such as Kendrick Lamar (K.Dot) and Bishop Lamont, while helping advance the careers of existing talents including Crooked I or Tha Dogg Pound.
However, without the stamp of approval from the OG's like Snoop Dogg, Ice Cube, Xzibit or E-40, DubCNN wouldn't have been to able to survive in the midst of the uncountable blogs that have popped up over the recent years. It has always been the direct connection to the artists that have kept our reputation intact and our information credible.
From our controversial, multiple-part, in-depth interviews with Snoop Dogg or the incredible West Coast Hip-Hop Festival in Amsterdam in 2009 with Ice Cube, Xzibit, Tha Dogg Pound, Too Short, E-40, DJ Muggs, Jelly Roll, WC, Young De and others – we've always tried to shake things up.
In 2012, the West Coast Hip-Hop scene is looking healthy as ever. From Kendrick Lamar & TDE, to Hopsin & Funk Volume to Tyler & Odd Future to iamSu! & the HBK Gang, there are several camps buzzing heavily. Long time DubCNN supporter Crooked I is signed to Eminem and just released the highly publicized Slaughterhouse album. We've got the clubs on smash as well, with LoveRance's "Up!" going Gold, along with artists like Tyga, Problem, YG and E-40.
For our next ten years, DubCNN will strive to remain the source of all things West Coast while occasionally bringing you goodies from other regions. We'd like to thank all of our supporters over the last decade, we hope you enjoy the new DubCNN look and please share your feedback with us.
Nima Etminan
September 8th 2012 // A Decade of Dubcnn
…………………………………………………………………………………
Official Decade of Dubcnn Anniversary Shoutout Compilation