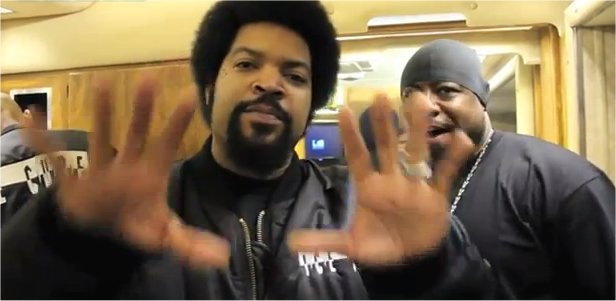 To mark the 10th Anniversary of dubcnn.com we've compiled some of the best drops and shout-outs into an ultimate video compilation for you to check out. Since day one we led the way in delivering video content (remember this was long before YouTube existed) and pioneered the accessibility of media to aid the development and promotion of Westcoast Hip-Hop.
With that mission in the years that have followed we've interacted with and been supported by the majority of the Hip-Hop community. This is our thank you to the artists as well as you our readers!
The video features: Ice Cube, Nate Dogg (R.I.P.), Kendrick Lamar, Charlie Wilson, Snoop Dogg, Katt Williams, KRS-One, The Game, E-40, The Jacka, Too Short, WC, Crooked I, DJ Premier, Nipsey Hussle, DJ Quik, Guru (R.I.P.), Cypress Hill, Jay Rock, Tech N9ne, Devin The Dude, Redman, LoveRance, Problem, Mack 10, Roccett, Young Buck, Fashawn, Raekwon, Mistah Fab, Tash (Tha Liks), Royce Da 5'9, Tyrese, Warren G, Lil Eazy-E, Prodigy (Mobb Deep), YG, Kurupt, Big Syke (Thug Life), Butch Cassidy, Schoolboy Q, Layzie Bone, Ja Rule, Daz Dillinger, Lil Fame (M.O.P.), Alchemist, Evidence (Dilated Peoples), EPMD, Public Enemy, Rick Ross, Clyde Carson, Yukmouth, Xzibit, Mitchy Slick, Andre Nickatina, Mac Mall, Hopsin, Dizzy Wright, Big Rich, Brotha Lynch Hung, Yelawolf, Rakaa (Dilated Peoples), Locksmith, JT The Bigga Figga, MC Eiht, Richie Rich, Lil Scrappy, 40 Glocc, Westside Bugg, Trae The Truth, La Coka Nostra, DJ Muggs (Soul Assassins), Slug (Atmosphere), Far East Movement, Cellski, TyDolla$ign, Rappin' 4-Tay and J-Ro (Tha Liks).

Official Decade of Dubcnn Anniversary Shoutout Compilation
Read our full Decade of Dubcnn piece here