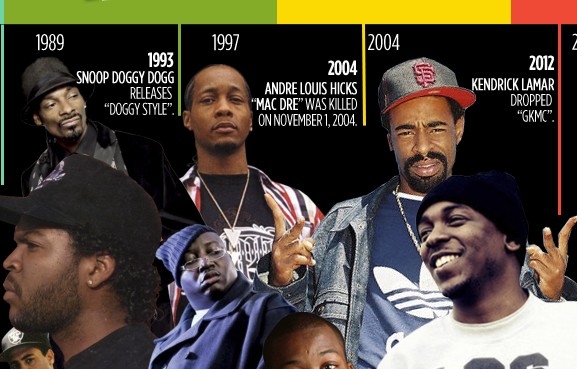 In May 2013, DubCNN released the DJ R-Tistic presented "The Timeline: 500 Classic West Coast Songs in 80 Minutes."
At the time we commented that the mix was the most comprehensive and well put together history lesson on West Coast Hip-Hop that we had ever heard.
"The Timeline" is a mix of 500 songs, all performed by West Coast based artists. R-Tistic  even got Ricky Harris aka DJ E-Z Dick, who performed on several notable skits on Snoop Doggy Dogg's "Doggystyle," along with other classic Death Row releases.
The mix starts in 1981 with Captain Rapp and ends in 2012 with Kendrick Lamar. It highlights some of the most important movements and songs that cover this time period. You will hear early Electro, G-Funk, Mob Music, Underground, Hyphy, Jerkin, Chicano and several other styles that were most prominent on the West Coast.
From highly respected legends, unsung heroes from the 80's and early 90's, one-hit wonders and new rappers who are currently making their mark in the rap game – this mix evokes memories and even tracks you may never have heard! For months we've been promising to unveil the tracklist, and today we can, look below for the "The Timeline" mix and then the entire tracklist! Spread the word!
DubCNN Presents DJ R-Tistic "The Timeline" – 500 Classic West Coast Songs in 80min

[raw]
[/raw]
DubCNN Presents DJ R-Tistic "The Timeline" – 500 Classic West Coast Songs in 80min (Tracklist)
01. Disco Daddy & Captain Rapp – Gigolo Rapp
02. Super Rat – Motorcycle Mike
03. Rappers Rapp Group – Rappers Rap Theme
04. Funkmaster General – L.A., L.A.
05. Captain Rapp – Bad Times (I Can't Stand It)
06. Mc Fosty And Lovin C – Radio Activity Rapp
07. Egyptian Lover – Egypt Egypt
08. Egyptian Lover – And My Beat Goes Boom
09. Uncle Jamm's Army – Dial-A-Freak
10. World Class Wreckin Cru – Surgery
11. L.A. Dream Team – Rockberry Jam
12. L.A. Dream Team – Dream Team Is In The House
13. Toddy Tee – The Batter Ram
14. Too Short – Girl (That's Your Life)
15. Rodney O & Joe Cooley – Everlasting Bass
16. C.I.A. – My Posse
17. Ice T – 6 In Tha Mornin
18. Ice T – Colors
19. N.W.A. – Dope Man
20. Too Short – Freaky Tales
21. World Class Wreckin Cru – Turn Off The Lights
22. Jj Fad – Supersonic
23. Oaktown 3-5-7 – Juicy Gotcha Crazy
24. Mc Hammer – Let's Get It Started
25. Toddy Tee Ft. Mix Master Spade – Do You Wanna Go To The Liquor Store
26. Too Short – Life Is Too Short
27. Too Short – Cusswords
28. Sir Mix-A-Lot – Posse's On Broadway
29. Sir Mix-A-Lot – My Hooptie
30. Eazy-E – We Want Eazy
31. Eazy-E – Boyz N Da Hood
32. Mix Master Spade And The Compton Posse – Genius Is Back
33. King Tee – Act A Fool
34. King Tee – Bass
35. N.W.A – Straight Outta Compton
36. N.W.A – Gangsta Gangsta
37. N.W.A – Fuck Tha Police
38. Too Short – Don't Fight The Feeling
39. Mac Dre – Too Hard For The Fuckin Radio
40. D.O.C. – It's Funky Enough
41. Low Profile – Pay Ya Dues
42. Breeze – L.A. Posse
43. D.O.C. – The Grand Finale
44. Young Mc – Bust A Move
45. Tone Loc – Funky Cold Medina
46. Tone Loc – Wild Thing
47. Mellow Man Ace – Mentirosa
48. Kid Frost – La Raza
49. Boo-Yaa Tribe – Psyko Funk
50. M.C. Trouble – (I Wanna) Make You Mine
51. MC Hammer – U Can't Touch This
52. Candyman – Knockin Boots
53. West Coast All Stars – We're All In The Same Gang
54. Digital Underground – The Humpty Dance
55. Ice Cube – Jackin For Beats
56. Richie Rich – Don't Do It
57. Too Short – The Ghetto
58. Too Short – Short But Funky
59. 415 – Groupie Ass Bitch
60. King Tee Ft. Mc Breed And Ice Cube – Played Like A Piano
61. Digital Underground – Freaks Of The Industry
62. 2Pac – Brenda's Got A Baby
63. Compton's Most Wanted – Growin Up In The Hood
64. DJ Quik – Born And Raised In Compton
65. N.W.A – Always Into Something
66. Hi-C Ft. Lighter Shade Of Brown – I'm Not Your Puppet
67. Lighter Shade Of Brown – On A Sunday Afternoon
68. Cypress Hill – Hand On The Pump
69. Cypress Hill – How I Could Just Kill A Man
70. Del The Funky Homosapien – Mistadobalina
71. AMG – Bitch Betta Have My Money
72. Digital Underground Ft. 2Pac – Same Ole Song
73. Digital Underground – Kiss Me And I'll Kiss You Back
74. 2nd II None – If You Want It
75. DJ Quik – Tonite
76. Ice Cube – How To Survive In South Central
77. Ice Cube – No Vaseline
78. Dr. Dre Ft. Snoop Doggy Dogg – Deep Cover
79. Yo-Yo Ft. Ice Cube – You Can't Play With My Yo-Yo
80. Spice 1 – 187 Proof
81. College Boyz – Victim Of The Ghetto
82. Da Lench Mob – Guerillas In Tha Mist
83. N2deep – Back To The Hotel
84. Freestyle Fellowship – Bullies Of The Block
85. Funkdoobiest – Bow Wow Wow
86. House Of Pain – Jump Around
87. Rbl Posse – Don't Give Me No Hammer
88. Sir Mix-A-Lot – Baby Got Back
89. Compton's Most Wanted – Hood Took Me Under
90. MC Eiht – Streiht Up Menace
91. Boss – Deeper
92. Dr. Dre – Let Me Ride
93. Dr. Dre Ft. Snoop Doggy Dogg – Fuckin Wit Dre Day
94. Dr. Dre Ft. Snoop Doggy Dogg – Nuthin But A G Thang
95. Eazy-E Ft. Dresta & BG Knoccout – Real Muthaphukkin G'z
96. Pharcyde – Passin Me By
97. Domino – Getto Jam
98. Domino – Sweet Potato Pie
99. Bloods & Crips – Piru Love
100. Spice 1 – Trigga Gots No Heart
101. Ice Cube – It Was A Good Day
102. Too Short – Blow Job Betty
103. Too Short – I'm A Player
104. Brotha Lynch Hung – 24 Deep
105. 2Pac – Keep Your Head Up
106. The Notorious B.I.G. And 2pac – Live Freestyle
107. 2pac Ft. Digital Underground – I Get Around
108. Volume Ten – Pistol Grip Pump
109. Ice Cube – You Know How We Do It
110. Kam – Peace Treaty
111. Conscious Daughters – Funky Expedition
112. Dre Dog – Smoke Dope And Rap
113. Souls Of Mischief – Never No More
114. Tha Alkaholiks – Make Room
115. JT The Bigga Figga Ft. Mac Mall – Game Recognize Game
116. Dre Dog – The Ave
117. Paperboy – Do The Diddy Diddy
118. Mista Grimm Ft. Warren G And Nate Dogg – Indo Smoke
119. Vsop – Above The Low
120. Yo-Yo Ft. Ice Cube – The Bonnie & Clyde Theme
121. Cypress Hill – Insane In The Membrane
122. Souls Of Mischief – 93 'Til Infinity
123. Tha Alkaholiks – Only When I'm Drunk
124. Rodney O And Joe Cooley – But You Don't Hear Me Though
125. Imp – Frisco
126. Snoop Doggy Dogg – Who Am I
127. Snoop Doggy Dogg – Gin And Juice
128. Snoop Doggy Dogg Ft. Nate Dogg, Kurupt, And Warren G – Ain't No Fun
129. Spice 1 – Strap On The Side
130. Paris – Guerilla Funk
131. Dru Down – Pimp Of The Year
132. Ant Banks – Parlayin
133. Coolio – County Line
134. Coolio – Fantastic Voyage
135. Ice Cube Ft. George Clinton – Bop Gun (One Nation)
136. MC Hammer – Pumps And A Bump
137. Tha Dogg Pound – What Would You Do
138. The Coup – Fat Cats, Bigga Fish
139. Dj Quik – Dollaz + Sense
140. Young Soldierz – Eastside-Westside
141. Warren G Ft. Nate Dogg – Regulate
142. Warren G – This DJ
143. Cedric Ceballos Ft. Warren G – Flow On
144. Tha Dogg Pound – Big Pimpin
145. Dr. Dre And Ice Cube – Natural Born Killaz
146. Lady Of Rage – Afro Puffs (Dr. Dre Remix)
147. Snoop Doggy Dogg – Murder Was The Case (Remix)
148. South Central Cartel – Gang Stories
149. E-40 & The Click – Captain Save A Hoe
150. Jayo Felony – Sherm Stick
151. Dred Scott – Funky Rhythms
152. Thug Life/2Pac – Pour Out A Little Liquor
153. Above The Law – Black Superman
154. RBL Posse – Blue Bird
155. RBL Posse – Bounce To This
156. Casual – I Didn't Mean To
157. Erule – Listen Up
158. The B.U.M.S. – Elevation (Free My Mind)
159. Brotha Lynch Hung – Rest In Piss
160. Nationwide Rip Ridaz – Everything Gonna C Alright
161. Coolio – Gangster's Paradise
162. Ahmad – Back In The Day
163. 2Pac – Dear Mama
164. Young Lay Ft. Mac Mall – All About My Fetti
165. E-40 Ft. Suga T – Sprinkle Me
166. C-Bo – Birds In The Kitchen
167. Little Bruce – Mobbin In My Old School
168. Too Short – Cocktales
169. The Click – Hurricane
170. Rappin Ron & Ant Diddley Dog (Bad N-Fluenz) – The Bomb
171. Luniz – Playa Hata
172. Luniz – I Got 5 On It
173. Cellski – Livin In The Bay
174. WC & The Maad Circle Ft. Mack 10 And Ice Cube – West Up
175. WC & The Maad Circle – The One
176. Mack 10 – Foe Life
177. Mack 10 Ft. Ice Cube And Wc – Westside Slaughterhouse
178. Ice Cube – Friday
179. Dr. Dre – Keep Their Heads Ringing
180. E-40 – One Luv
181. E-40 Ft. 2pac, Mac Mall, & Spice 1 – Dusted 'N' Disgusted
182. 2Pac – So Many Tears
183. Dj Quik – Safe And Sound
184. Twinz – Round And Round
185. Dove Shack – Summertime In The Lbc
186. Tha Alkaholiks – Daaam!
187. Skee-Lo – I Wish
188. Lad – Ridin Low
189. Rappin 4-Tay – Playas Club
190. LV Ft. Kam – Throw Your Hands Up
191. Kausion – What You Wanna Do
192. Rappin 4-Tay – I'll Be Around
193. Kam – In Traffic
194. DJ Quik – Afternoon Drive (92.3 Drop)
195. Ice Cube And K-Dee – Freshest MC In The World (92.3 Remix)
196. Frost – East Side Rendezvous
197. Tha Dogg Pound Ft. Snoop Doggy Dogg – New York, New York
198. Tha Dogg Pound Ft. Michel'le And Nate Dogg – Let's Play House
199. The Pharcyde – Runnin
200. The Pharcyde – Drop
201. B-Legit – City 2 City
202. Dubee – My Thang
203. San Quinn Ft. Jt The Bigga Figga – Shock The Party
204. Mac Mell – Let's Get A Telly
205. Celly Cell – It's Going Down Tonight
206. Mac Mall – Get Right
207. Too $hort Ft. Parliament – Gettin It
208. Digital Underground – Oregano Flow
209. Mack 10 Ft. Ice Cube – Hoo Bangin
210. Westside Connection – Bow Down
211. Delinquent Habits – Tres Delinquentes
212. LBC Crew – Beware Of My Crew
213. 2Pac Ft. The Outlawz – Hit Em Up
214. 2Pac Ft. Snoop Doggy Dogg – 2 Of Americaz Most Wanted
215. 2Pac Ft. Dr. Dre And Roger Troutman – California Love
216. 2Pac – To Live & Die In L.A.
217. Richie Rich – Do G's Get To Go To Heaven
218. Dr. Dre – Been There Done That
219. Ras Kass – Nature Of The Threat
220. Xzibit – Paparazzi
221. Snoop Doggy Dogg Ft. Raphael Saadiq – Midnight Love
222. Shaquille O'Neal – Strait Playin
223. Suga Free – Y You Bullshittin?
224. Suga Free – I'd Rather Give You My Bitch
225. Richie Rich – Let's Ride
226. Westside Connection – Gangstas Make The World Go Round
227. Ant Banks Ft. Too Short & Ice Cube – Big Things
228. E-40 Ft. Too Short And Jodeci – Players Ball
229. 2Pac – Hail Mary
230. Cool Nutz – Punk Ass Niggaz
231. The Comrads – Homeboyz
232. Who-Ridas – Shot Callin & Big Ballin
233. 3x Krazy – Keep It On The Real
234. DJ Pooh Ft. Threat – Nowhere To Hide
235. DJ Pooh Ft. Kam – Whoop Whoop
236. Domino – Physical Funk
237. Nate Dogg – Never Leave Me Alone
238. Mack 10 & Tha Dogg Pound – Nothin But The Cavi
239. Mack 10 Ft. Ice Cube And Snoop Doggy Dogg – Only In California
240. Mack 10 – Backyard Boogie
241. Militia – Burn
242. Jayo Felony Ft. Method Man And Dmx – Whatcha Gonna Do
243. WC – Cheddar
244. Mac Dre – Stupid Doo-Doo-Dumb
245. The Luniz And Tha Dogg Pound – My Buddy
246. E-40 – Hope I Don't Go Back
247. Bad Azz – We Be Puttin It Down
248. Daz Dillinger – In California
249. Kurupt – We Can Freak It
250. Ice Cube – We Be Clubbin
251. Ice Cube – Pushin Weight
252. Snoop Dogg – Still A G Thang
253. Snoop Dogg & Kurupt – Ride On (Caught Up)
254. Silk E. Fyne – It's Like Romeo And Juliet
255. TQ – Westside
256.Ras Kass Ft. Mack 10 And Dr. Dre – Ghetto Fabulous
257. Saafir – Major Knock
258. Dru Down – Can You Feel Me
259. Jurassic 5 – Concrete Schoolyard
260. Dilated Peoples – Work The Angles
261. Hieroglyphics – You Never Knew
262. Xzibit Ft. Ras Kass And Saafir – 3 Card Molly
263. Xzibit – What U See Is What U Get
264. DJ Quik – You'z A Ganxta
265. DJ Quik Ft. AMG, Mausberg, And Suga Free – Down, Down, Down
266. Cypress Hill – Dr. Greenthumb
267. Black Eyed Peas – Joints & Jams
268. 2Pac – Changes
269. Gospel Gangstaz – I'll Be Good
270. X-Raided – Macaframa
271. Defari – Peoples Choice
272. Blackalicious – Alphabet Aerobics
273. People Under The Stairs – Los Angeles Daze
274. Deltron 3030 – Virus
275. T.W.D.Y. – Player's Holiday
276. Soopafly – Like It Or Not
277. Snoop Dogg Ft. C-Murder And Magic – Down For My N's
278. Snoop Dogg Ft. Xzibit And Nate Dogg – B Please
279. Nate Dogg Ft. Warren G – Nobody Does It Better
280. Warren G Ft. Mack 10 – I Want It All
281. 2nd II None – Up In The Club
282. Dr. Dre Ft. Snoop Dogg And Nate Dogg – The Next Episode
283. Dr. Dre Ft. Hittman, Kurupt, Nate Dogg, And Six-Two – Xxplosive
284. Dr. Dre Ft. Snoop Dogg – Still D.R.E.
285. Kurupt – Calling Out Names
286. Kurupt Ft. Roscoe And Nate Dogg – Girls All Pause
287. Ice Cube – You Can Do It
288. N.W.A. – Chin Check
289. Tash – Rap Life
290. Tha Eastsidaz Ft. Butch Cassidy – G'd Up
291. Kam – Where I Come From
292. Jurrasic 5 – Quality Control
293. Zion I Ft. Planet Asia – Critical
294. Cali Agents – The Anthem
295. Tash Ft. Snoop Dogg, Kurupt, And Xzibit – G'z Is G'z (Remix)
296. Ice Cube Ft. N.W.A – Hello
297. DJ Quik Ft. Suga Free – Do I Love Her
298. E-40 Ft. Nate Dogg – Nah, Nah
299. DJ Quik – Pitch In Ona Party
300. Mausberg Ft. DJ Quik – Get Nekkid
301. Doggy's Angels Ft. Latoiya Williams – Baby If You're Ready
302. Warren G. Ft. Nate Dogg, Snoop Dogg, Xzibit – The Game Don't Wait
303. Snoop Dogg Ft. Master P, Goldie Loc, Butch Cassidy, And Nate Dogg – Lay Low
304. Xzibit – X
305. Xzibit – Front 2 Back
306. Xzibit – Get Yo Walk On
307. Afroman – Because I Got High
308. Blackalicious – Paragraph President
309. Dilated Peoples – Worst Comes To Worst
310. Mystic – The Life
311. Mac Dre – Doing What I Do
312. Mack 10 Ft. Ice Cube, WC, And Butch Casidy – Connected For Life
313. DPG Ft. RBX- Dipp Wit Me
314. Snoop Dogg, Tyrese, And Mr. Tan – Just A Baby Boy
315. Kam Ft. Big Solo And Ms. Red Bone – Have A Fit
316. Snoop Dogg Ft. Bad Azz And Jelly Roll – Wrong Idea
317. Mr. Short Khop Ft. Kokane – Dollaz, Drank, And Dank
318. Kurupt Ft. Nate Dogg – Life Behind The Walls
319. Kurupt – On On Site
320. Shade Sheist Ft. Kurupt And Nate Dogg – This Is Where I Wanna Be
321. Chico & Coolwadda & Nate Dogg – You Make My High Come Down
322. Tha Eastsidaz – I Luv It
323. Roscoe Ft. Kurupt – I Love Cali
324. Tha Liks Ft. The Neptunes – The Best U Can
325. Warren G Ft. Latoiya Williams
326. Dr. Dre & DJ Quik Ft. Mimi – Put It On Me
327. Dr. Dre Ft. Knoc-Turn'al – Bad Intentions
328. Dr. Dre And Snoop DogB-g – On The Blvd.
329. Nate Dogg – I Got Love
330. Andre Nickatina – Ayo For Yayo
331. Mac Dre Ft. Yukmouth – Boss Tycoon
332. Luniz – Oakland Raiders
333. Mac Dre – Thizzle Dance
334. B-Legit – Too Short – So International
335. E-40 Ft. Fabolous – Automatic
336. DJ Quik Ft. Amg – Trouble
337. Jurassic 5 – What's Golden
338. Aesop Rock – Daylight
339. Mystic Ft. Planet Asia – W
340. Mack 10 Ft. Da Hood – Hittin Switches
341. 2Pac Ft. Trick Daddy – Still Ballin
342. WC Ft. Nate Dogg – The Streets
343. Xzibit Ft. Nate Dogg – Multiply
344. Snoop Dogg Ft. Pharrell And Charlie Wilson – Beautiful
345. Xzibit – Choke Me Spank Me
346. Westside Connection Ft. Knoc-Turn'Al – Lights Out
347. Hi-C Ft. DJ Quik – Let Me Know
348. Aceyalone – Find Out
349. Planet Asia – Right Or Wrong
350. Madlib – Please Set Me At Ease
351. Jaylib (Jay Dilla And Madlib) – The Red
352. The Grouch & Eligh Ft. Pigeon John – No More Greener Grass
353. Sly Boogy Ft. Kurupt, Mack 10, Jayo Felony, Butch Cassidy, E-40, Roscoe, 2Pac, And Crooked I – California (L.A. Remix)
354. 213 – I'm Fly
355. Yukmouth Ft. Dru Down And B-Legit – Pimp Da Bitch
356. Yukmouth – Nothin To A Boss
357. Keak Da Sneak Ft. E-40 – T-Shirt, Blue Jeans Nikes
358. Suga Free – Angry Enough
359. Roscoe – Smooth Sailin
360. Too Short – Burn Rubber
361. Too Short – Shake That Monkey
362. The Federation Ft. E-40 – Hyphy
363. The Federation – Hoes In Here
364. The Team – It's Getting Hot
365. Mac Dre – Feeling Myself
366. Mac Dre – Get Stupid
367. Mac Dre – Not My Job
368. Guerrilla Black Ft. Beenie Man – Compton
369. Murs And 9th Wonder – Bad Man
370. Murs And 9th Wonder – H-U-S-T-L-E
371. Alchemist Ft. Nina Sky – Hold You Down
372. Dilated Peoples Ft. Kanye West – This Way
373. Conway – Nutcracka
374. Tha J-Squad – Super Buck
375. TQ – Right On
376. Sly Boogy – It's Nuthin
377. Sly Boogy – That's My Name
378. Knoc-Turn'al Ft. Snoop Dogg – The Way I Am (Remix)
379. 213 – Joysticc
380. Snoop Dogg Ft. Pharrell – Drop It Like It's Hot
381. The Game Ft. 50 Cent – How We Do
382. The Game – Higher (Original Version)
383. The Game Ft. 50 Cent – Hate It Or Love It
384. D.P.G.C – Real Soon
385. Baby Bash Ft. Akon – I'm Back
386. Damani Ft. Keak Da Sneak – Gotta Stay Paid
387. The Game – 300 Bars
388. Crooked I – Boom Boom Clap
389. Mack 10 Ft. Nate Dogg – Like This
390. Blue Scholars – Southside Revival
391. Living Legends – Never Falling Down
392. Warren G Ft. Nate Dogg – I Need A Light
393. DJ Quik Ft. Nate Dogg – Black Mercedes
394. Westside Connection Ft. Nate Dogg – Gangsta Nation
395. Pigeon John – Deception
396. Nump Ft. Federation & E-40 – Grapes
397. Keak Da Sneak – Super Hyphy
398. Mistah F.A.B. – Super Sick Wit It
399. San Quinn Ft. E-A-Ski – Hell Yea
400. The Frontline – Bang It
401. E-40 Ft. Keak Da Sneak – Tell Me When To Go/Tell Me When To Go (Trackademicks Remix)
402. Mistah F.A.B. – N.E.W. Oakland
403. Husalah – Sleep With Da Fishes
404. E-40 – Yay Area
405. Too Short – Blow The Whistle
406. Wolfpack – Vans
407. Turf Talk – Groupie
408. Messy Marv – Get On My Hype
409. Federation Ft. E-40 – I Wear My Stunna Shades At Night
410. Too Short Ft. Snoop Dogg And Will.I.Am – Keep Bouncing
411. Dogg Pound – Cali Iz Active
412. Dilated Peoples – Back Again
413. Murs And 9th Wonder – L.A.
414. Damani – Inglewood
415. Flying Lotus – 1983
416. Snoop Dogg Ft. R. Kelly – That's That
417. The Game Ft. Junior Reid – It's Okay (One Blood)
418. The Game Ft. Kanye West – Wouldn't Get Far
419. The Game – Let's Ride
420. Daz Ft. Snoop And Kurupt – All I Need
421. Ice Cube – Why We Thugs
422. Snoop Dogg Ft. E-40, MC Eiht, Goldie Loc – Candy
423. Mr. Criminal – Side 2 Side
424. Roscoe Umali Ft. Bobby Valentino & E-40 – Live It Up (Remix)
425. Glasses Malone Ft. Akon – Certified
426. Tha Dogg Pound Ft. Snoop Dogg – Vibe
427. DJ Quik Ft. AMG- Can U Work Wit Dat
428. Blu & Exile – No Greater Love
429. Strong Arm Steady – Come & Get Me
430. U-N-I Ft. Big Pooh, Evidence, Aloe Blacc, Mickey Factz, Fashawn – Beautiful Day (Remix)
431. Western Union Ft. Snoop Dogg – Hat To The Back
432. WC Ft. The Game – West Coast Voodoo
433. Keak Da Sneak – That Go
434. Kafani Ft. Keak Da Sneak – Fast (Like A Nascar)
435. Down Aka Kilo – Lean Like A Cholo
436. Snoop Dogg – Sexual Eruption
437. Snoop Dogg Ft. Too Short And Mistah F.A.B. – Life Of The Party
438. Ice Cube – Gangsta Rap Made Me Do It
439. Bishop Lamont – Grow Up
440. Nipsey Hussle – Hussle In The House
441. Murs – Can It Be
442. The Game Ft. Keyshia Cole – Pain
443. Problem – I'm Fucked Up
444. Jay Rock Ft. Lil Wayne – All My Life
445. Glasses Malone – Ft. Rick Ross, T-Pain, And Birdman – Til Da Sun Come Up
446. Pac Div – Mayor
447. Lil B – Pretty Bitch
448. Fashawn – The Ecology
449. DJ Quik & Kurupt – 9x's Outta 10
450. Dam-Funk – On & On
451. D-Lo – No Hoe
452. New Boyz – You're A Jerk
453. Audio Push – Teach Me How To Jerk
454. Cold Flamez – Miss Me Kiss Me
455. Tay F. 3rd – Eastside Step
456. Pink Dollaz – I Need
457. YG Ft. Ty Dolla Sign – Toot It & Boot It
458. Snoop Dogg – I Wanna Rock
459. California Swag District – Teach Me How To Dougie
460. Droop-E Ft. E-40 – I'm Loaded
461. Dom Kennedy – Choose Up
462. Joe Moses Ft. Ty Dolla Sign – Go!
463. E-40 Ft. Too Short – Bitch
464. Dr. Dre Ft. Snoop Dogg And Akon – Kush
465. Th3 Rej3ctz – Cat Daddy
466. Mann – Buzzin
467. DJ Quik Ft. Gift Reynolds – Luv Of My Life
468. Bobby Brackins Ft. Ray J – 143
469. E-40 – My Shit Bang
470. Loverance Ft. Iamsu & Skipper – Up! (Beat The Pussy Up)
471. Macklemore & Ryan Lewis – Wings
472. Earl Sweatshirt – Earl
473. Tyler The Creator – Yonkers
474. Kreayshawn – Gucci Gucci
475. Kendrick Lamar – Hiiipower
476. Kendrick Lamar – Rigamortus
477. Thurz Ft. Black Thought – Riot
478. YG Ft. Tyga And Nipsey Hussle – Bitches Ain't Shit
479. YG – I'm Good
480. Ty Dolla Sign & Joe Moses – All Star
481. Tyga – Rack City
482. Tyga – Faded
483. E-40 Ft. Iamsu, Problem, & YG – Function
484. Iamsu Ft. Kool John, Loverance, P-Lo & Skipper – Swaggin
485. Clyde Carson Ft. The Team – Slow Down
486. Sage The Gemini Ft. Iamsu – Gas Pedal
487. Dom Kennedy – My Type Of Party
488. Problem Ft. Bad Lucc – Like Whaaat
489. Joe Moses – I Do It For The Ratchets
490. Glasses Malone Ft. C-Ballin & Ty Dolla Sign – That Good
491. Hopsin – Ill Mind Of Hopsin 5
492. Macklemore & Ryan Lewis Ft. Wanz – Thrift Shop
493. Whokid Woody Ft. Cali Boy Ace & Earl Swavey – Hit Yo Ricky
494. Jay 305 – Youzza Flip
495. Ab-Soul Ft. Black Hippy – Black Lip Bastard (Remix)
496. Schoolboy Q Ft. A$Ap Rocky – Hands On The Wheel
497. Kid Ink – Time Of Your Life
498. Kendrick Lamar – Poetic Justice
499. Kendrick Lamar – Bitch, Don't Kill My Vibe
500. Kendrick Lamar – Backseat Freestyle
Cover by: Kyon Hollis (@cakezilla)
Executive Producer: DJ R-Tistic
Co-Producer: Ashton Wilson, Jesse Fairfax